39" Slick wool wrap coat with exaggerated collar and tie belt

Adjustable button closure
Body welt pockets
Fully lined with logo lining
special size type: standard
weave type: Woven
Keep you deliciously warm in the icy days of winter, in great style!

Full Length Mink Fur Coat with Shawl Collar & Bracelet Cuffs (Demi Buff, XS)
Fully lined with silk/polyester blend lining
Hook & eye snap front closures
Made in Greece
When one local new-to-the-community mom wanted to help promote her son's school and support local literacy, she was only intending to have some fun and get to meet other parents. What she didn't expect was to win first place in a fashion contest that raised over $29,000 for the nonprofit Madison Reading Project.
Patty Arifin, a Madison native, moved to Verona in 2020. Her husband works at Epic, and Patty had planned to enroll her son at Verona Area International School. So moving to Hometown U.S.A was a good decision for her family.
While her husband's job allows her to be a stay-at-home mom and a homemaker, she has also taken on a community relations role within the school.
When a call is made for Madison Reading Project fundraising "randomly"It popped up in her Facebook newsfeed, and it piqued my interest.
She's been a fan of the project for years, and as a Madison resident would see the organization's trademark van at events with volunteers handing out books.
She decided she wanted to help fundraise for and support the literacy-focused nonprofit by participating in this year's Read(y) to Wear fashion show.
Madison's Majestic Theatre hosted the event on May 12. It was a fundraiser to help Madison Reading Project staff and purchase books and supplies. Ticket sales and a raffle raised money for the organization's programs.
After a two year hiatus because of the COVID-19 pandemic in 2002, the event returned to life this year.
The paper-inspired fashion show brought together readers and fashion lovers to support the literacy needs for children, families, and educators in the Madison region.
The catwalk was open to all models, and the designs were then voted on by local judges. 
Honoring this year's theme of 'Rock, Paper, Scissors,' teams composed of local Girl Scouts, attorneys, artists, photographers, bankers, and more designed, assembled and strutted their creations accompanied by energetic tunes under the spotlights of the Majestic Theatre stage runway.
The Verona group was the winner of the first place out of 12 teams.
Teams competed to win the title of best 'read(y) to wear design'The best 'use of paper.'For the 'read(y) to wear design'The crowd chose their three favourite designs and the judges selected one overall winner based primarily on creativity, overall design, stage presentation, and overall design. The 'use of paper'category that has been awarded the design with "most innovative or creative use of paper."
The theme of this year's show was 'Rock, Paper, Scissors'All teams were required to submit ideas that included the theme. The designs must be made from at least 90% paper
Arifin's design ended up being crowned the overall winner in the 'read(y) to wear design'category, making her one of the top 3 favorite event attendees and the ultimate favorite by the panel of judges.
She was shocked but happy to have won. She had never taken part in the contest before and had never designed or made clothing before.
She said she's only ever created one outfit before, a Mickey Mouse costume for her son.
But since she was little, she has loved the arts, crafts, and drawing and said she's always loved designing, but didn't realize she could study fashion in college so never pursued her interest.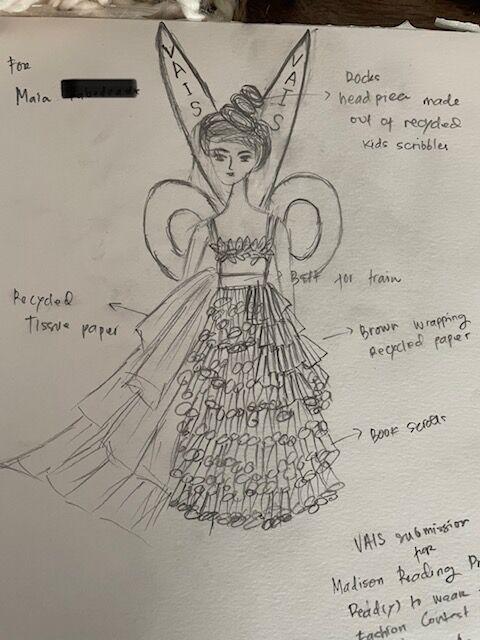 Verona Area International School was a new school for her daughter. She wanted to connect with other families and so she valued the involvement of other VAIS children.
Limited Lifetime Nobis Warranty,Premium Canadian Origin White Duck Down for ultimate warmth

Sympatex membrane laminated
Seam seal construction
Windproof and waterproof (10,000mm) - Breathable (10,000mm) outer shell
After hearing about the contest, she reached for help from other moms, but her last-minute request meant that she needed a few. "nos"due to students with soccer games or kids with COVID-19. She found two moms who could help with her vision.
"We made it work last minute with what we had,"She spoke. "Next year we will plan better and brainstorm ideas for an interesting project."
The dress was based on a sketch and brought to life using donated books, brown paper from Amazon shipments, paper shopping bags, and a tank top. Even her wedding dress was used as the basis for creating a recycled outfit.
"There was very minimal new material, we used what we had,"Arifin stated.
She said that it took only a month for Arifin to find out about the contest via Facebook and to receive her overall winner's outfit in 2022. However, the actual construction took place in just one weekend.
Joanne Huang and April Rabedeaux, fellow VAIS parents, joined Arifin in this dressmaking venture with their children.
Two moms assisted Arifin in rolling pages from four books into scrolls. The scrolls were then sewn one-by-one to her wedding gown.
The many scrolls were joined together by a single thread, making them look like a garland. They attached the rolls to layers using a tool to increase the volume of the dress.
"It held up pretty good, we manually hand-stitched the scrolls to attach them to the dress,"Arifin stated.
They spray painted three oblong papers crumples with a paint to resemble stone. They then attached a hairband as a stack of rocks or an cairn to the hairband.
A pair of scissors made from cardboard was designed to look like fairy wings. 'VAIS'they were painted with glow-in-the dark paint.
The weekend project "was a lot of fun,"Arifin.
After she had drawn the dress design, she stated that her goal was to "inspire these kids into making beautiful art with materials around us,"Arifin stated.
"This random idea popped into my head, 'hey, what materials do we have around us already, let's not create new waste for the Earth,"She spoke.
The group called their team "the" 'Dragonistas', a portmanteau of 'dragon'(representative of Chinese cultural) 'fashionista'.
Maia Rabedeaux, fourth grader modeled the gown on stage.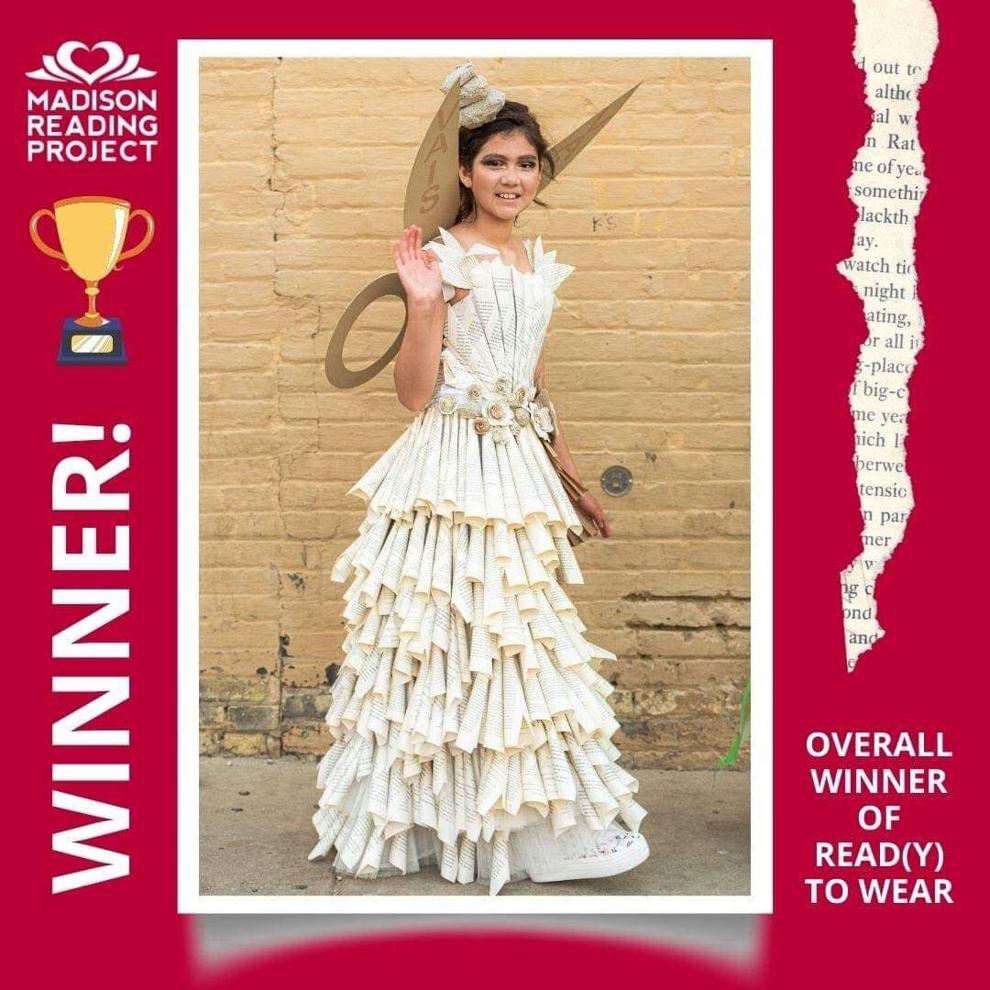 When Rabedeaux was walking the stage, a song by the band Imagine Dragons played as a nod to their team's name.
In reference to both the Chinese language immersion school they were on stage representing, as well as the theme for this year's competition, Maia was joined on stage by two VAIS kindergartners who played quick rounds of the game Rock, Paper, Scissors in both English and Mandarin versions.
Arifin hopes to involve her children more from the beginning, having them help her in brainstorming and designing, as well as participating more off-stage.
There were no prizes, other than the glory at being chosen and knowing that their participation helped support local causes.
"It was not about winning, it was about the process,"Arifin stated. "The fun of winning is the bonus. And participating boosted the kids' confidence, too. They were excited to be at the Majestic Theatre among the audience and judges, it inspired them, they said, 'we better be good at this, this is serious'."
"I wanted to inspire them to be involved in their community and do good and get our school's name out there. There were a lot of goals achieved,"She added.
She now plans to put the dress on display at the Verona Area International School's library.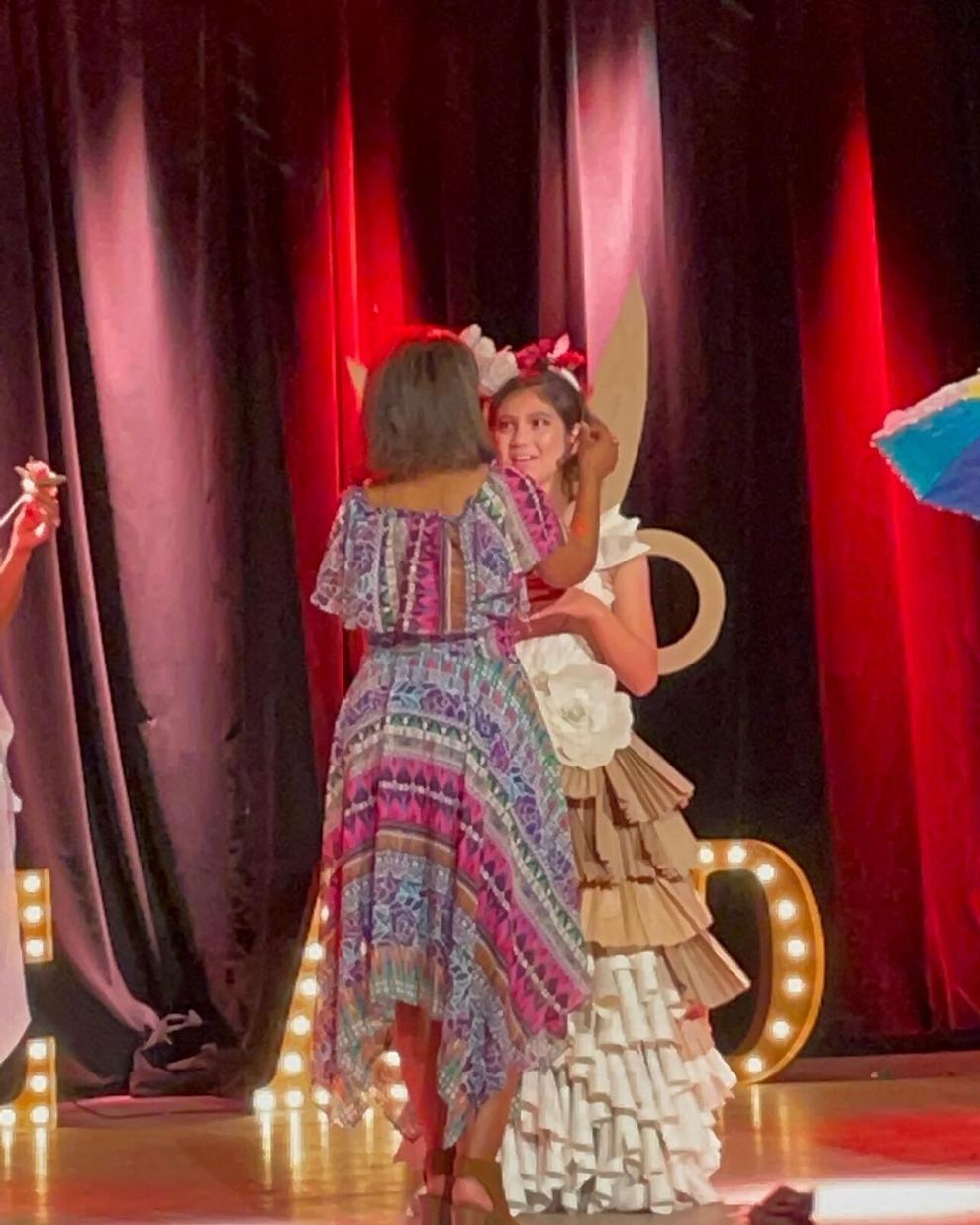 Hot Topics
Coach Outlet Sale, 80s fashion trends are back, 90s fashion hip-hop style
Source link