veryone knows that the major championships are the sport's grandest stages every year. With the top players gathered at world-renowned courses, golf fans of all varieties are tuning in. But the excitement surrounding majors extends beyond the competition itself. Style is part of the allure as well. For the four men's and five women's majors, the pros go all-out to showcase some of their most talked about outfits of the year. Trends and themes in golf apparel often emerge, giving everyday golfers inspiration for what they want to wear on the course (or don't want to wear). Now that the men's and women's major season has come to a close, we took a look back at some of the most memorable style moments of the year, and picked out a few of our favorites that you can shop. From button-down sweaters to floral polos, here's a review of the fashion highlights at every major.
Starting the major season out strong, the LPGA's first major brought an assortment of looks that proved just how far women's golf apparel has come in recent years. Several players dressed to match their unique style and personality with a range of skirts, shorts, pants and every type of golf collar you can think.
Keep you deliciously warm in the icy days of winter, in great style!

Full Length Mink Fur Coat with Shawl Collar & Bracelet Cuffs (Demi Buff, XS)
Fully lined with silk/polyester blend lining
Hook & eye snap front closures
Made in Greece
39" Slick wool wrap coat with exaggerated collar and tie belt

Adjustable button closure
Body welt pockets
Fully lined with logo lining
special size type: standard
weave type: Woven
Two major trends in women's golf apparel that emerged early in the season were fashion-inspired skirts and matching sets, evident by several looks at Mission Hills C.C. in Rancho Mirage, Calif. Pajaree Anannarukarn of Thailand wore a fuller navy skirt that matched the preppy direction that off-course style has gone this year with a refined look that offered great mid-swing movement thanks to defined pleats. England's Jodi Ewart Shaffoff sported a vibrant yellow floral skirt from Foray Golf that proved a statement piece that could transition off the course well. With a more business-casual look, In Gee Chun wore a belted khaki a-line skirt that we'd love to wear to the office before sneaking off for a quick nine post-work.
Giving a sneak peek of the matching-set trend that was popular this year, Madelene Sagstrom had a royal blue outfit during the third round; Celine Boutier's coordinating-green outfit was a memorable look; and Ayaka Furue, never afraid to make style waves, turned heads in her graphic set from Japanese apparel brand Viva Heart.
Top looks from the Chevron Championship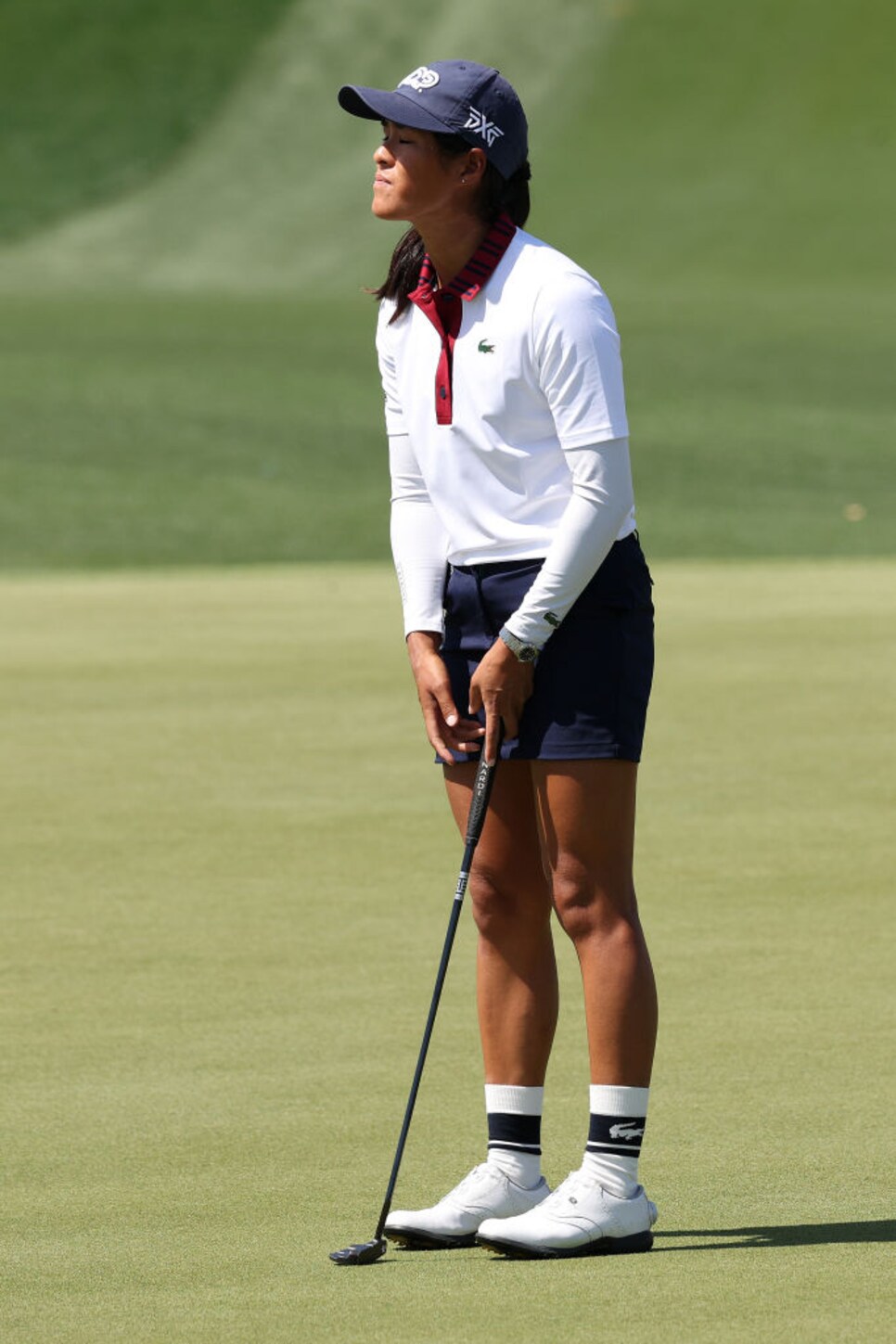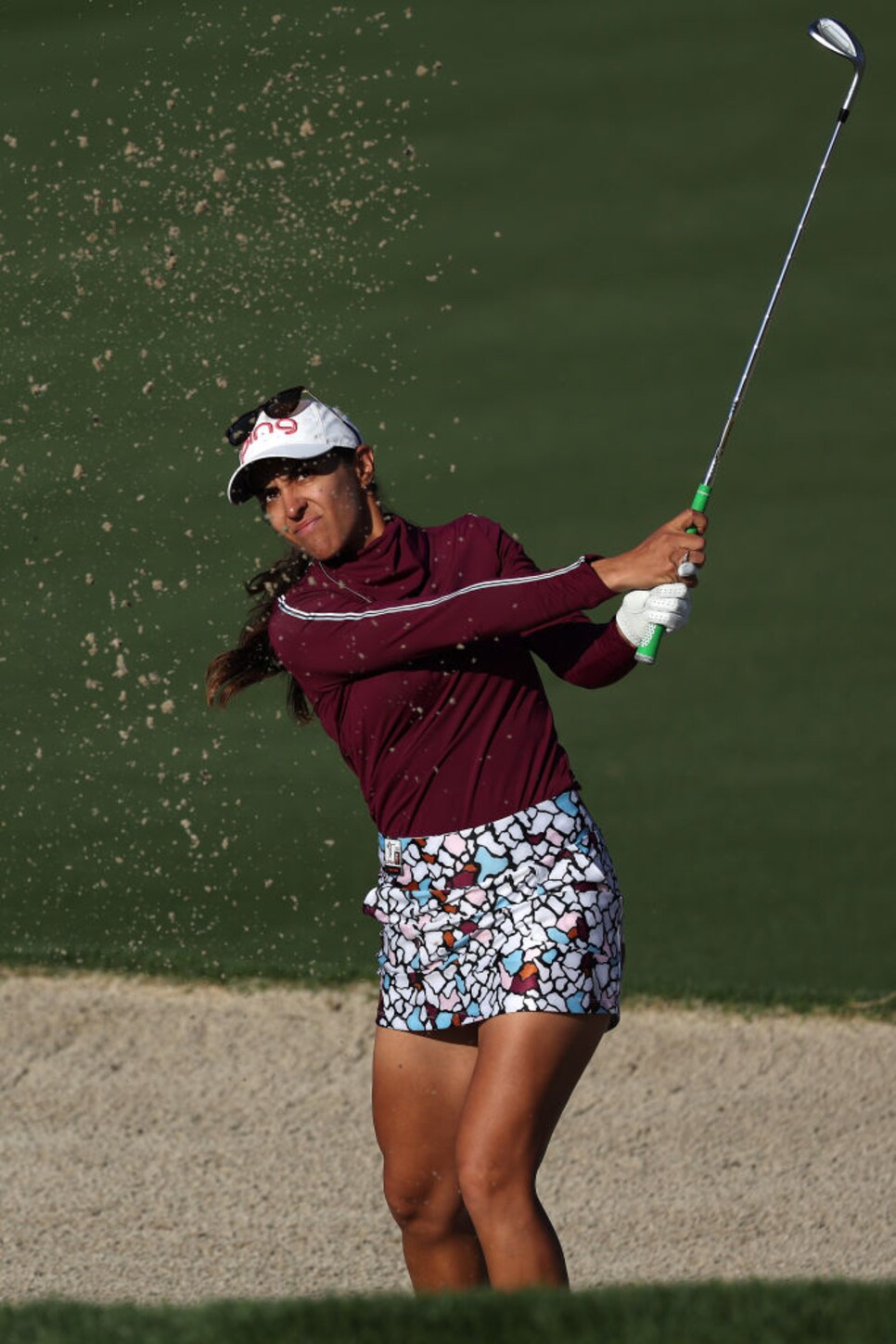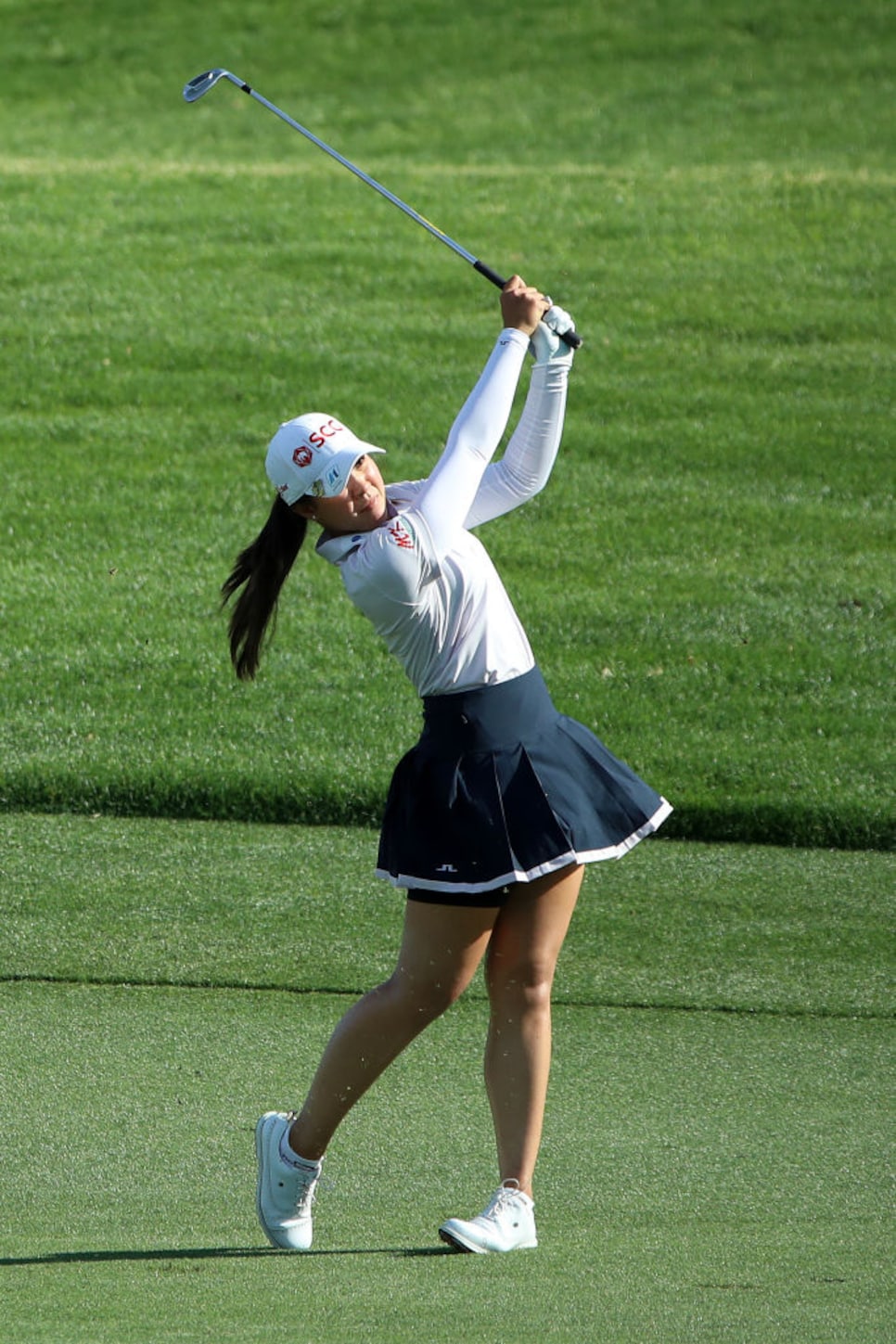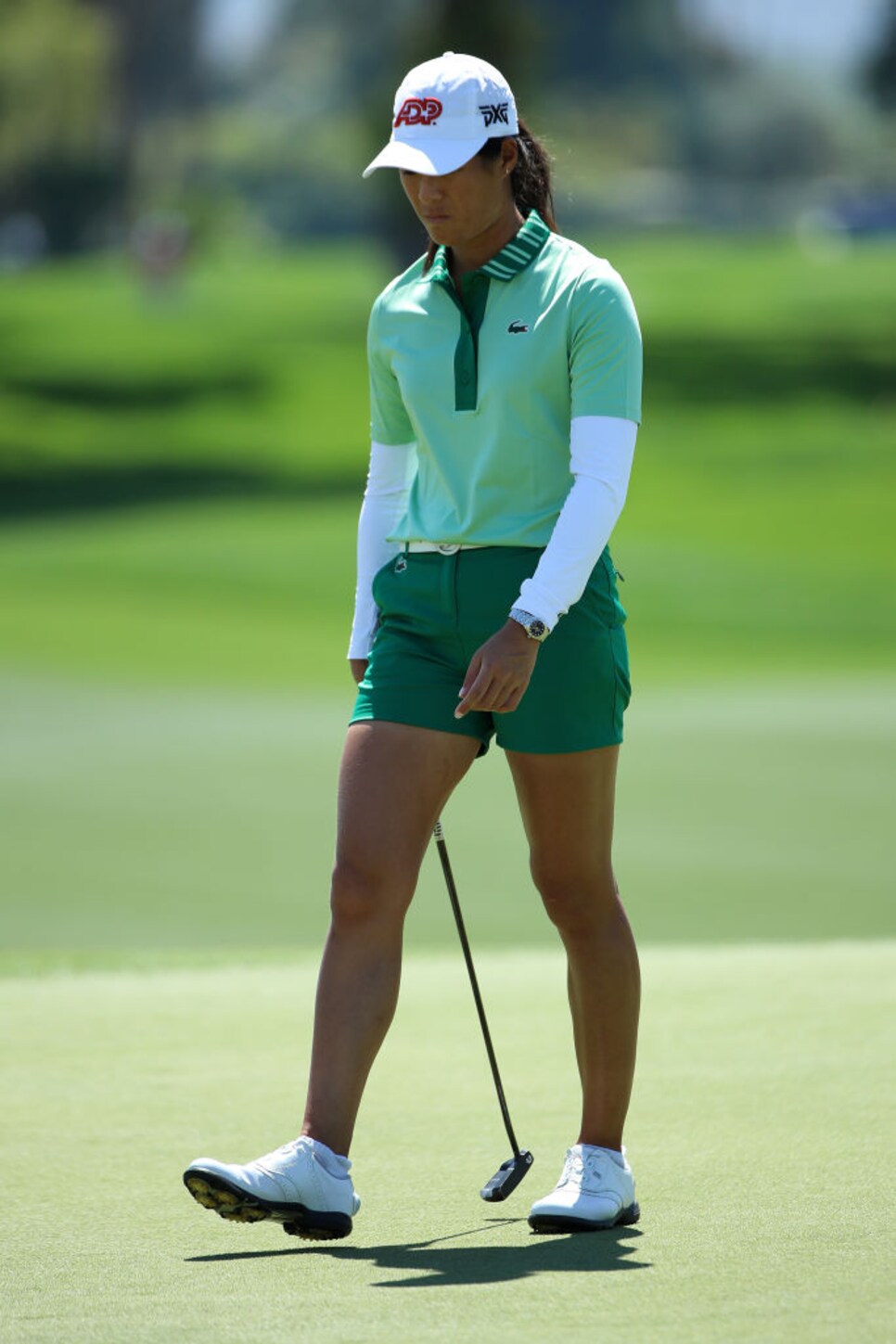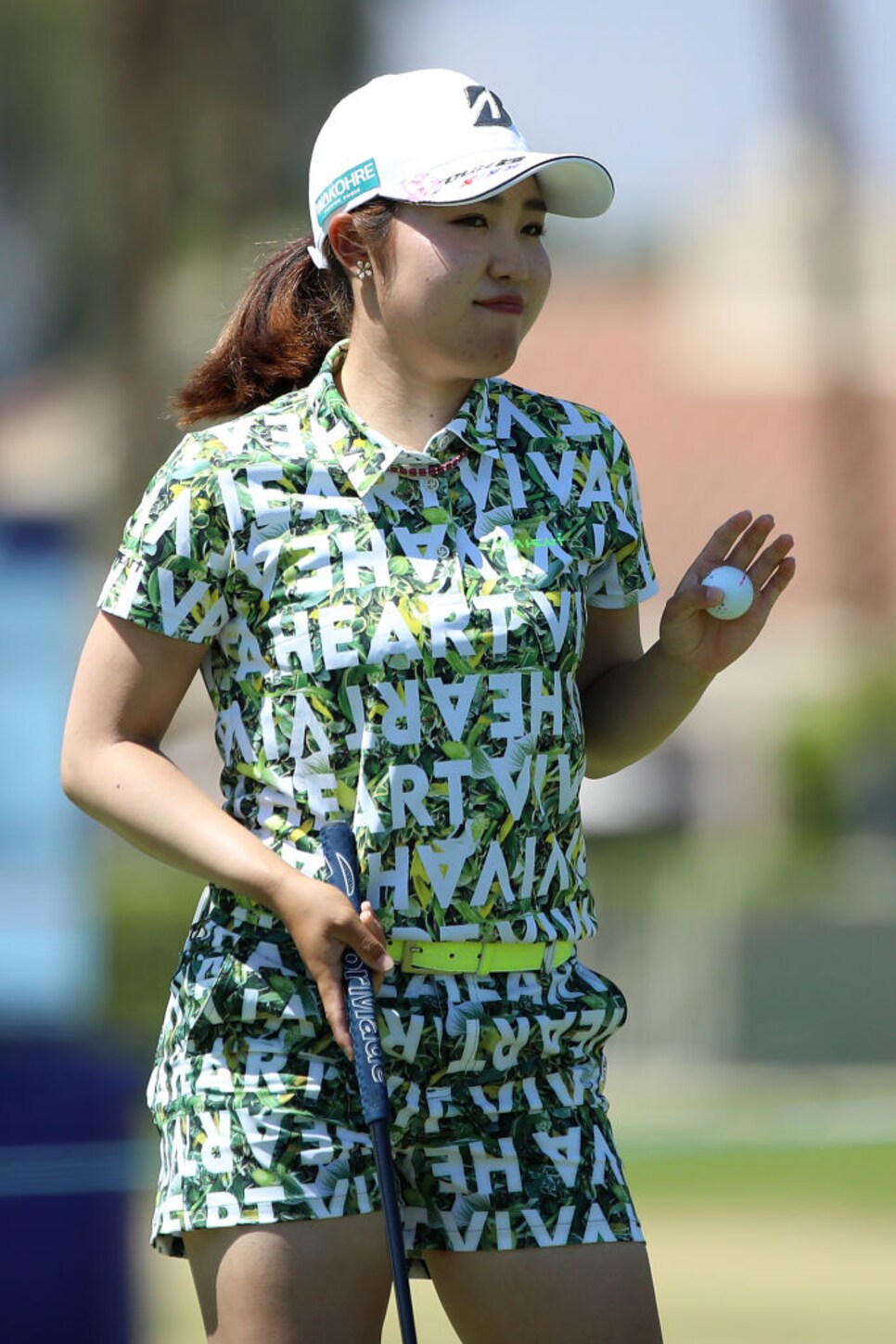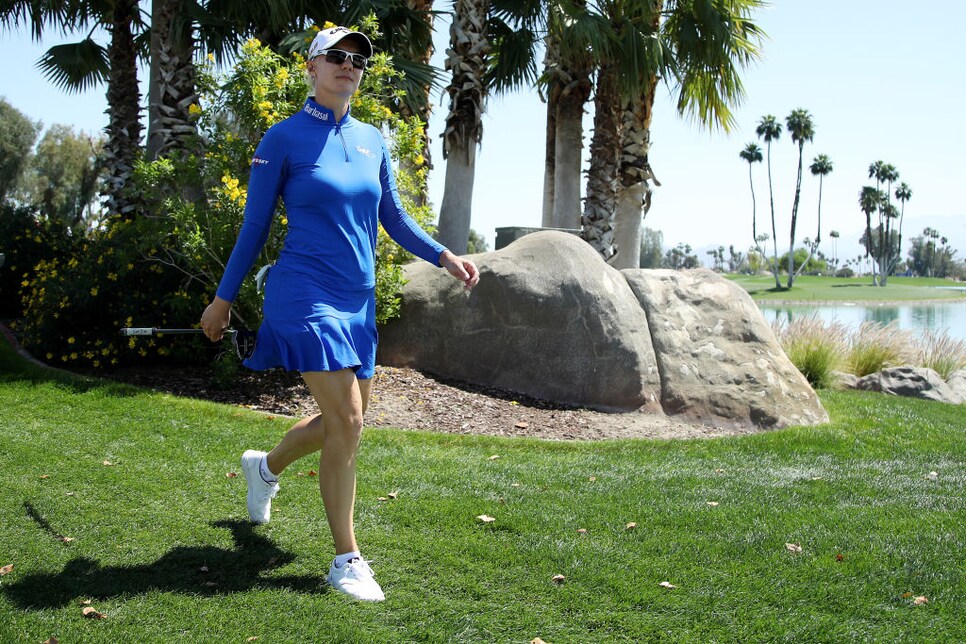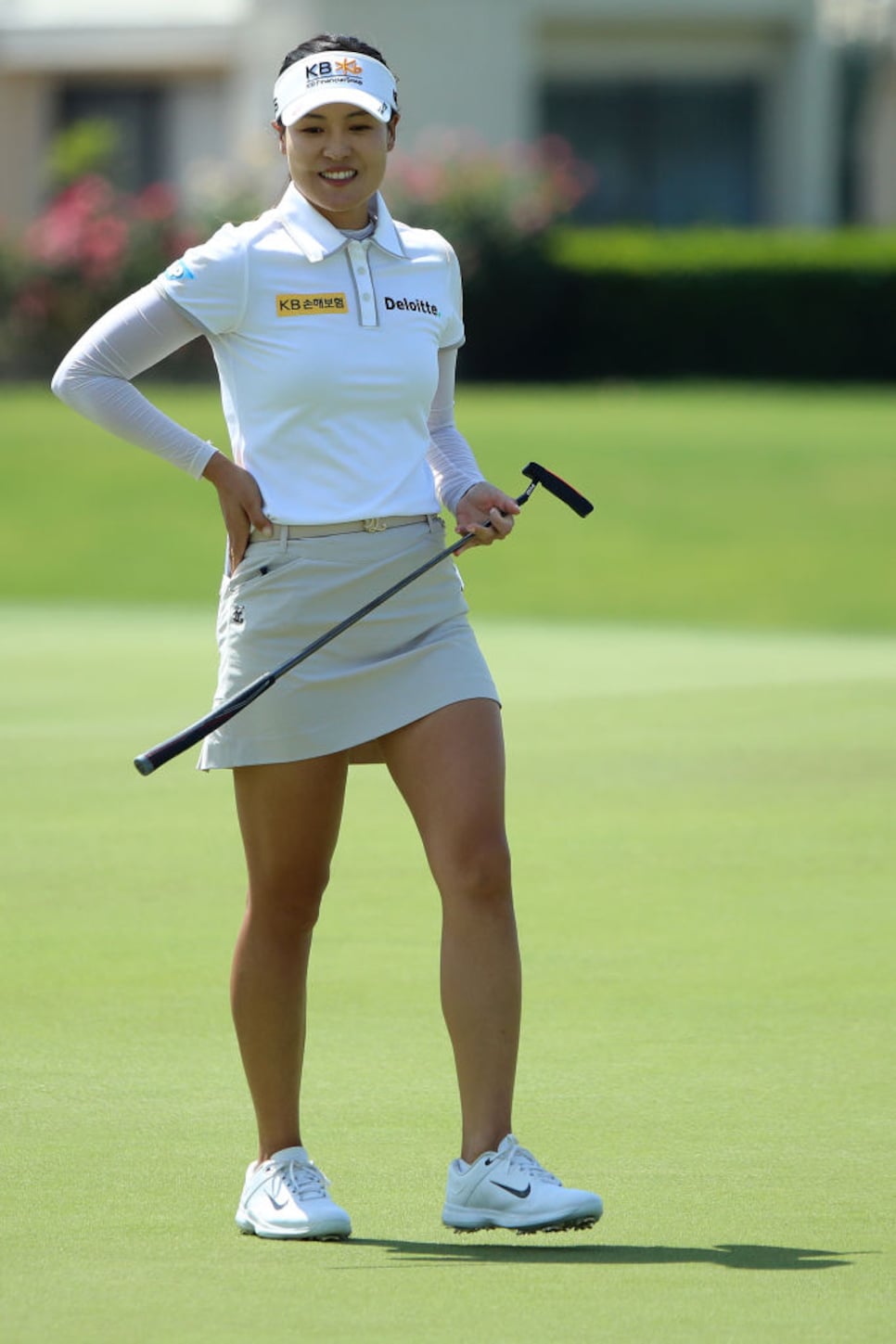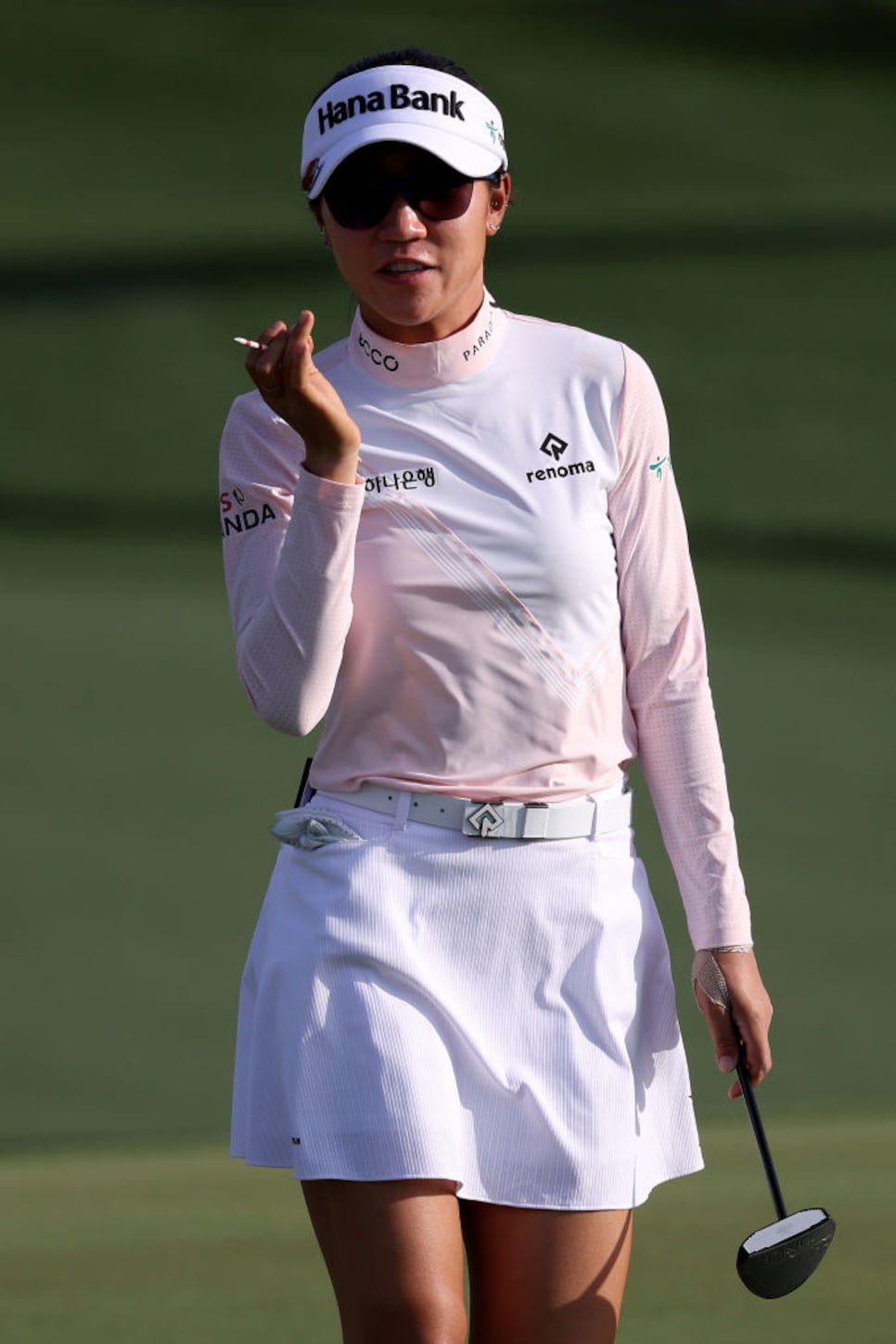 Our favorite look from the Chevron Championship: Gabi Ruffels
The pink-and-black color combination was huge during this season's majors, and Ruffels' ensemble at the Chevron did the trend justice. We love how Ruffels' shoes incorporate subtle hints of the same bright shade as her top—the detail makes the look feel cohesive and doesn't go overboard with color-coordinating. Plus, she pulls off the black golf shorts effortlessly, and that's not an easy feat (we're taking notes).
The Masters was a bit cooler this year than in years past, bringing a great showing of layering options. Some, like Scottie Scheffler's indecisive vest affair, caught more attention than others, but overall, the field shined with their ability to adapt to changing weather conditions without compromising style. When it comes to selecting the most stylish and memorable ensembles, looks across all four rounds were fairly tame, with a lot of simple solids and comfortable shades of navy and black. Perhaps inspired by the iconic flora and fauna at Augusta, pink is typically always a trend at the Masters, but Tiger Woods leaned into the shade with a bold pink mock neck that had golfers running to the store to try and copy the look. Also shining in pink was Justin Thomas' third-round sweater, Cam Smith wearing it twice, Viktor Hovland's head-turning pants and Morikowa's sophisticated mock-neck polo.
While styles were quieter in April, there were a few head-turning looks we'd be remiss to not mention, including Tony Finau's both play with patterns, Will Zalatoris' tortoise-pattern golf shoes, Thomas' yellow pant ensemble and Erik Van Rooyen's mustache…we're kidding, but it did pop against the colorful Hawaiian-shirt-inspired polo he wore during the second round.
And lastly, to no one's surprise, Tony Finau again caught everyone's attention with his opening round look, which featured bold black-and-white florals.
Top looks from the Masters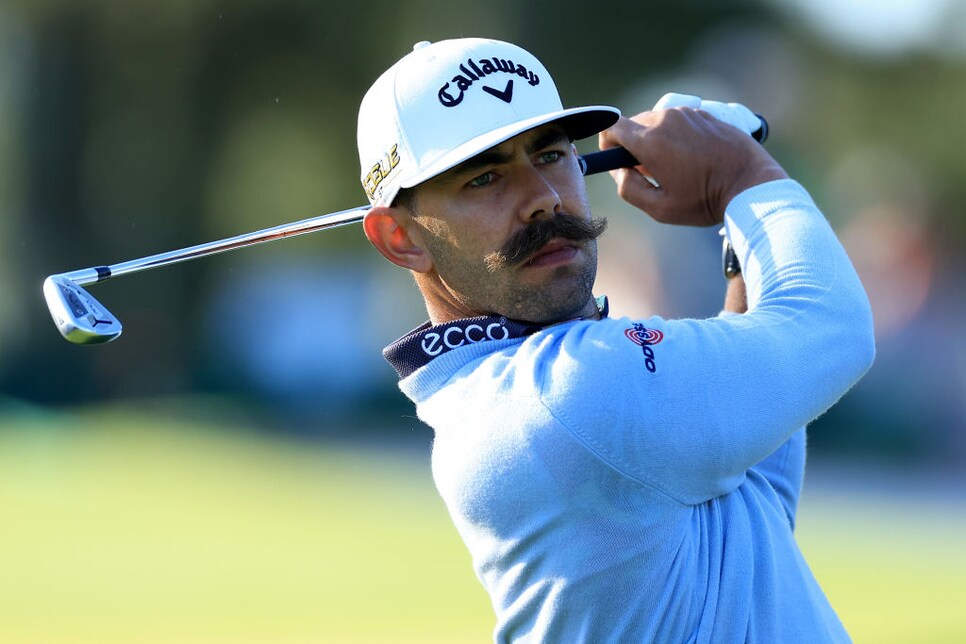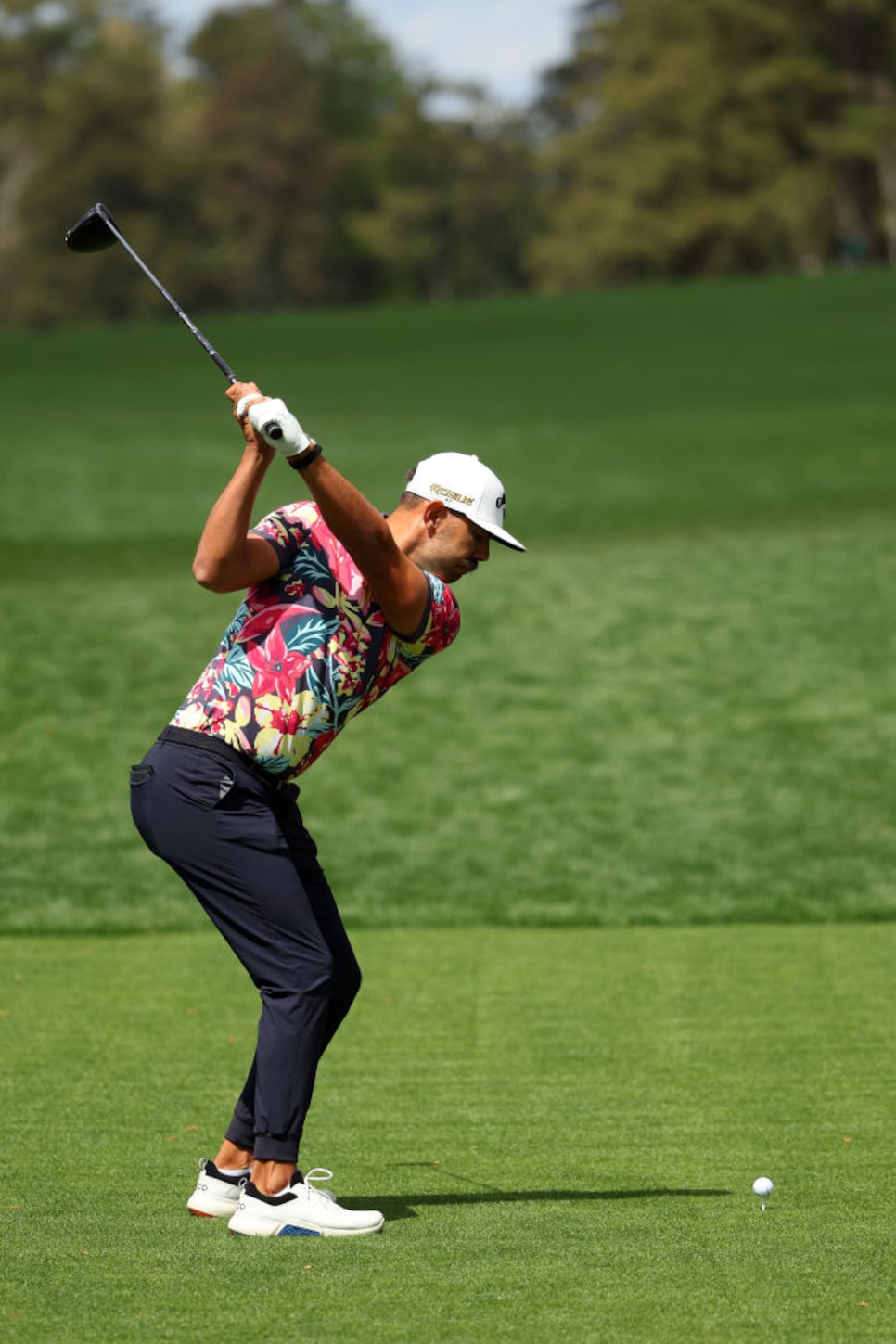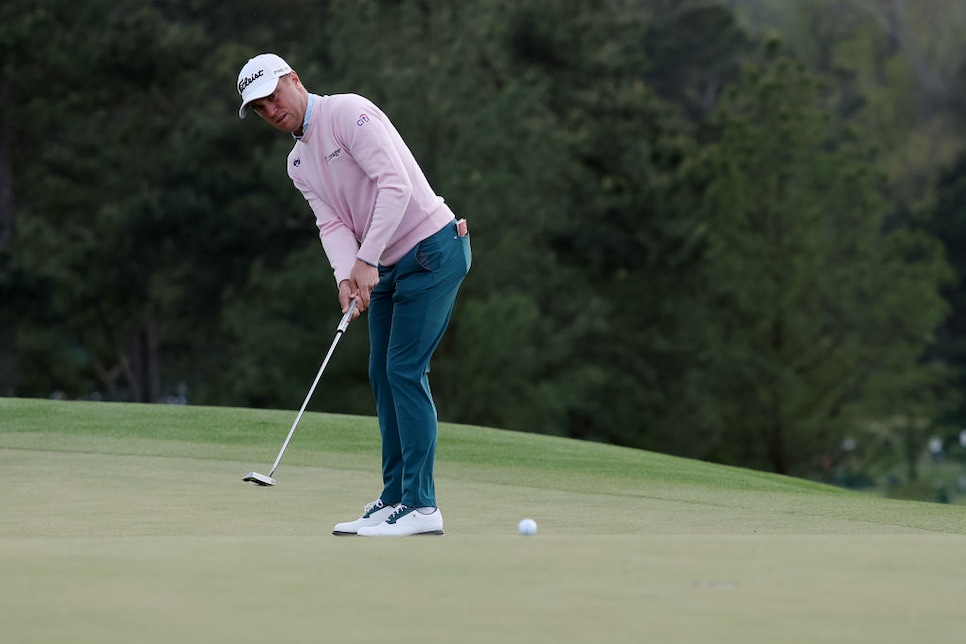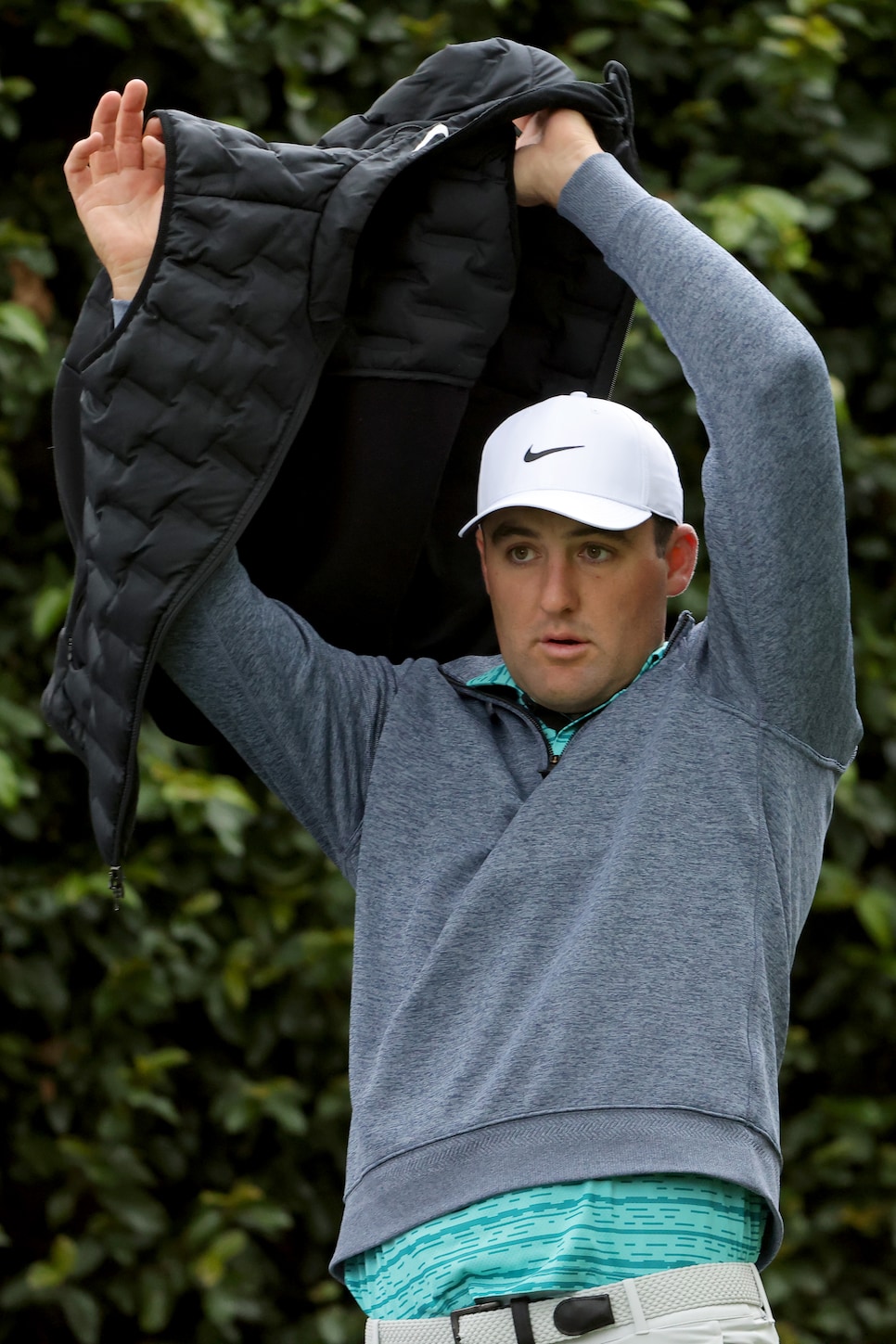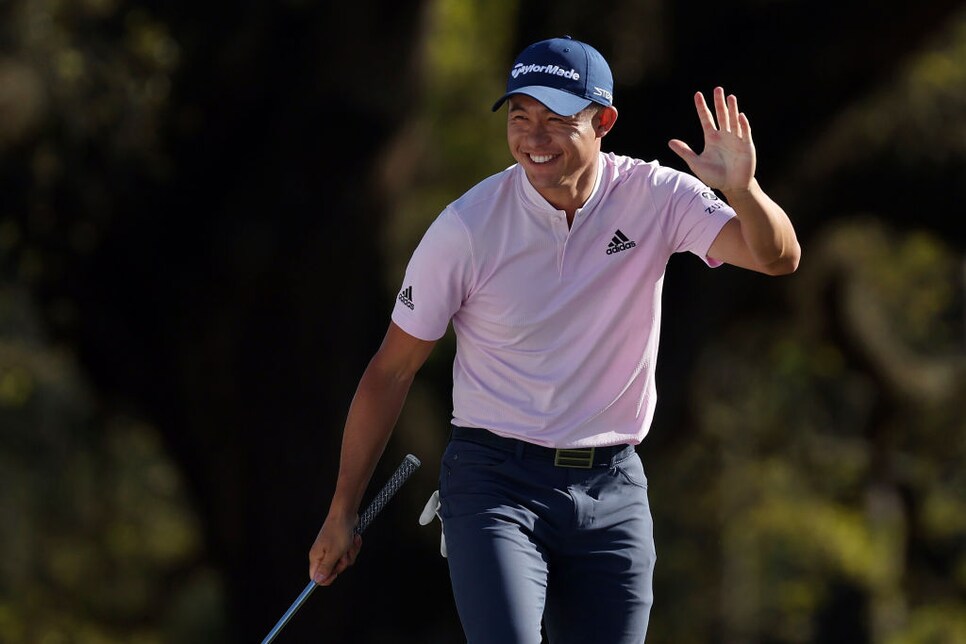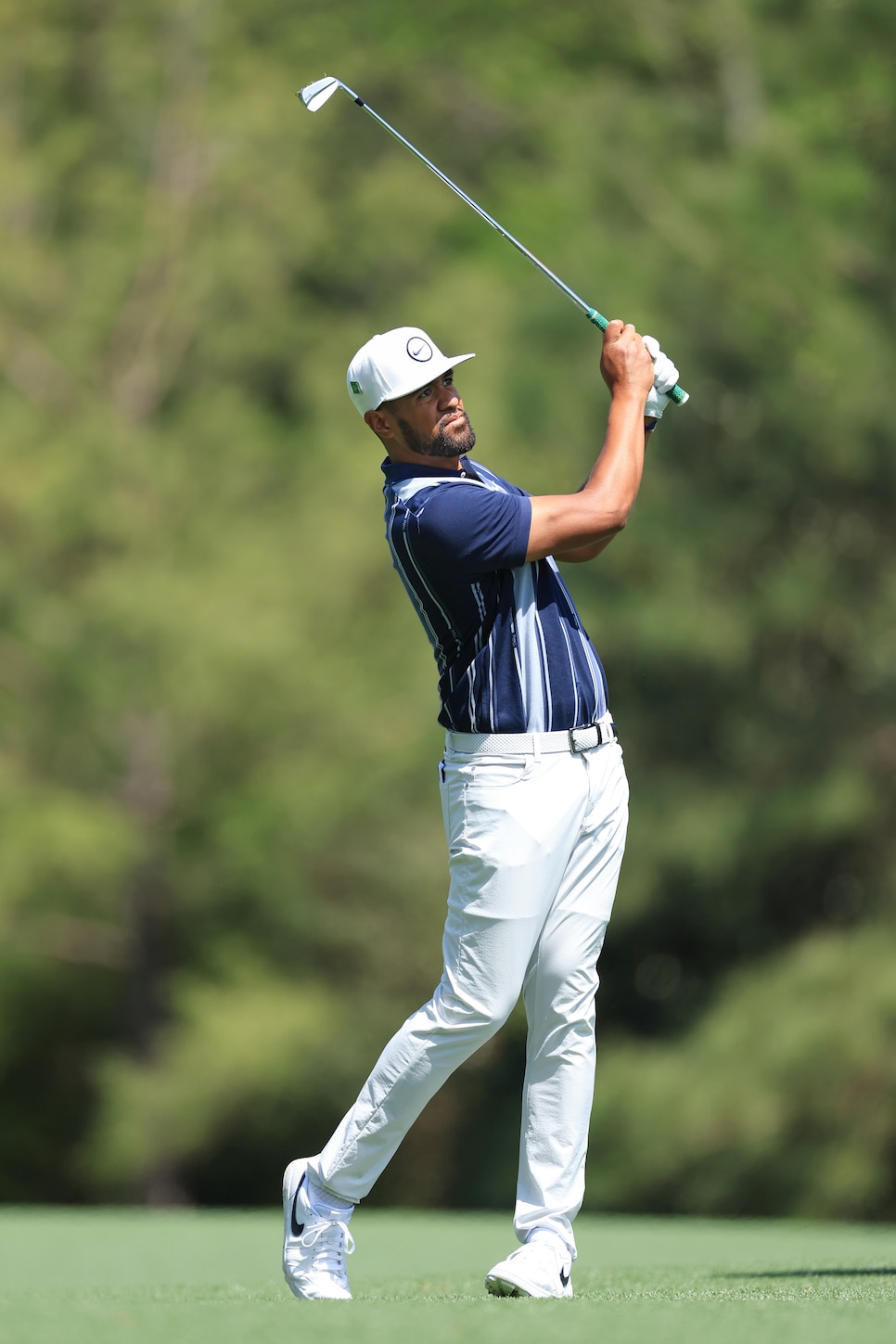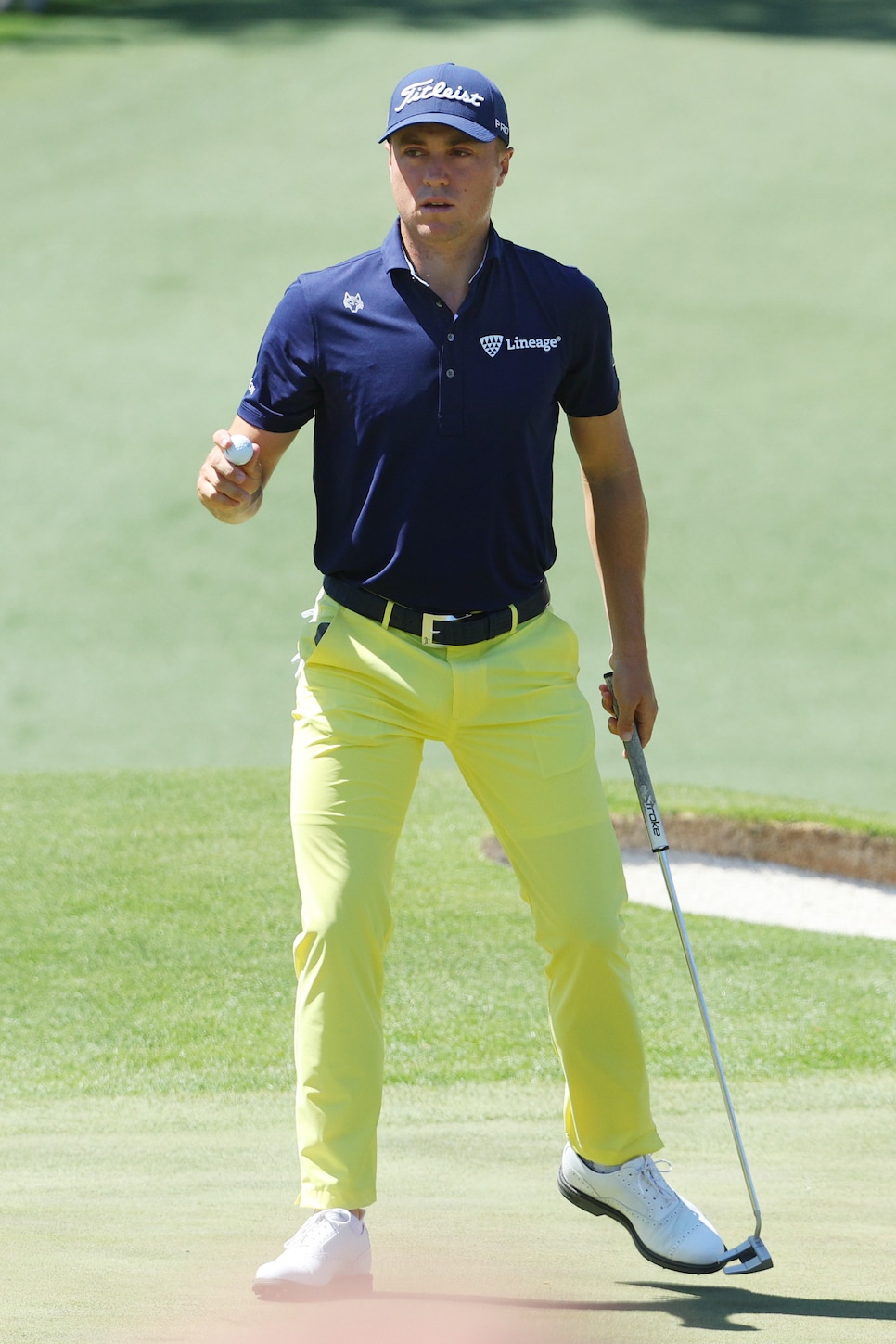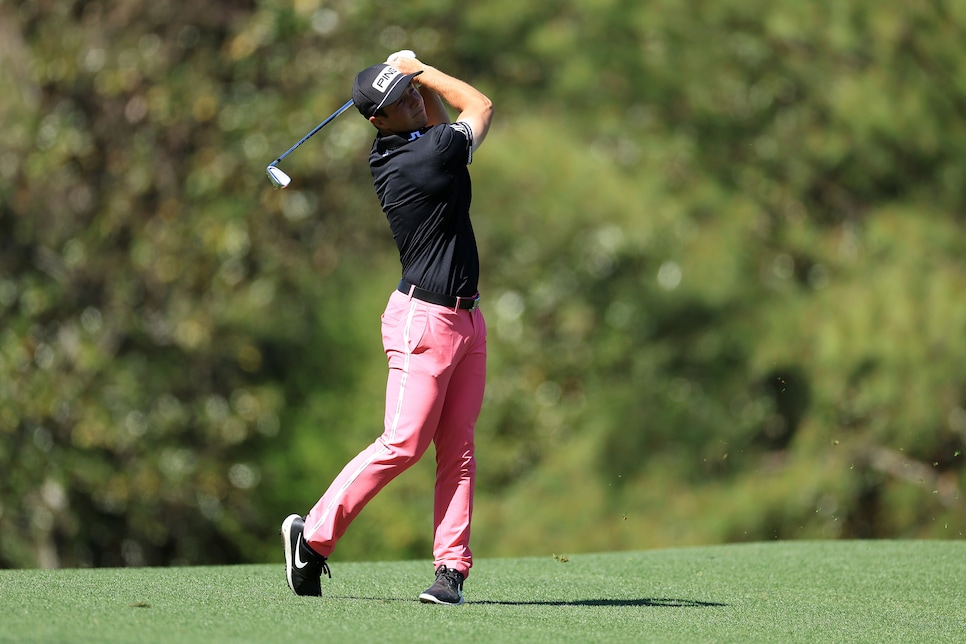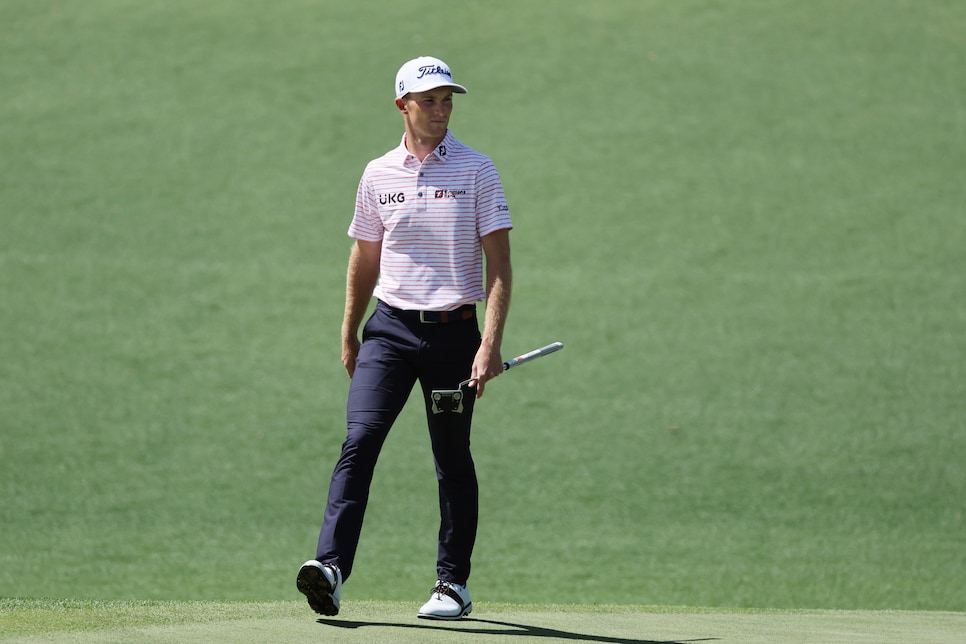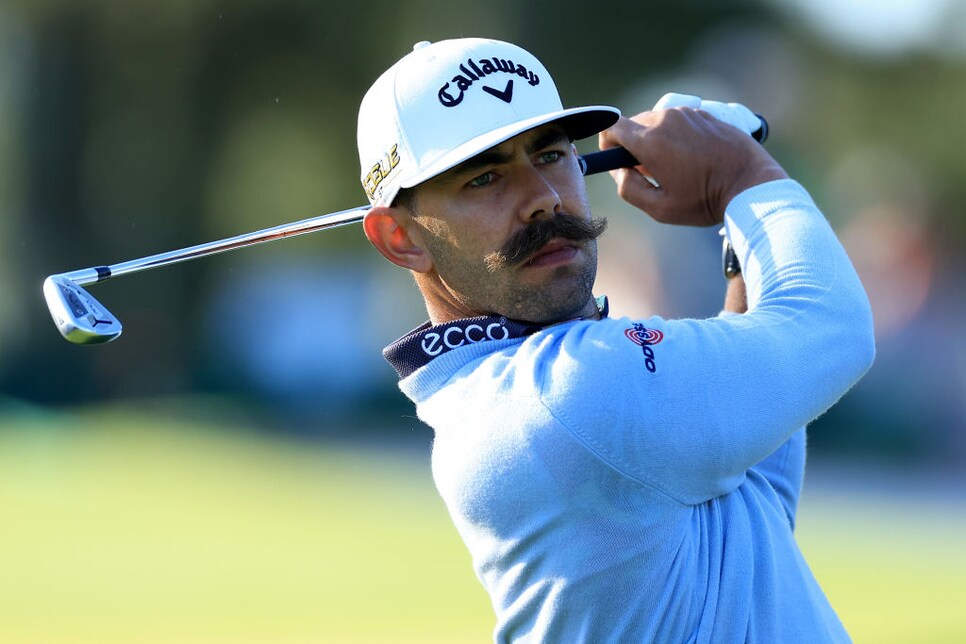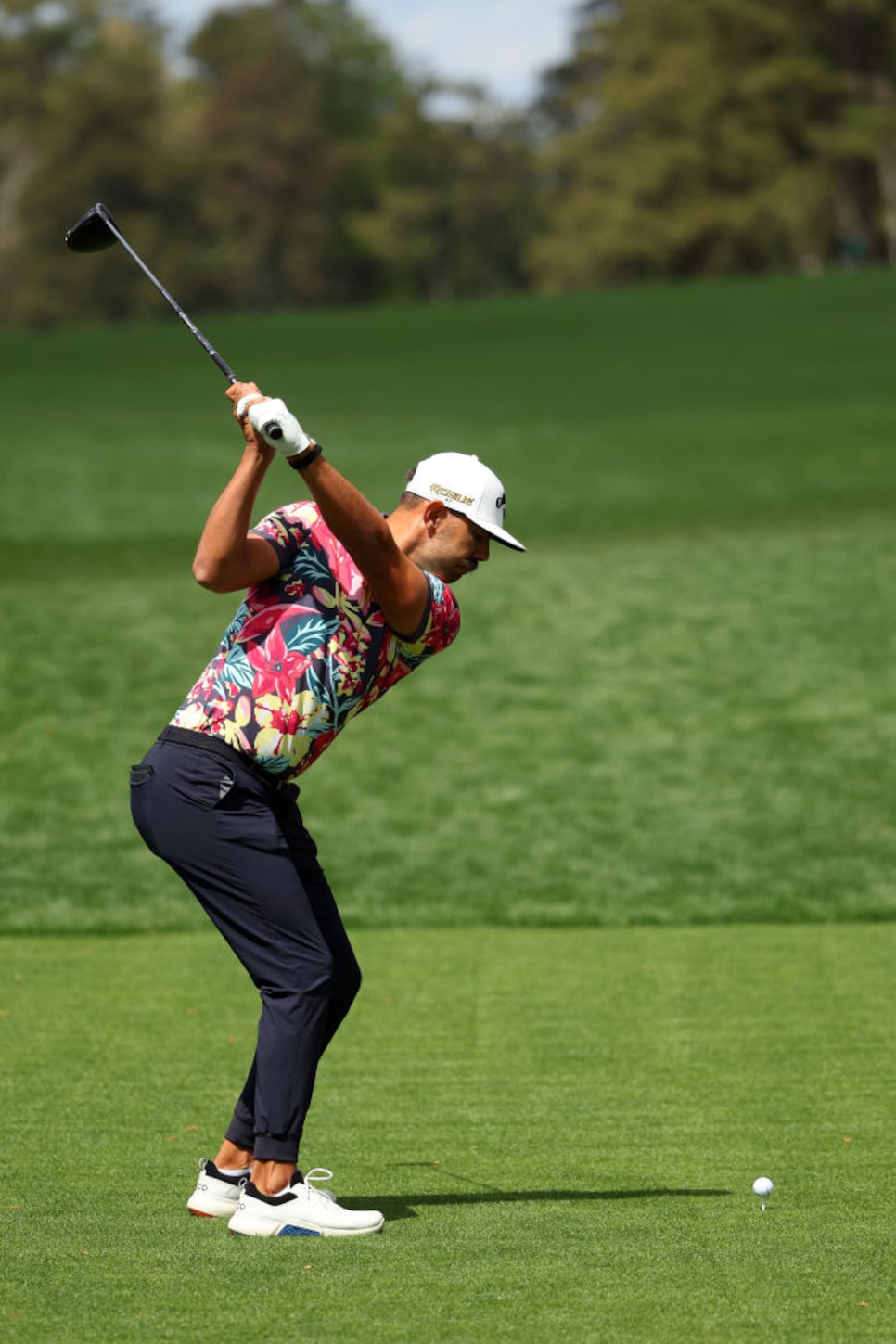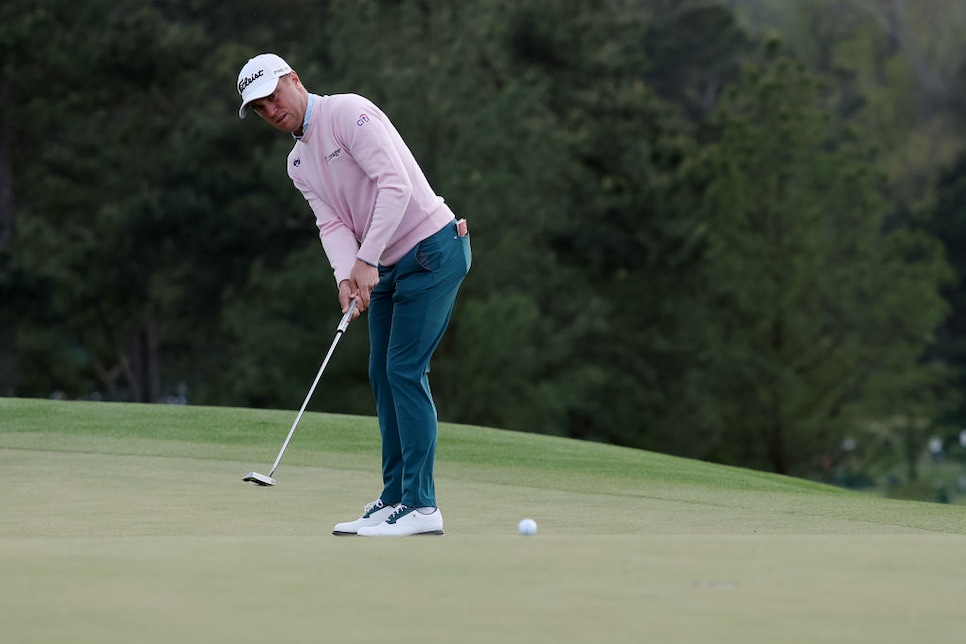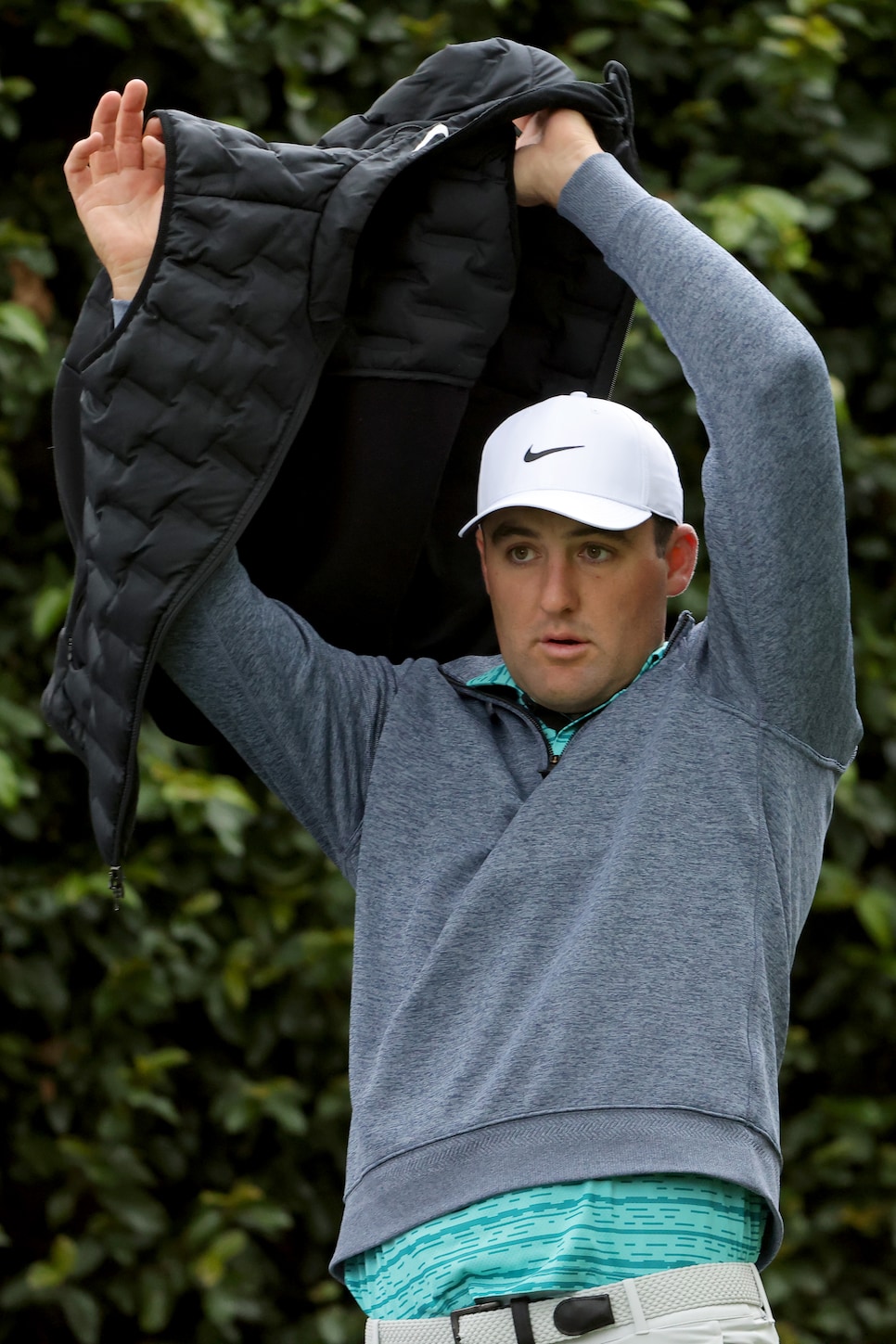 Our favorite look from the Masters: Tiger Woods
We couldn't live with ourselves if we didn't include the GOAT in this round-up. It was a treat just to see Tiger in the men's majors this year, let alone witness him rocking a hot-pink mock-neck during the first round in Georgia. Woods perfectly emulated the Augusta National azaleas with this stand-out look. The bold choice screamed "I'm back" better than any other outfit could. Although the hot pink colorway of this Nike top is sold out, you can check out the other color options at the link below.
Still settling into its new May spot on the PGA Tour calendar, the PGA is somewhat challenging moment for tour players when it comes to style. The championship, which was held at Southern Hills C.C. in Tulsa, Okla., for the first time since 2007, came right on the collar season between spring and summer. Transitional pieces were again a common theme, as Will Zalatoris, Joaquin Neimann and Hideki Matsuyama wore vests and sweater vests to deal with the awkward in-between temperatures and overcast skies.
While it seemed like most of the field dressed in black—Abraham Ancer and Mito Pierrera did it well—we commend the players who mixed in some bright colors to contrast the forecast. Tony Finau took this to the extreme when he stepped out in a bright floral pullover during the third round, continuing his campaign of head-turning looks at the majors. Cameron Young and Aaron Wise added touches of color to their outfits as well, with soft purple and pink shades on their pullovers to stand out from the field.
Players were also leaning into old-school golf style all week long, with Lucas Herbert and eventual champion Justin Thomas stepping out in retro button-up sweaters over classically styled polos. The crossover between modern apparel technology and classic silhouettes is a trend we've seen circulating in the golf style space—its presence at a major indicated that the theme is here to stay. A tip to pull off this trend is to pair the throwback-inspired pieces with well-tailored pants and classically designed golf shoes for an upscale-yet-approachable look.
Top looks from the PGA Championship
12/13 –
Christian Petersen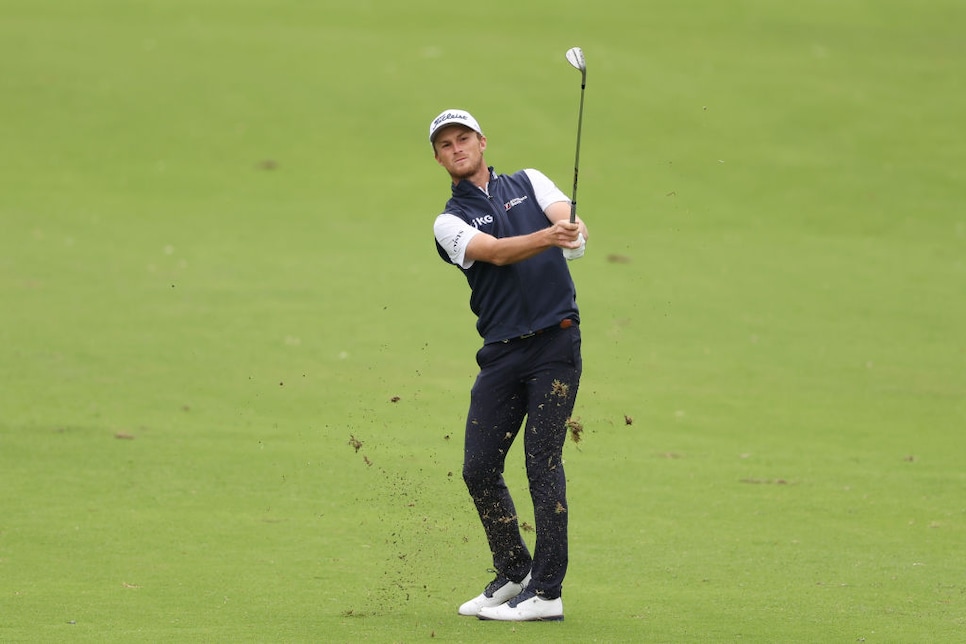 Our favorite look from the PGA: Justin Thomas
The PGA Championship winner didn't just impress with his golf at Southern Hills; he also showed up in some stellar outfits. This gray cardigan look isn't for everyone, but we think Thomas pulled it off (Lucas Herbert did it well, too). Pairing the retro button-up top with crisp white bottoms helped JT tie the outfit together nicely. Thomas' apparel is from Greyson Clothiers, but you shop similar items that are in stock below.
Style was a full display at Pine Needles, where fans got to see some of the hottest women's golf apparel trends in action. Reigning U.S. Women's Amatuer winner Jensen Castle showed off her personal style outside of her University of Kentucky college golf gear with a bright blue Nike skirt—a color that's making waves on tour. Andrea Lee expertly demonstrated how her classic Ralph Lauren ensembles can go above and beyond with her pink polo. Minjee Lee's neon green shirt and sunglasses combination was an instant classic, as the talent that helped Lee capture her second major title wasn't the only thing that shined bright at Pine Needles. Runner-up Mina Harigae got fans' attention with her flaming hot sneaker game, wearing various Air Jordan golf shoes throughout the week. The U.S. Women's Open also paved the way for the monochromatic outfit trend to take off. We loved Bianca Pagdanganan's blush pink co-ord.
Top looks from the U.S. Women's Open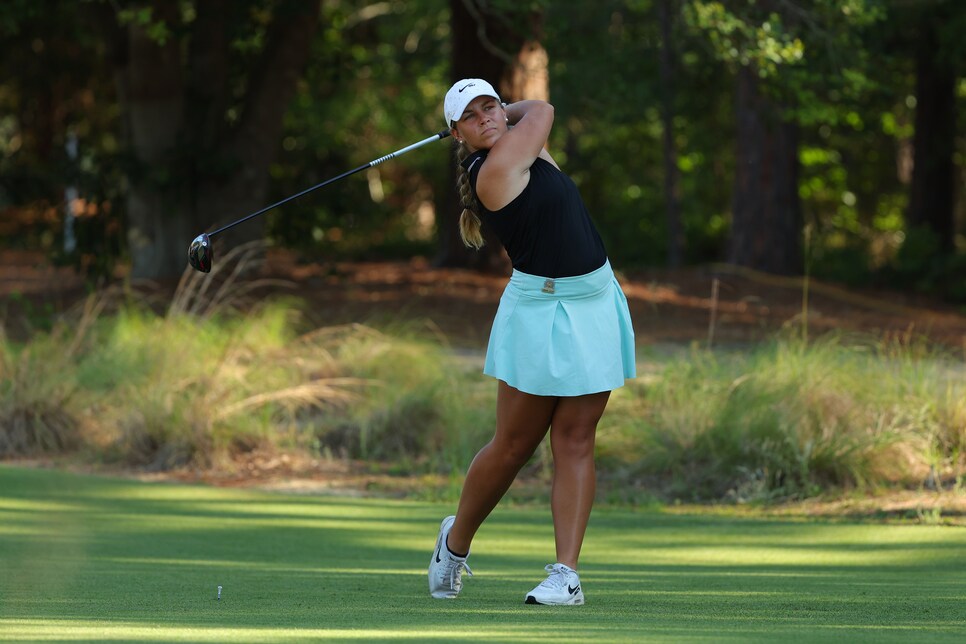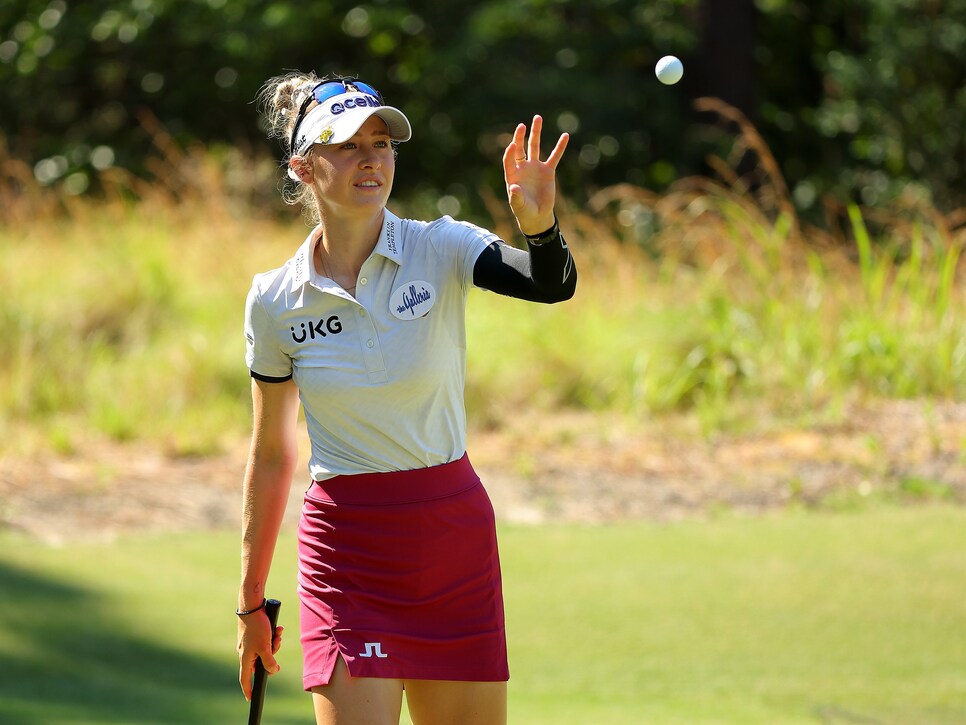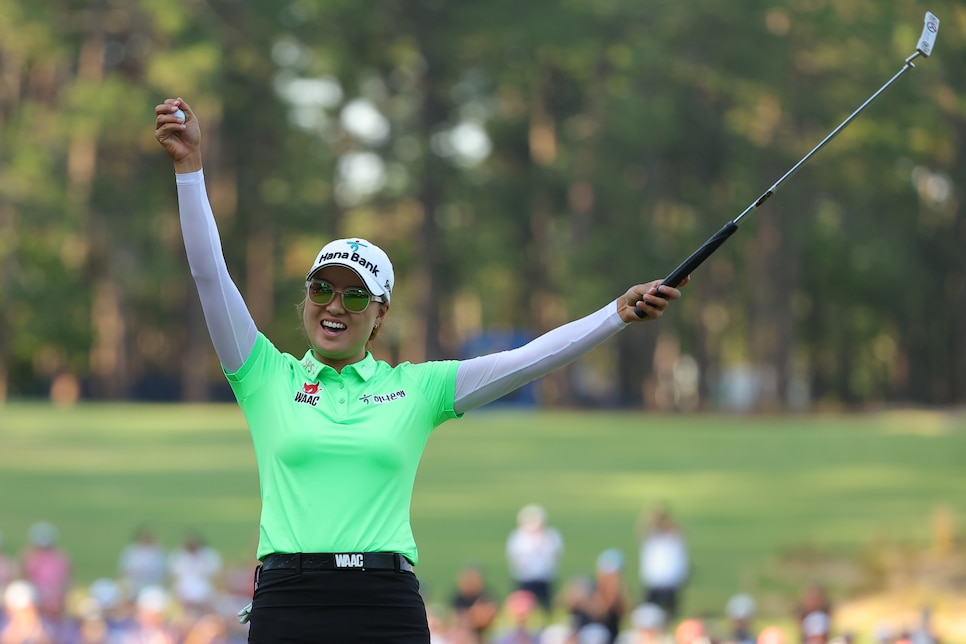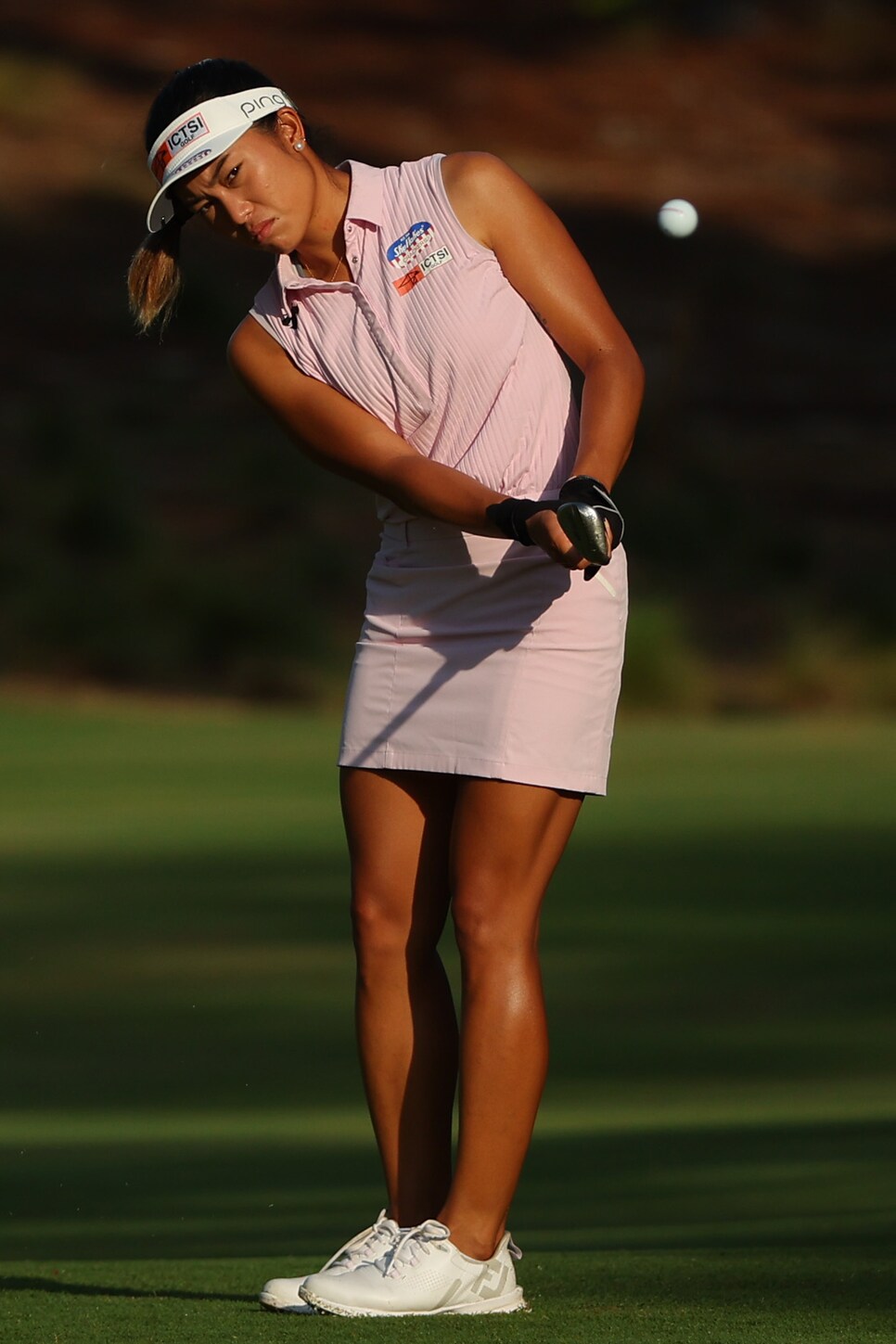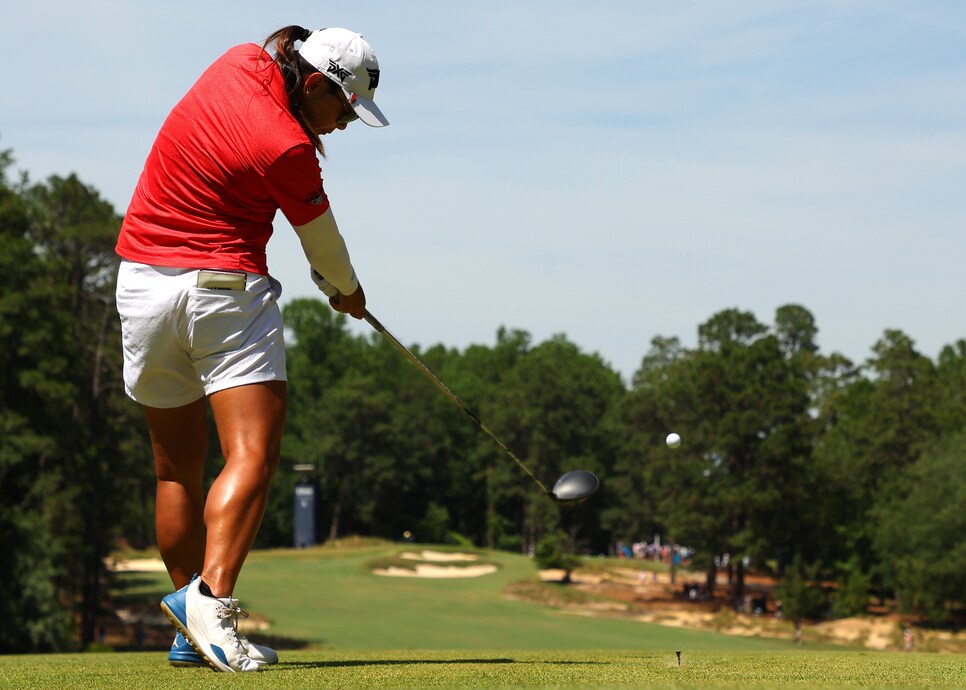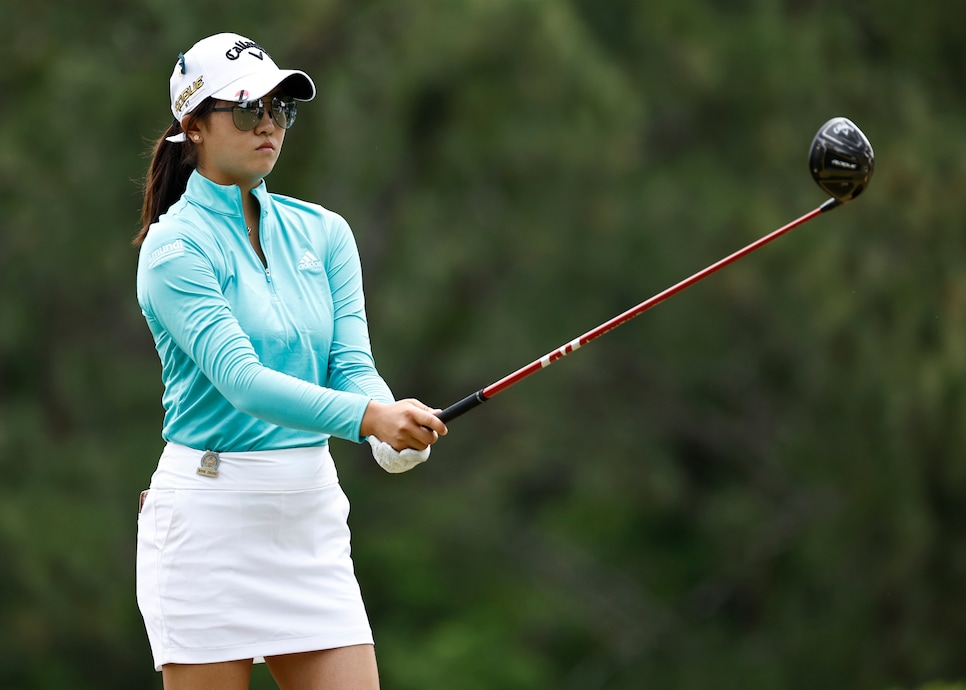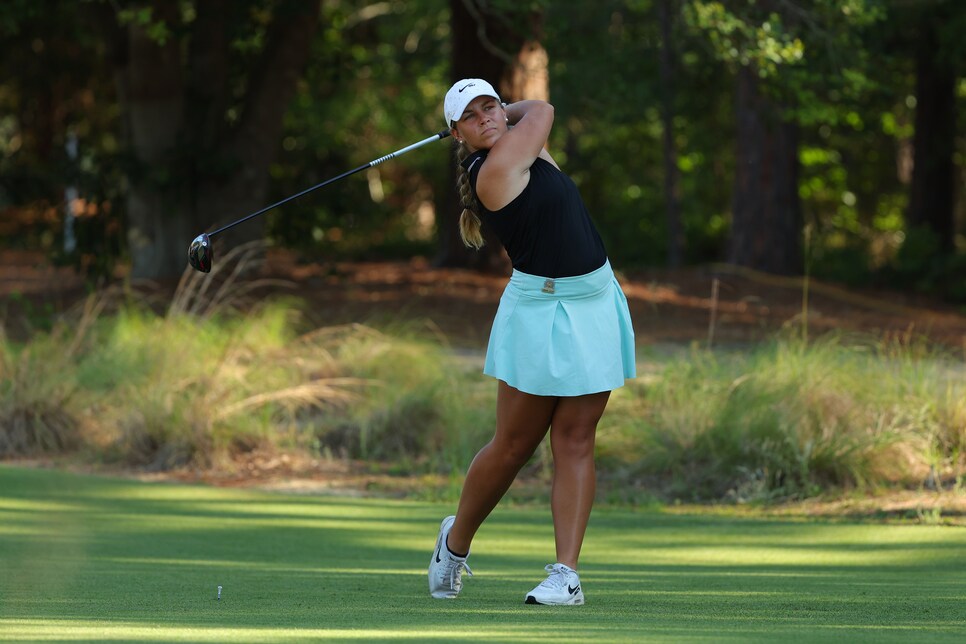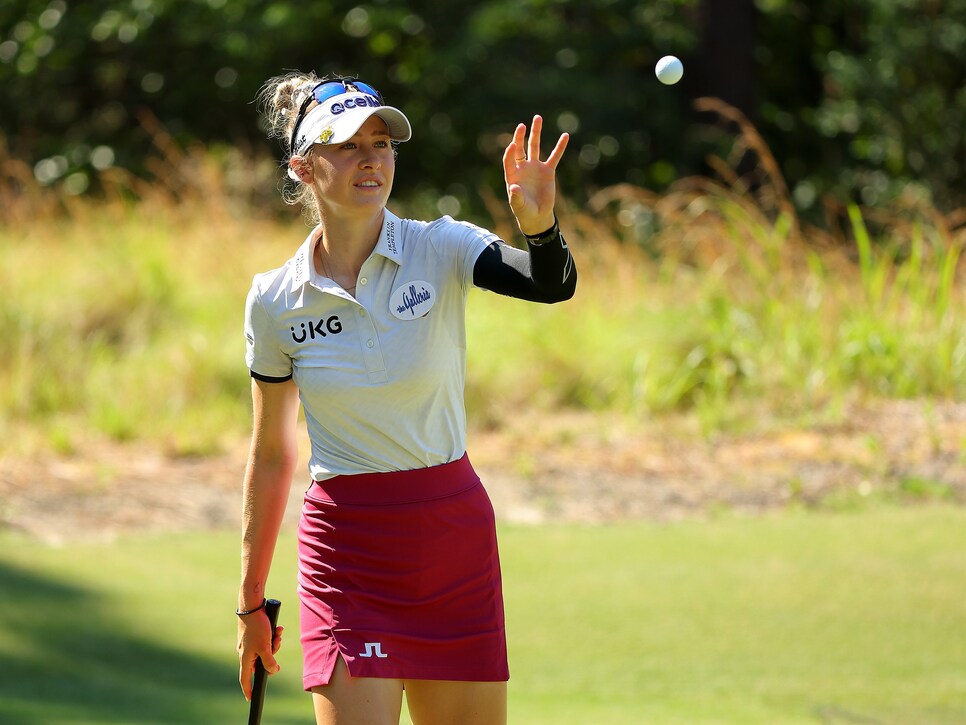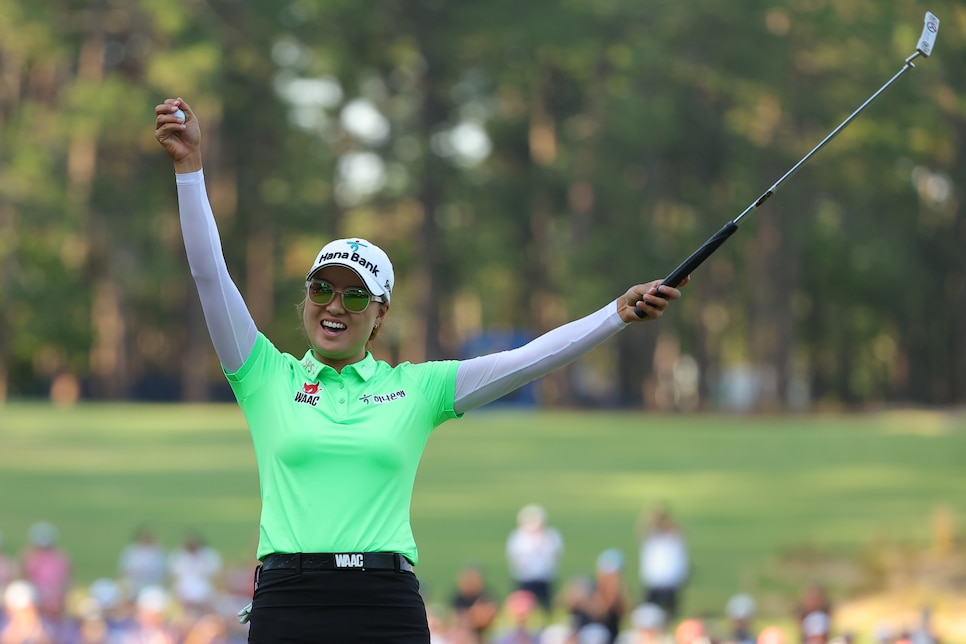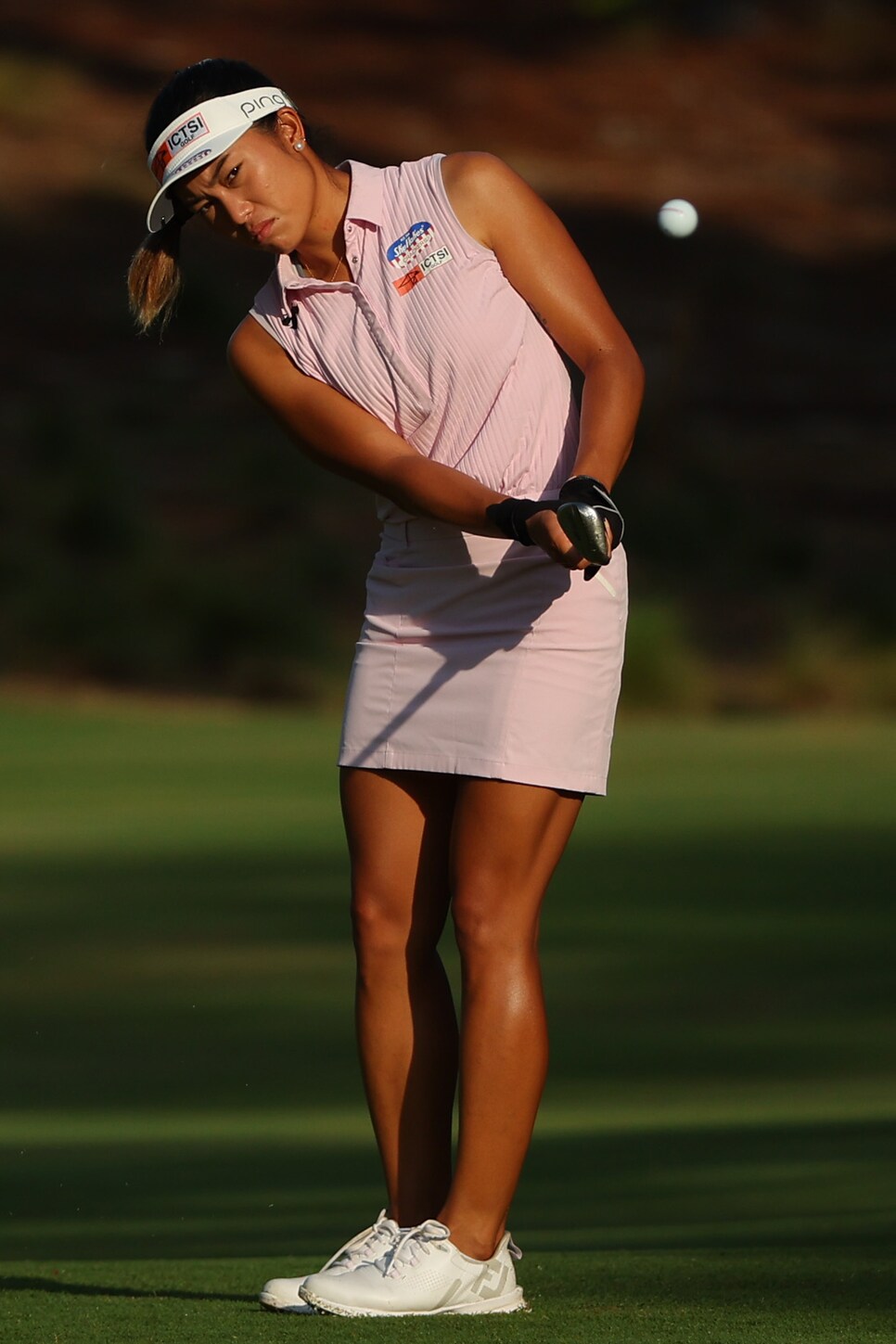 Our favorite look from the U.S. Women's Open: Lexi Thompson
Lexi Thompson's final-round outfit at Pine Needles is a well-executed combination of simple, trendy, and sporty. Her all-white apparel aligns with all of the monochromatic looks we've seen on the LPGA this season. However, the pops of color on her patterned Puma shirt and turquise visor give the outfit some additional flare. Thompson's go-to look revolves around athletic basics, but the curation of this outfit in particular stood out to us.
At Brookline, players embraced the historic nature of the championship with streamlined, put-together looks and neutral tones. Adam Scott made headlines all season long with his beige Uniqlo sweaters and earth toned outfit, and he did not let up with this pattern at The Country Club. Those rusty tones were also present on TaylorMade's custom staff bags for the week. The commemorative bags were designed with the Boston Tea Party in mind, as they were tea-stained and decorated with nods to American history.
Many players embraced the New England theme in various ways: Justin Thomas and Beau Hossler wore salmon pants, a popular color in the region, while Rory McIlroy sported a pair of New England-inspired Nike golf shoes that were a fan favorite. The shoes had "Lobstah" printed on the outsoles to poke fun of Boston's infamous accent.
Top looks from the U.S. Open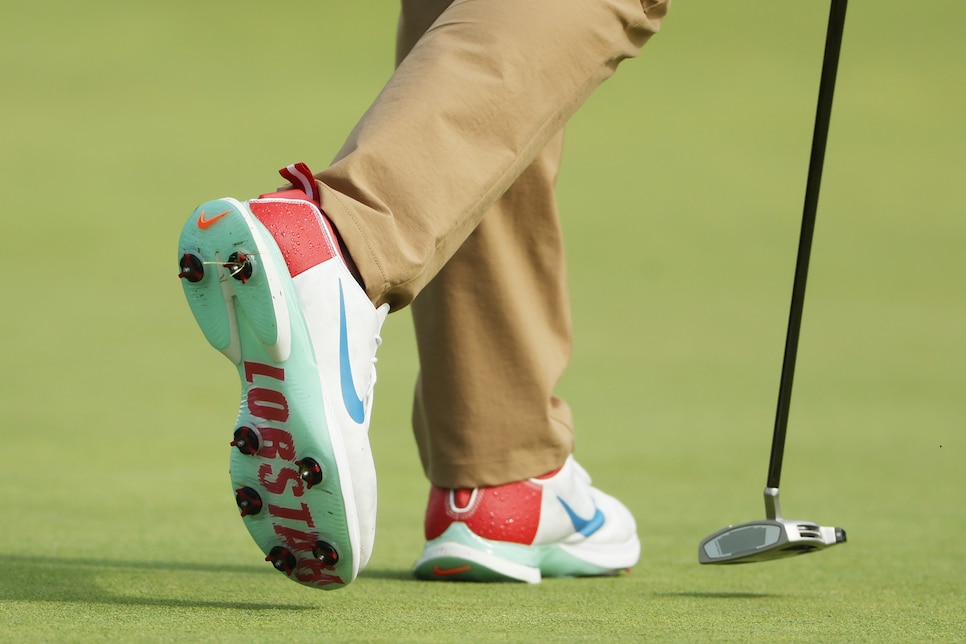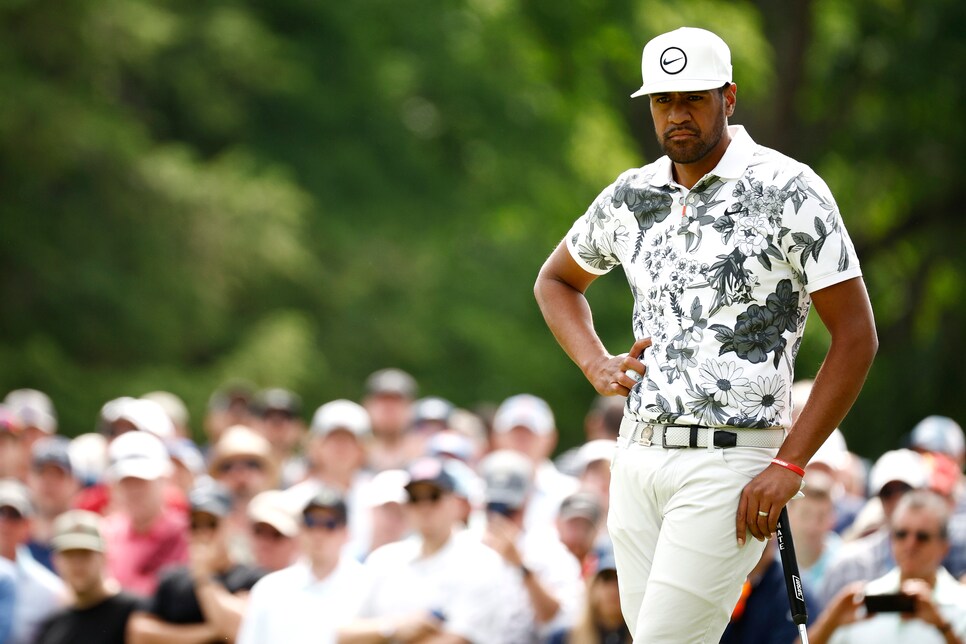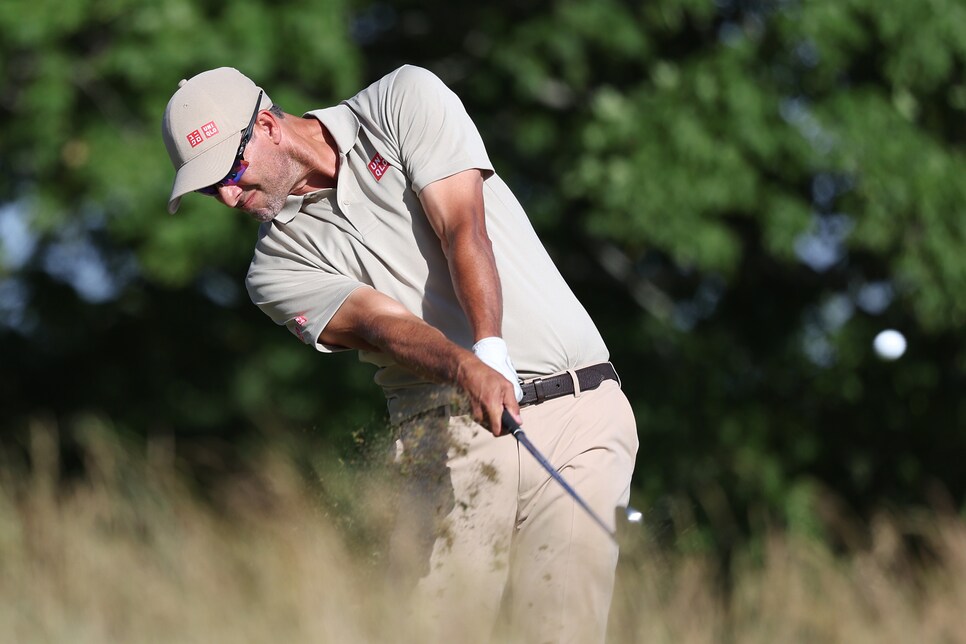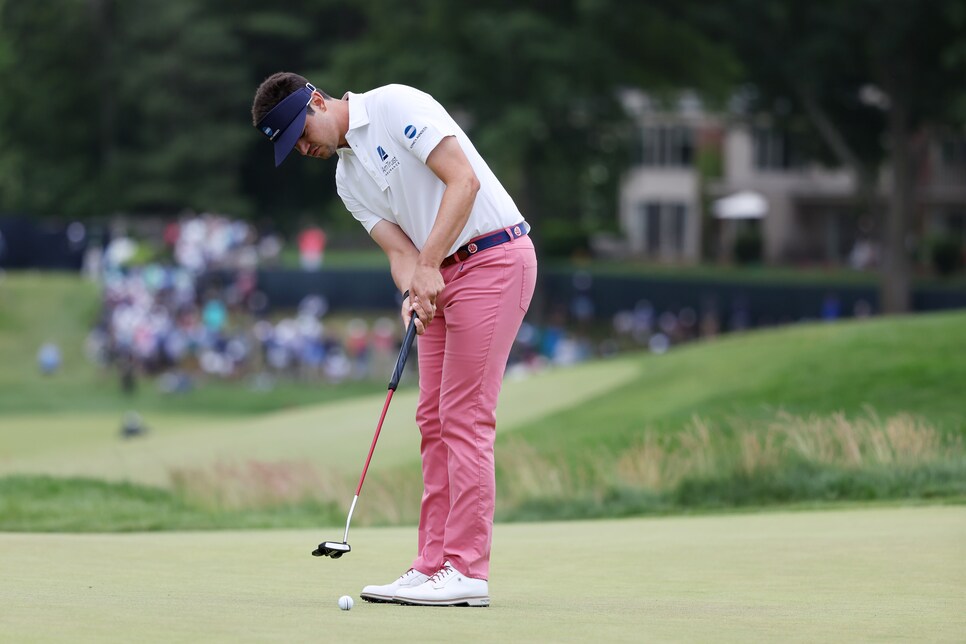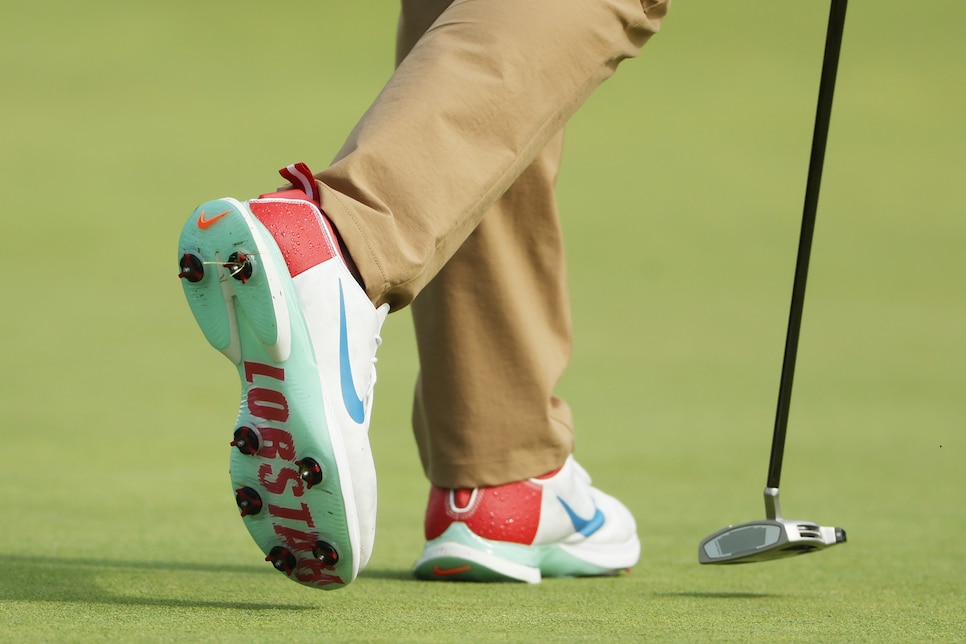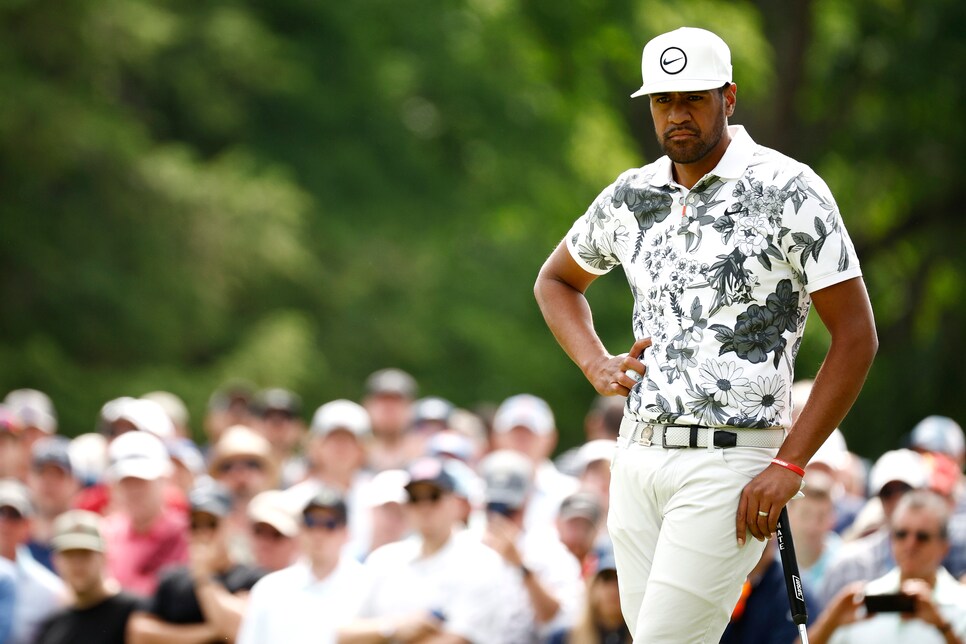 6/6 –
Limited Lifetime Nobis Warranty,Premium Canadian Origin White Duck Down for ultimate warmth

Sympatex membrane laminated
Seam seal construction
Windproof and waterproof (10,000mm) - Breathable (10,000mm) outer shell
Jared C. Tilton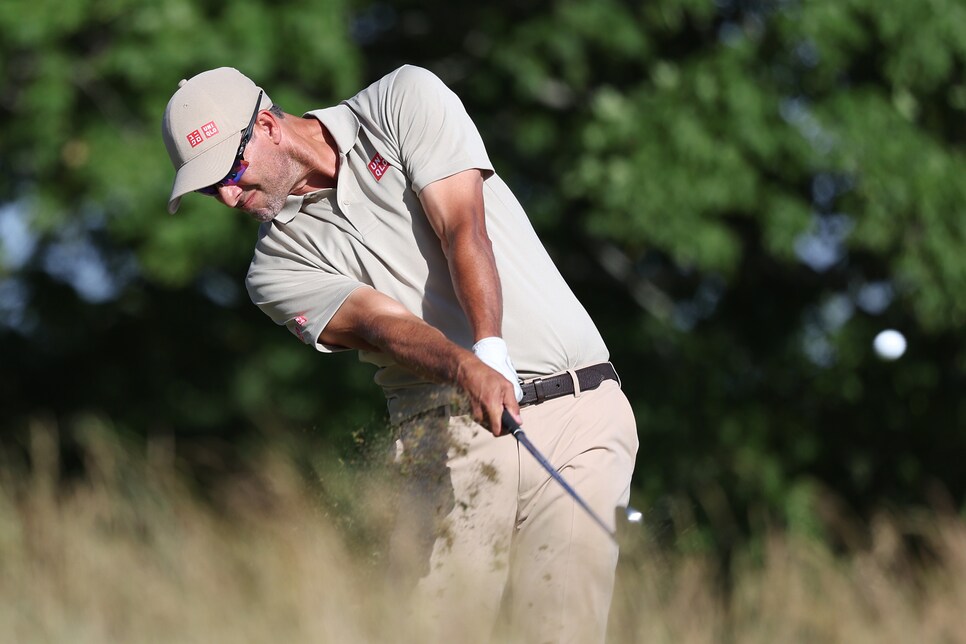 Our favorite look from the U.S. Open: Will Zalatoris
Zalatoris might have barely missed out on a U.S. Open victory, but he's a winner in our eyes when it comes to style. Zalatoris has maintained a clean, classy look all season long, but at The Country Club, his Sunday outfit was the cherry on top. We love Zalatoris' pairing of a light blue top and navy pants, but the detail that really makes the outfit is the pattern of his shirt. The Wake Forest alum was sporting FootJoy's Ouimet Fund collection, a line of golf shirts that have the silhouette of Fancis Ouimet and his 10-year-old caddie printed all over them. Ouimet won the 1913 U.S. Open at The Country Club as an amatuer, and the shirts highlighted the Francis Ouimet Scholarship Fund (learn more about the initiative here). Zalatoris' shirt is currently sold out on FootJoy's website, but we've linked a printed shirt in the same shade of blue below.
KPMG Women's PGA Championship
Congressional Country Club outside Washington, D.C., saw some of the steamiest weather of the season, but that didn't stop the pros from dressing to impress. Actually, one common theme we noticed was somewhat unexpected considering the weather. In 90-plus degree heat, many women chose to wear mock neck collars. Lydia Ko wore a multi-color pale camo mockneck, while Minjee Lee sported one with blue and white color blocking. The stable and structured nature of these tops can help keep the sun off of the neck for an entire round, rather than a traditional collar which can be popped up on occasion for additional protection. We also loved Pornanong Phatlum's unique Hello Kitty statement skirt, as well as the artistic detail on Sophia Popov's.
Top looks from the KPMG Women's PGA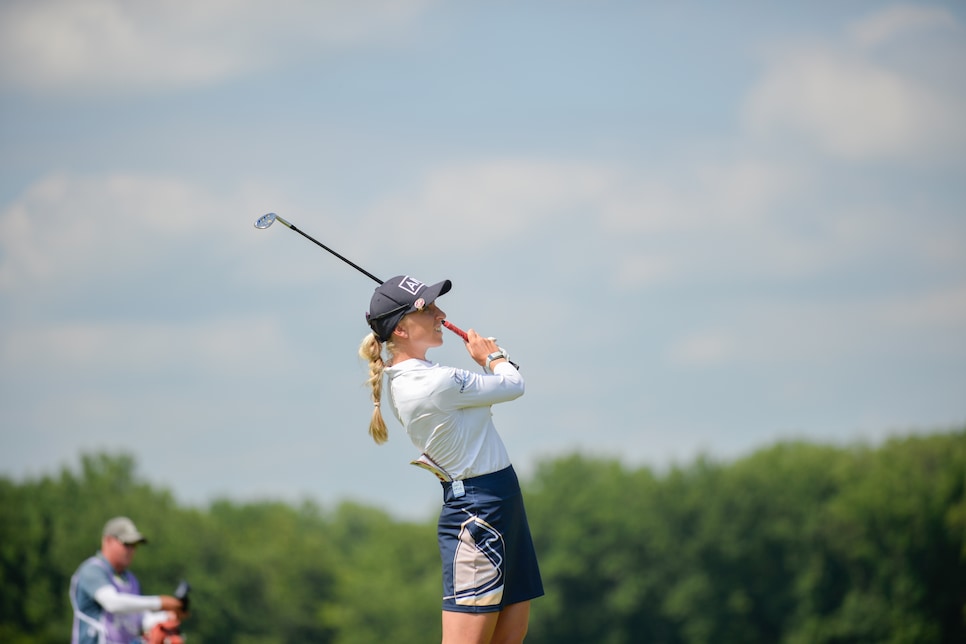 5/6 –
Montana Pritchard/PGA of America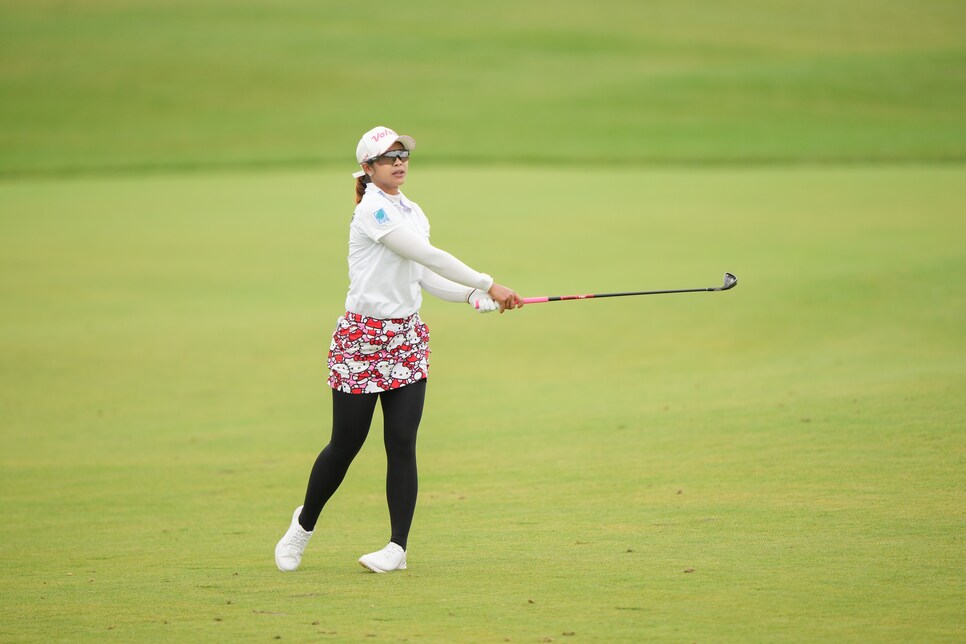 6/6 –
Darren Carroll/PGA of America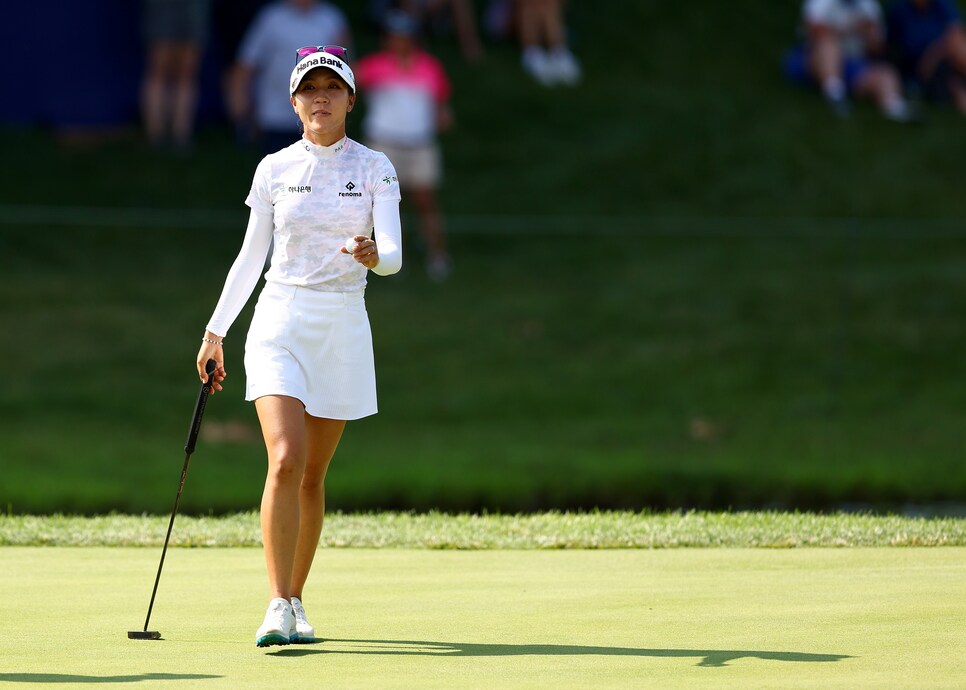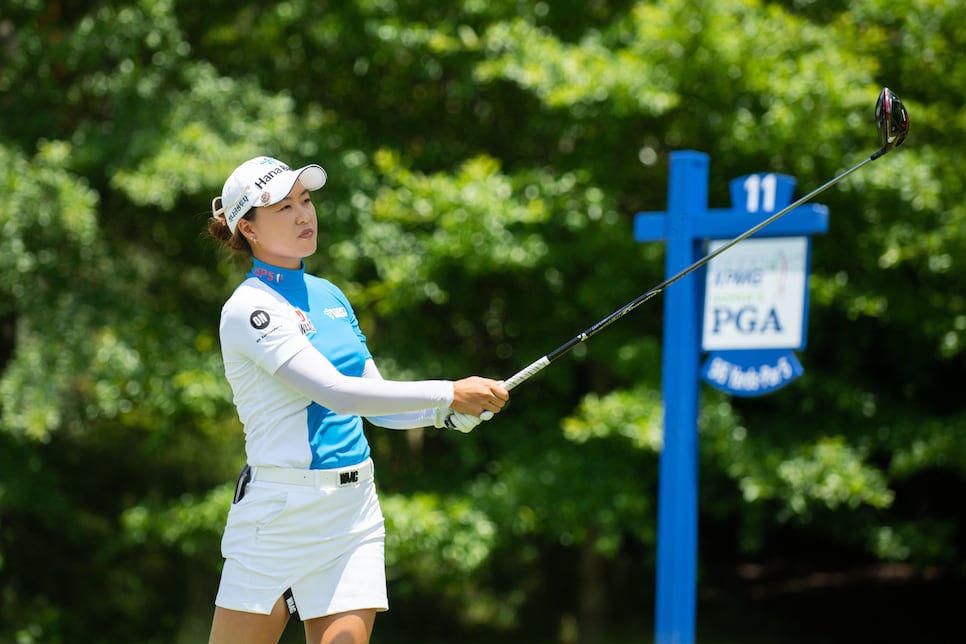 2/6 –
Montana Pritchard/PGA of America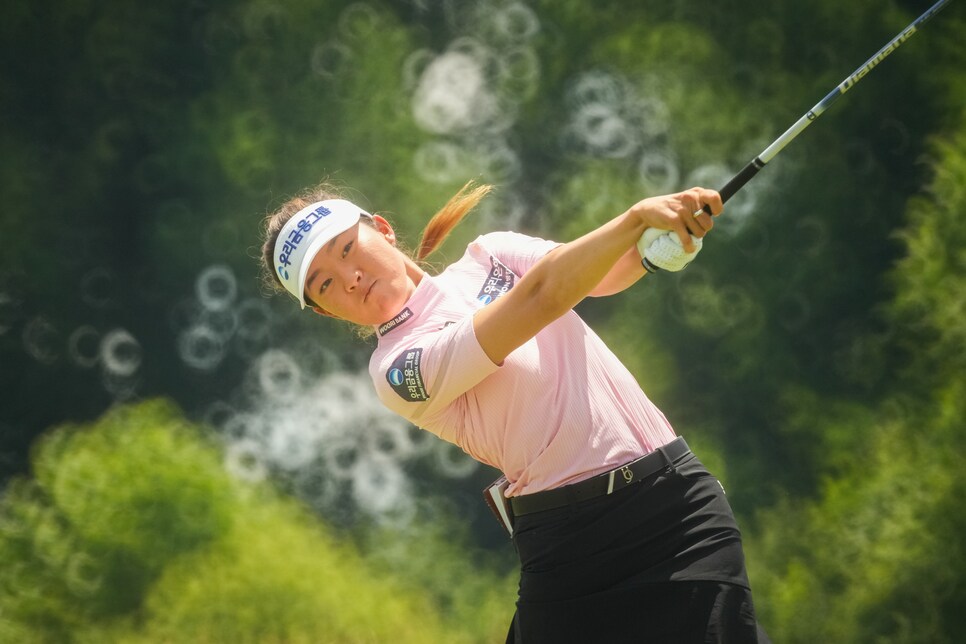 3/6 –
Darren Carroll/PGA of America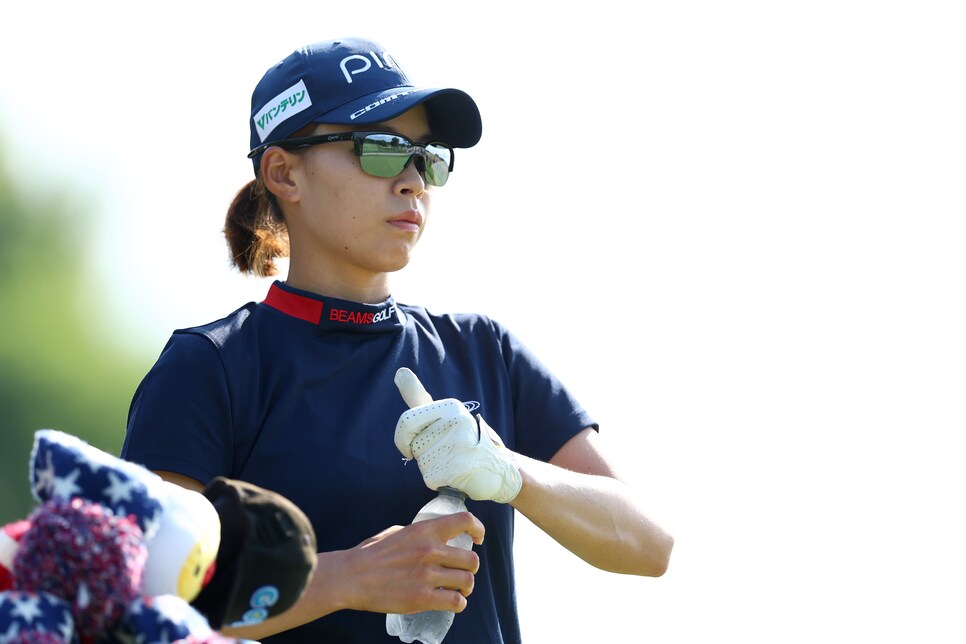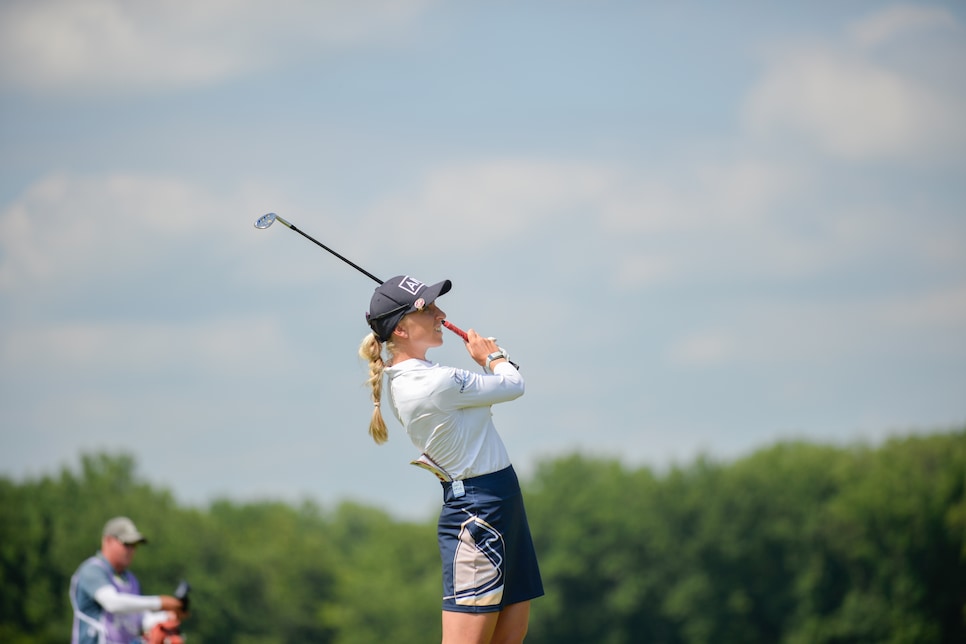 5/6 –
Montana Pritchard/PGA of America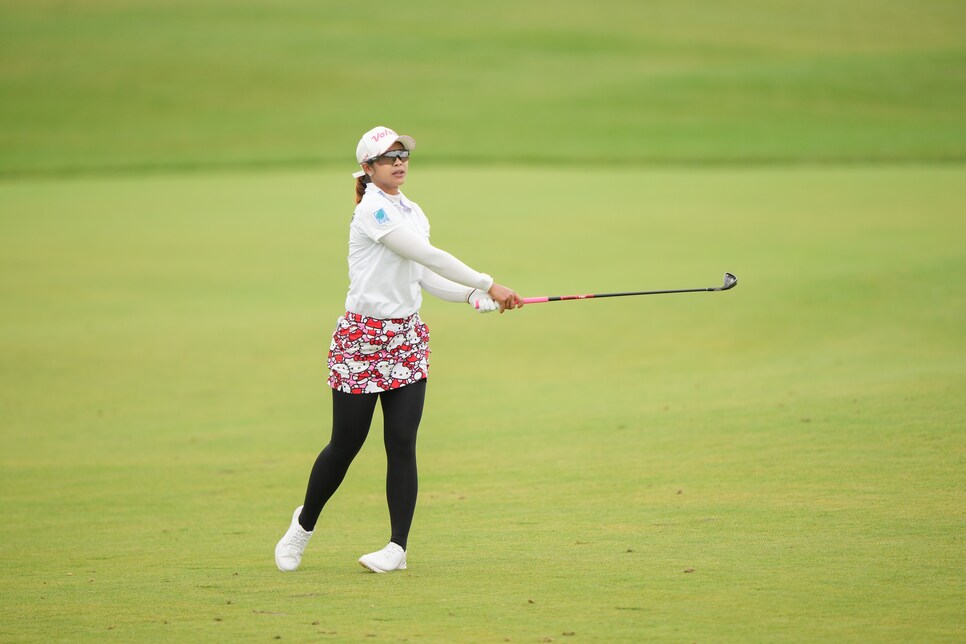 6/6 –
Darren Carroll/PGA of America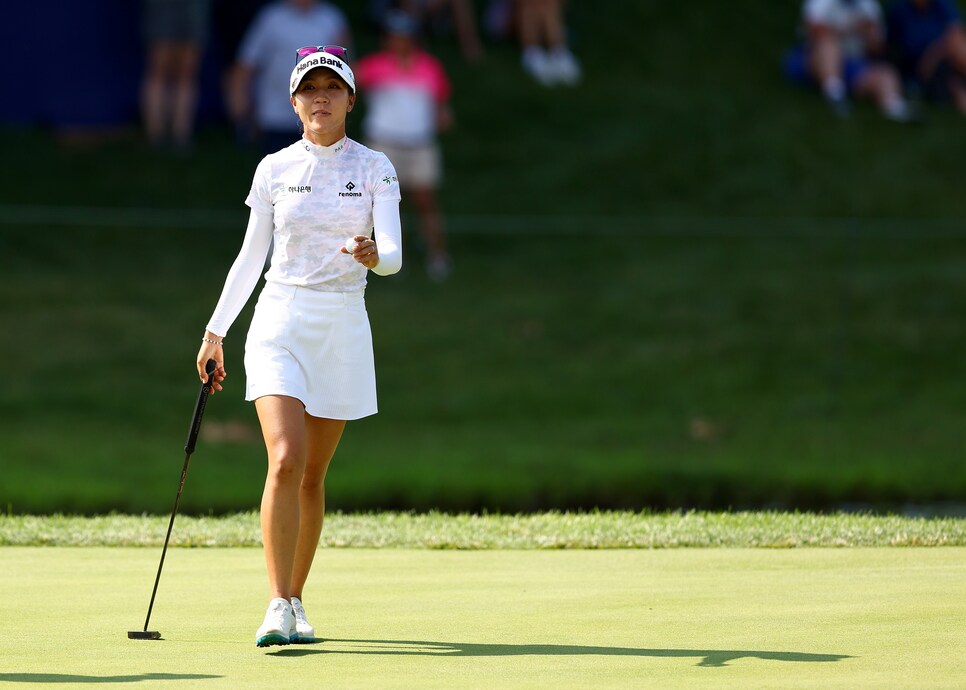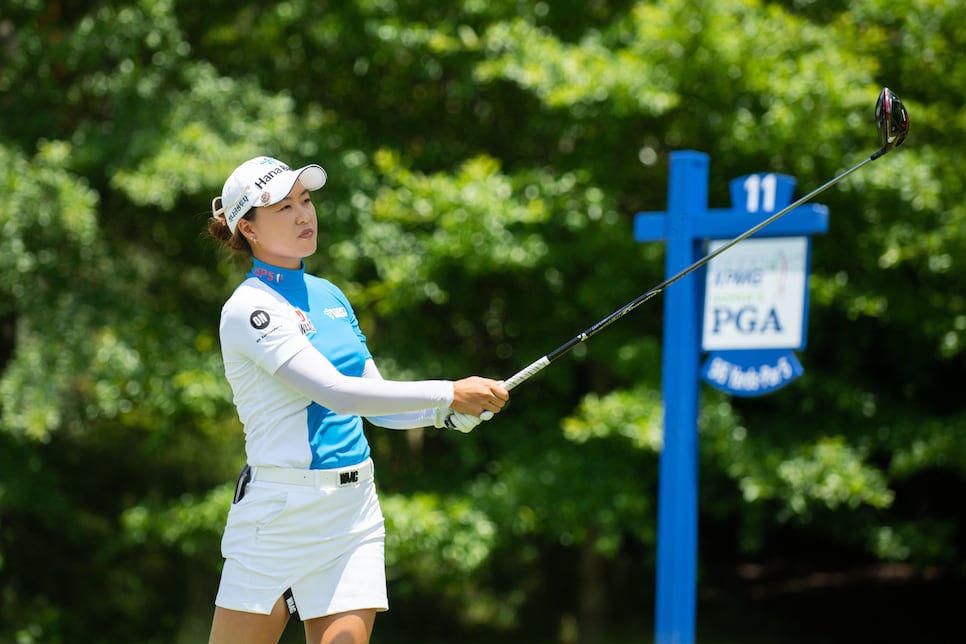 2/6 –
Montana Pritchard/PGA of America
Our favorite look from the KPMG Women's PGA: In Gee Chun
Chun, the eventual champion of the KPMG Women's PGA, wore a look early in her victorious week that we couldn't stop thinking about. Neutral tones are big on Tour this year (Adam Scott, we're looking at you), but Chun nailed the trend on the head with this chic beige and white look. The horizontal stripes on Chun's top are the perfect balance of chic and sporty, and we love that the collar is lined with a stripe as well. The outfit is from Fair Liar Golf Wear, and Chun's shoes are Nike.
Amundi Evian Championship
The style at this year's Evian matched the picturesque French scenery, as players strolled the fairways in rich pinks, bold purples and elegant patterned skirts. We especially loved So-Yeon Ryu's yellow pleated skirt and Morgan Metraux's blue-and-white speckled bottoms. Overall, the brighter the better at the Evian: Japan's Ayaka Furue stepped out in a neon yellow graphic top, and she even layered a beaded necklace overtop.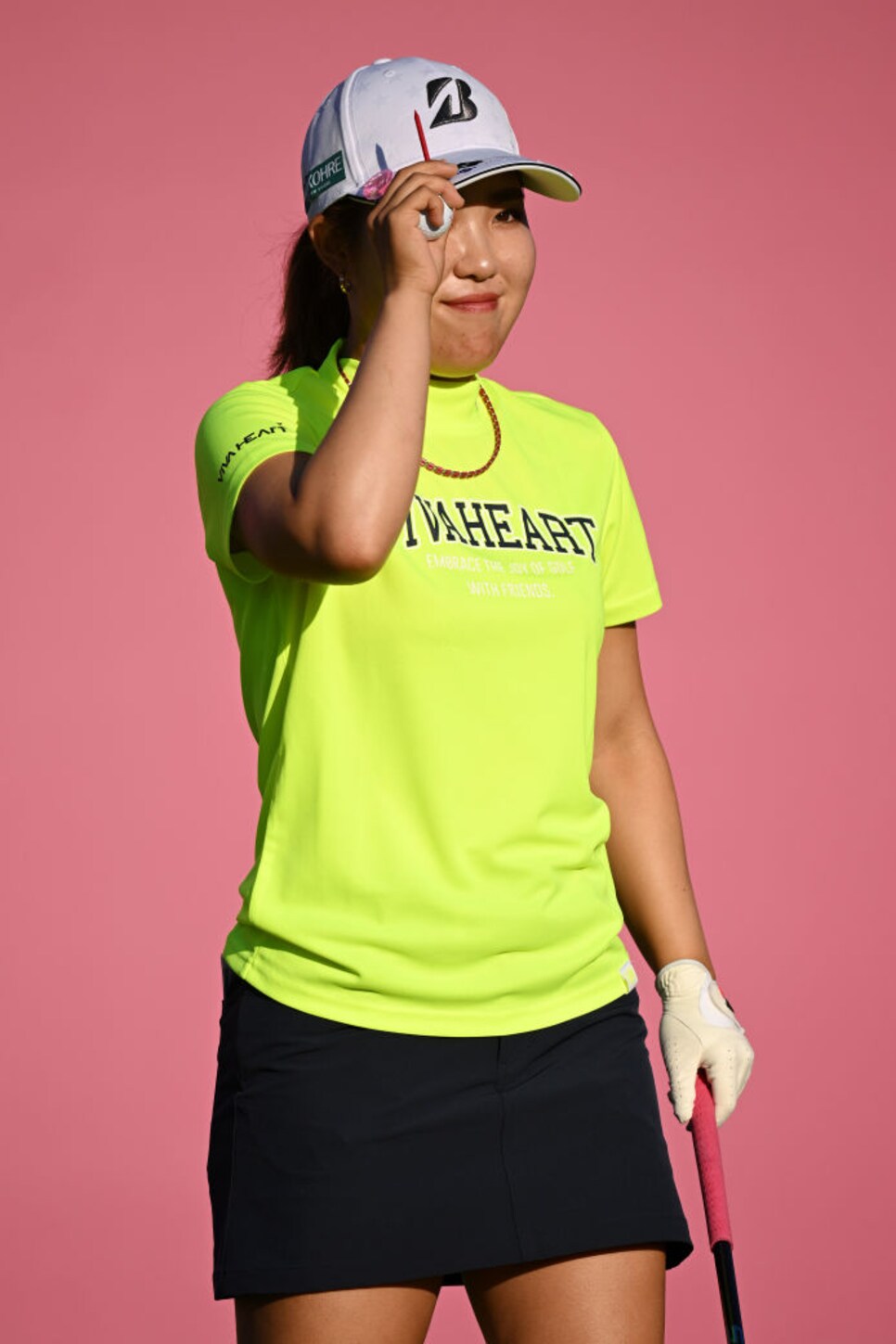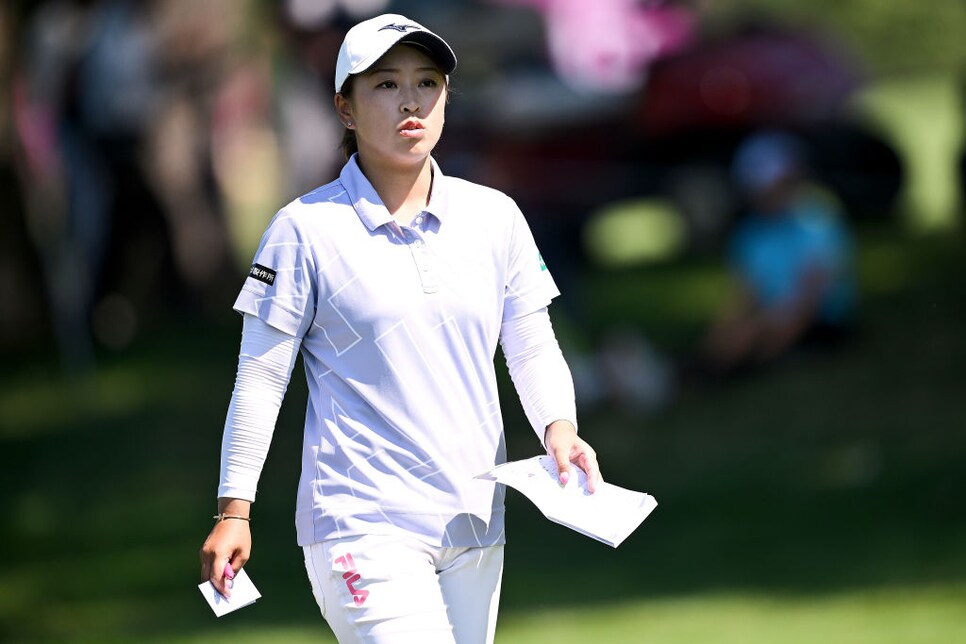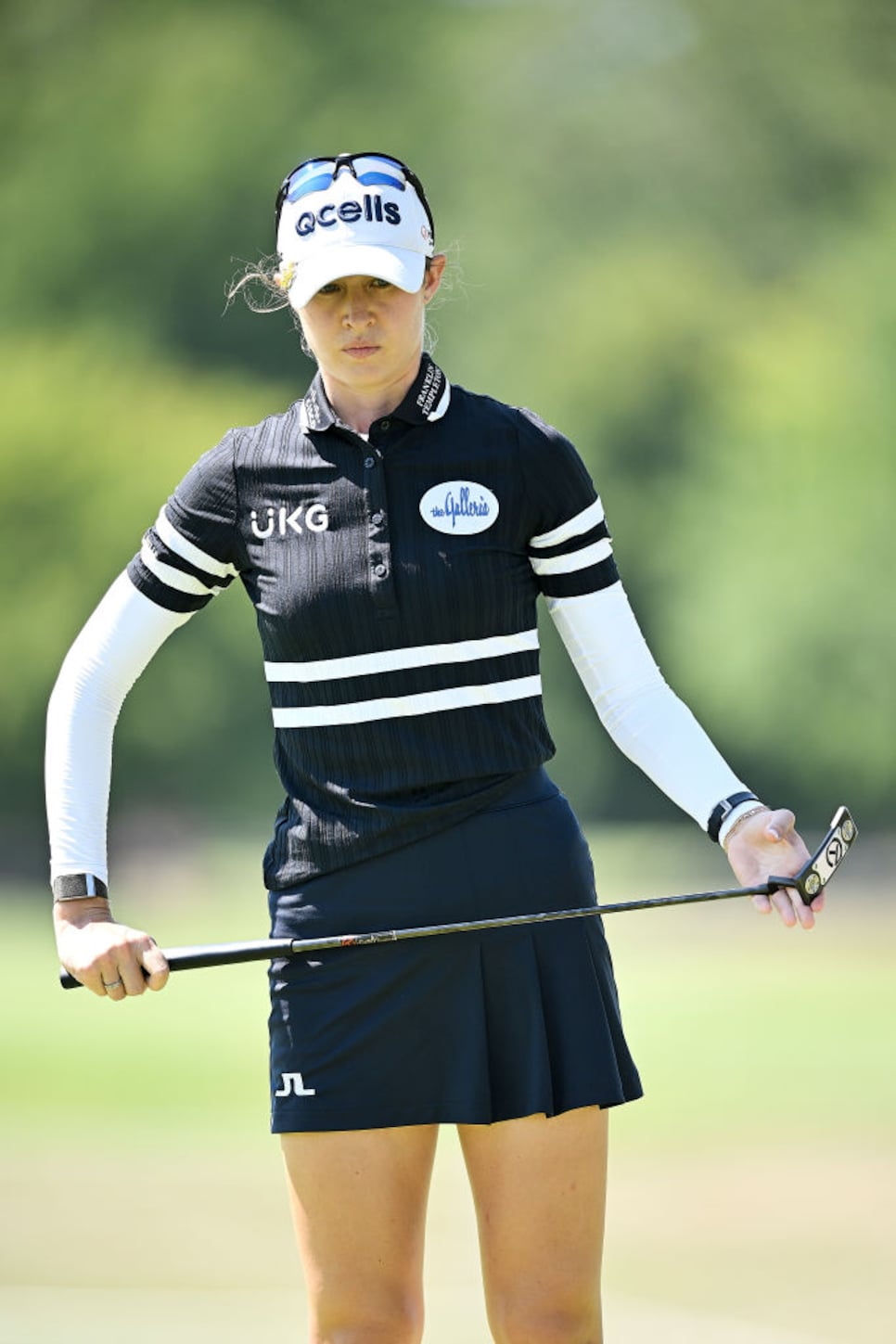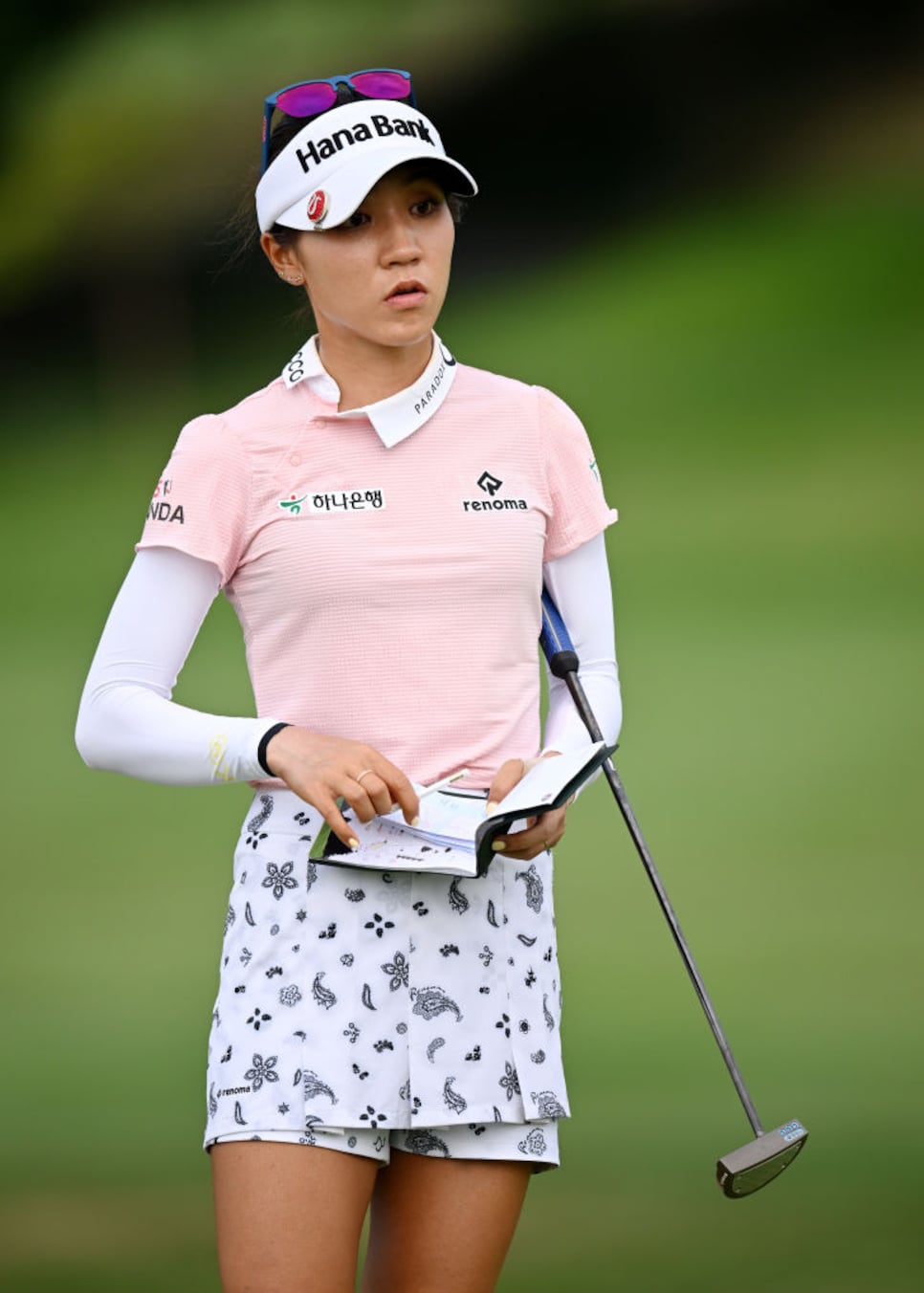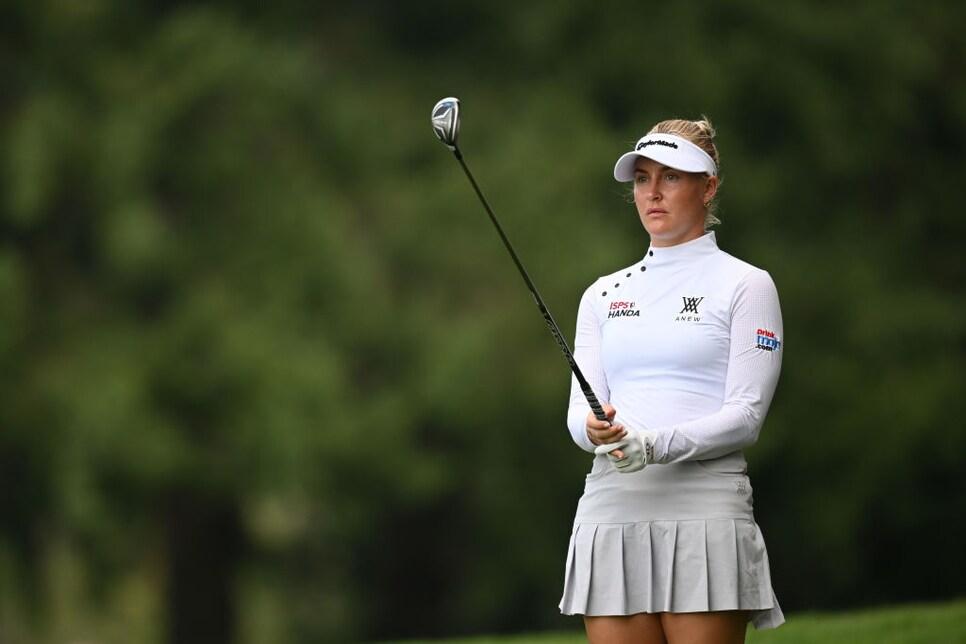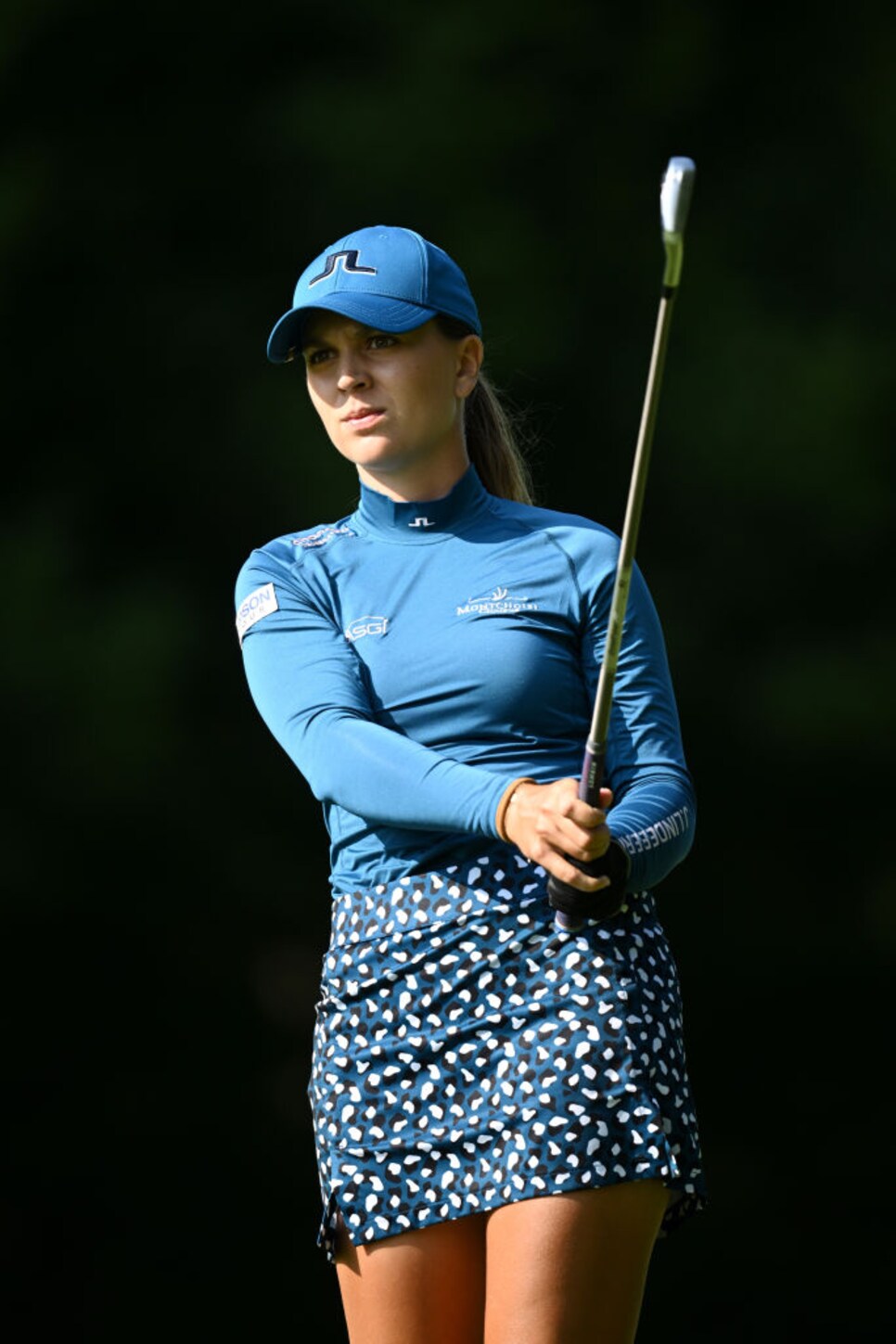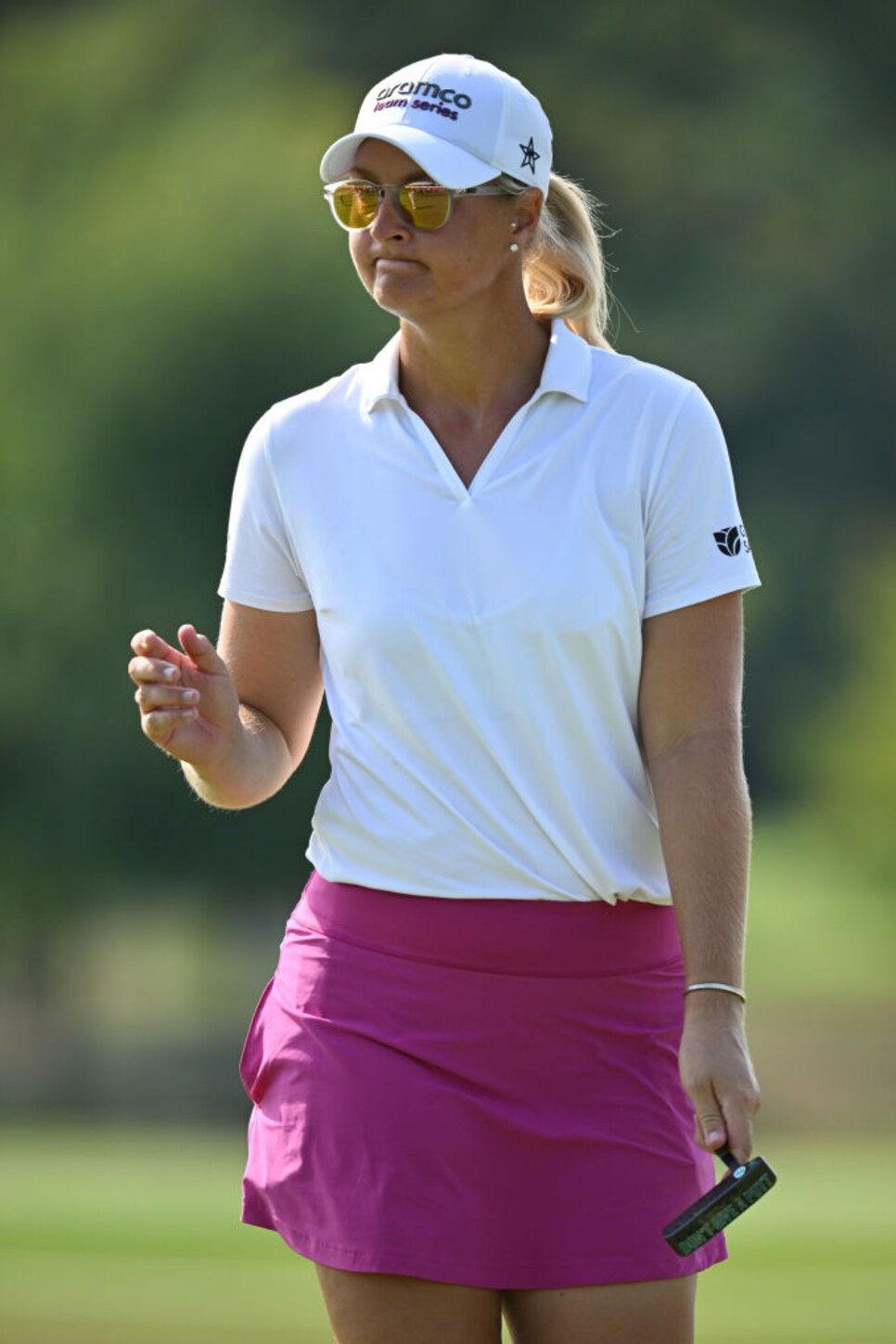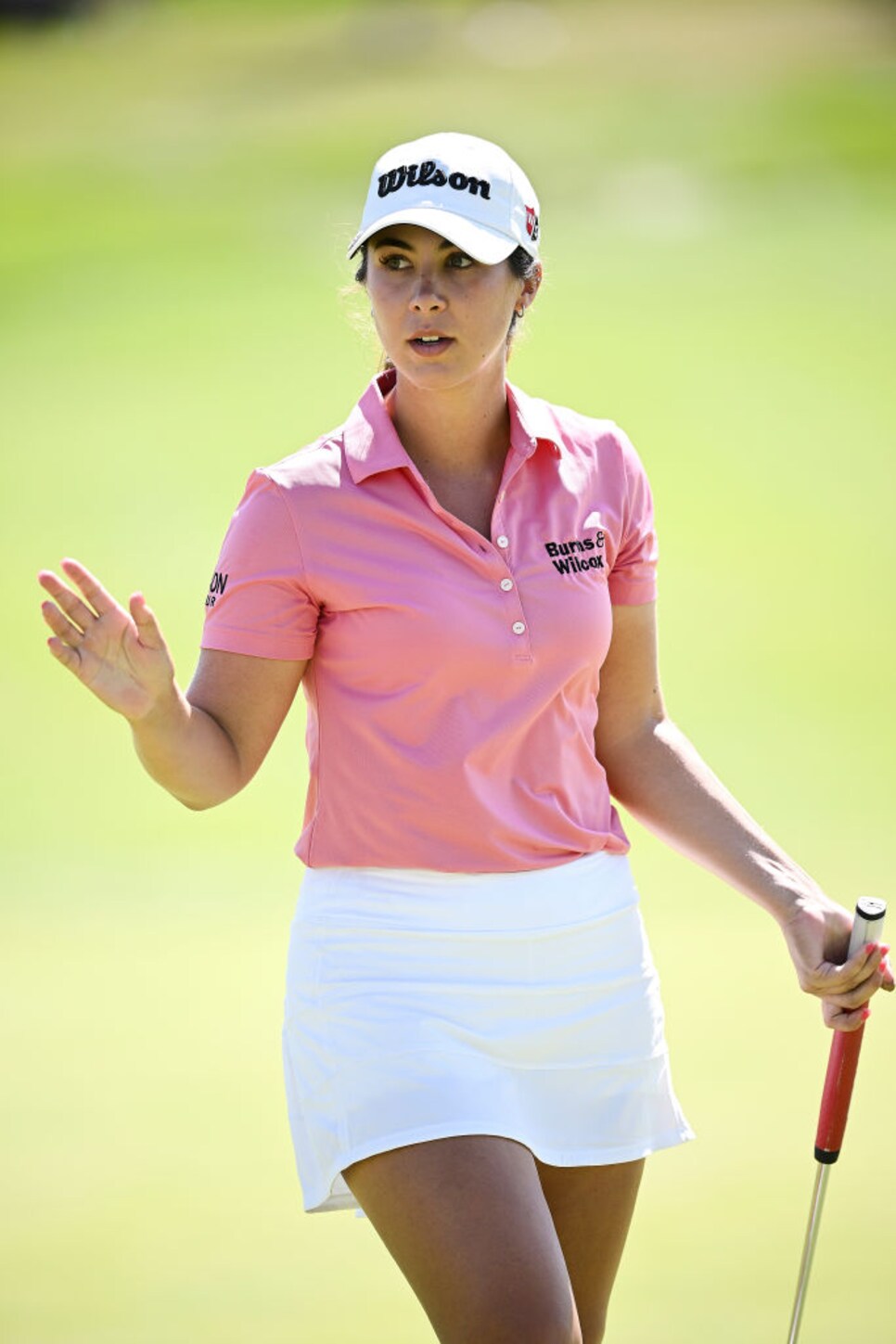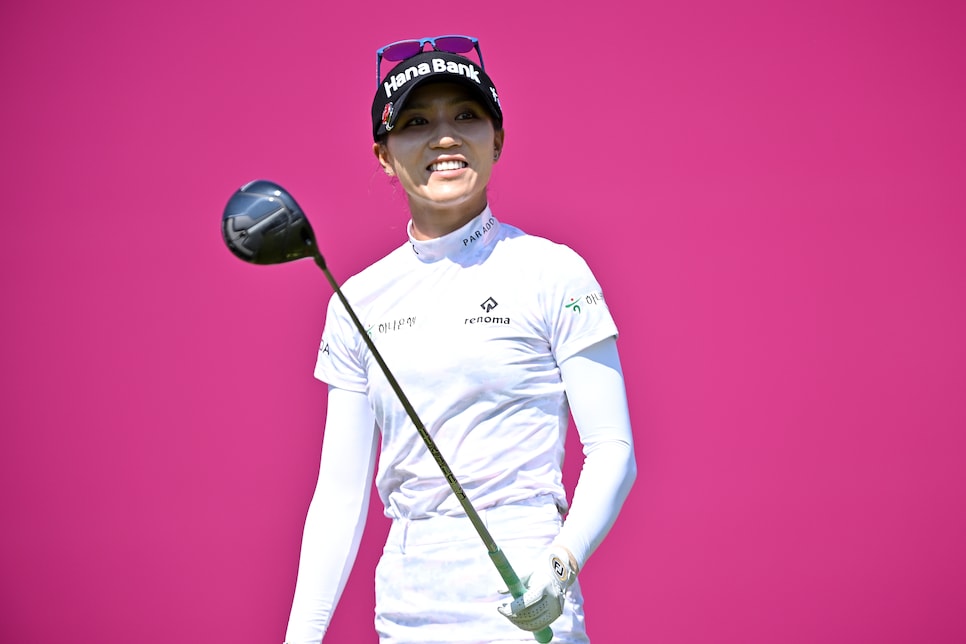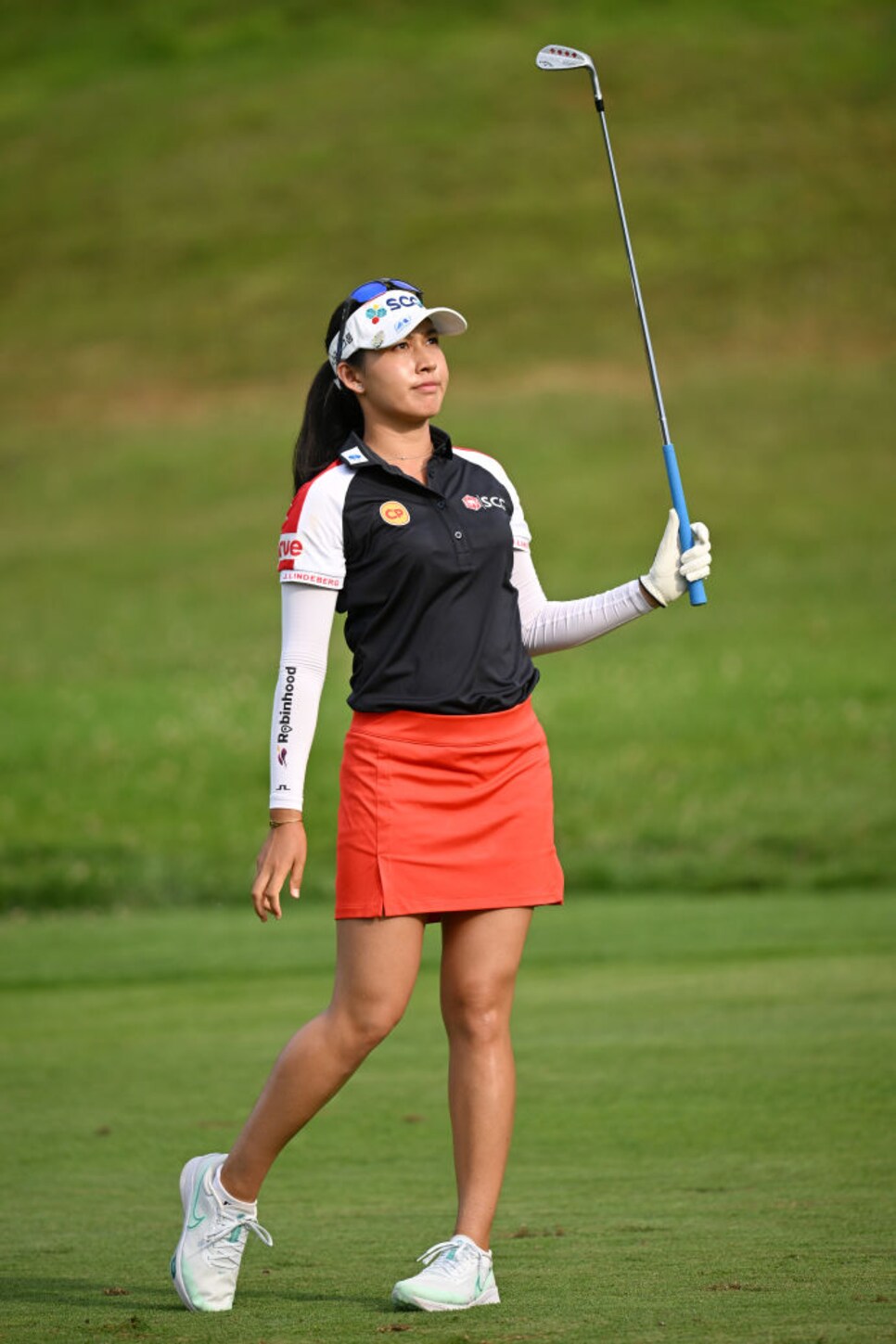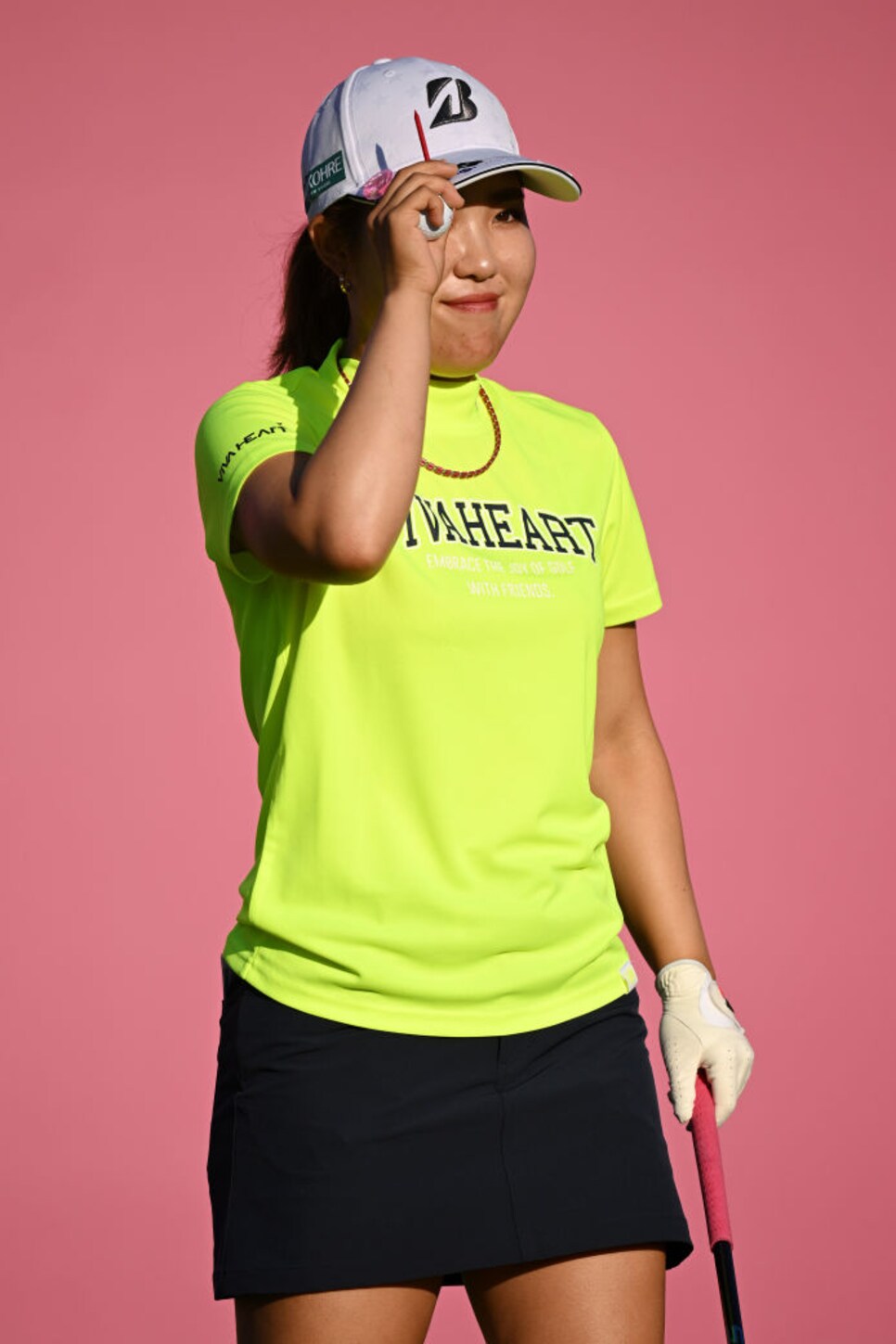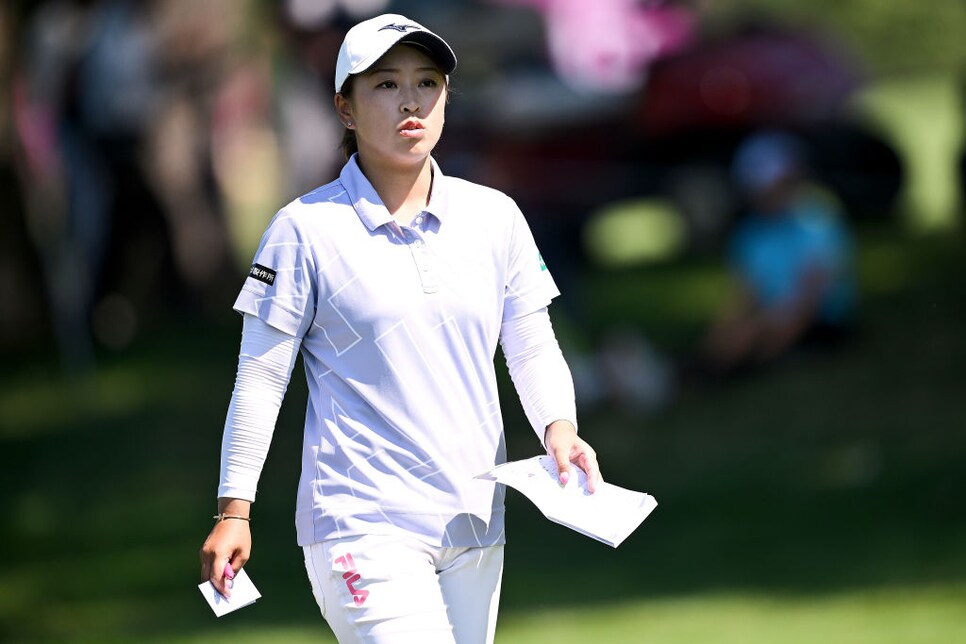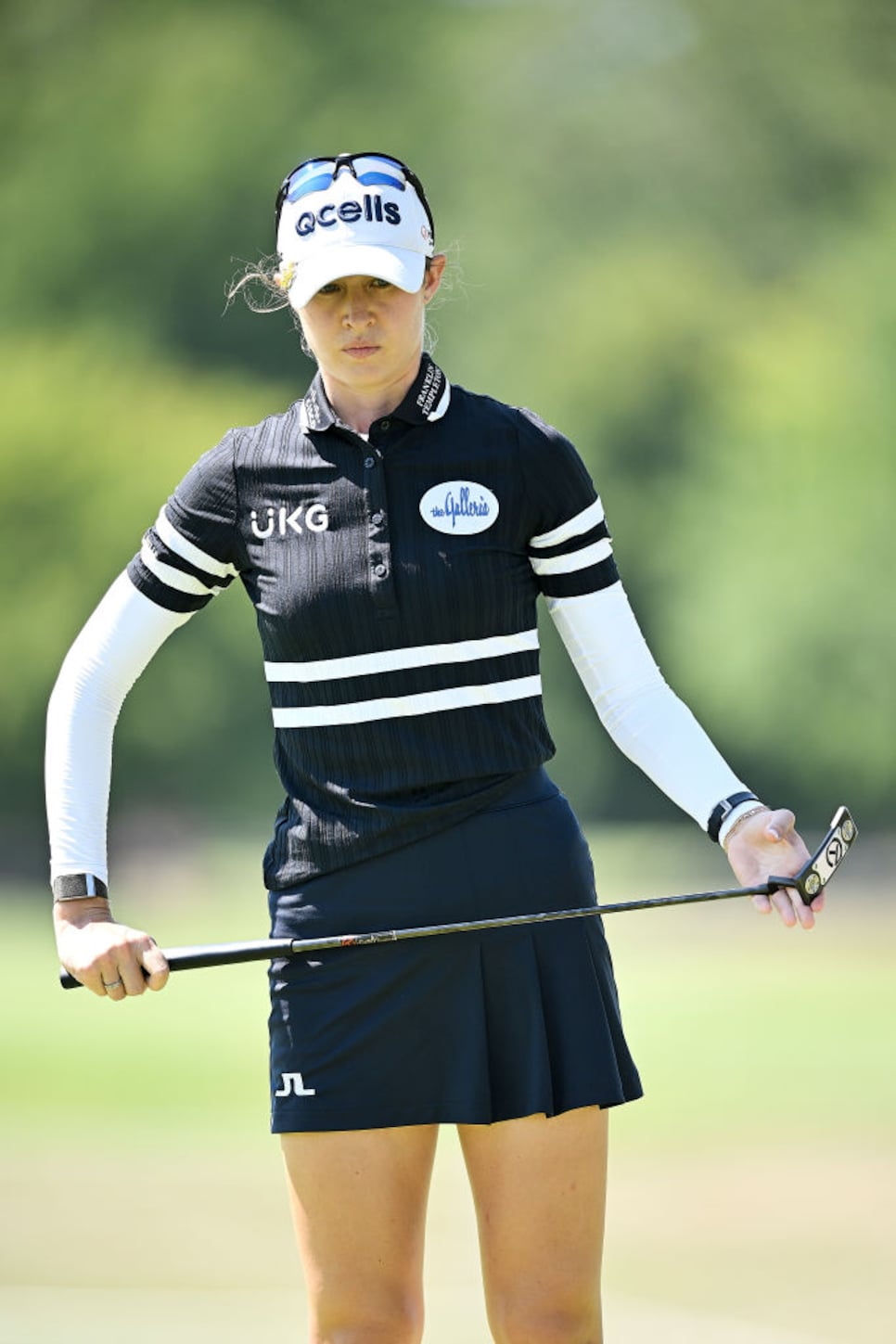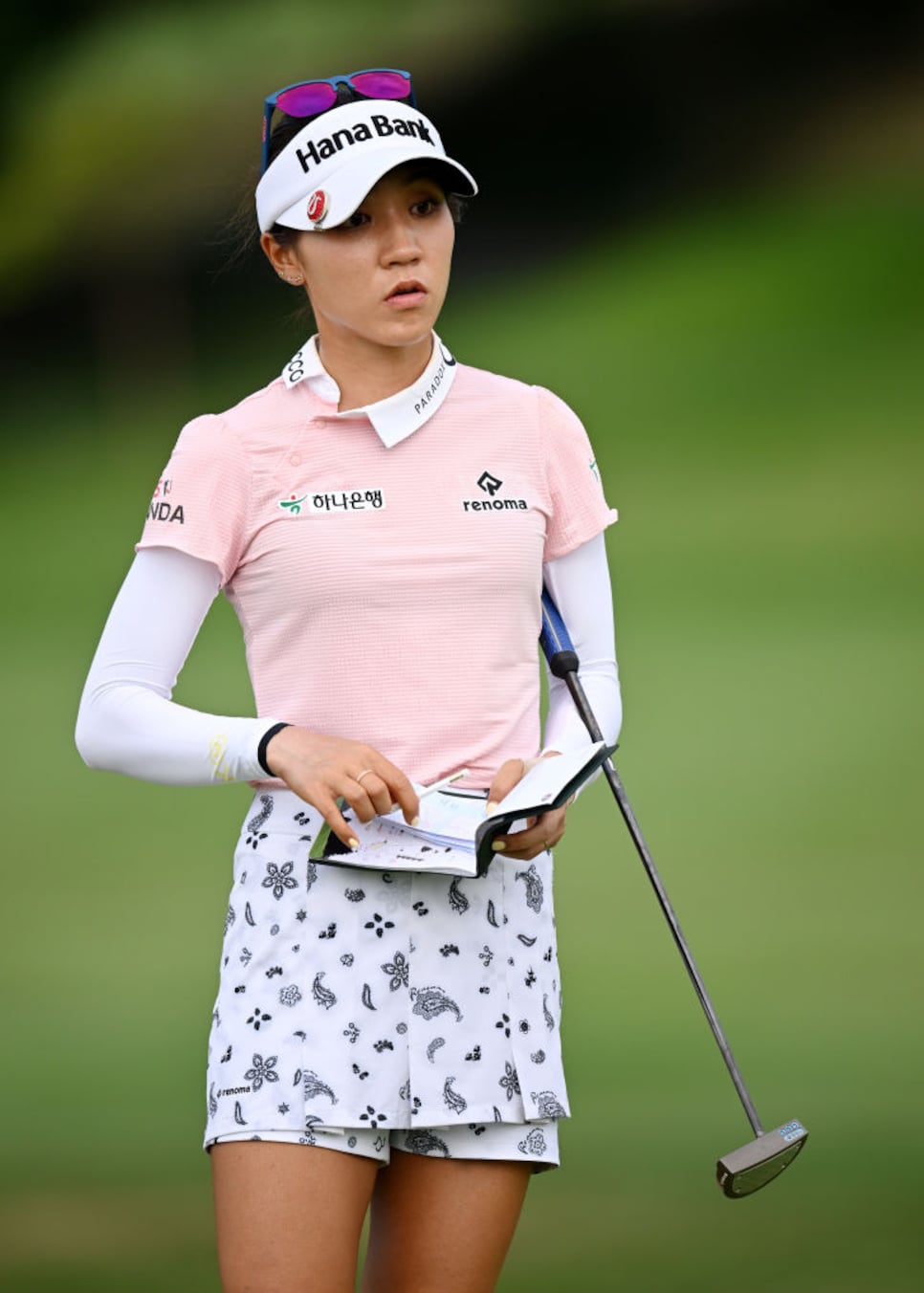 Our favorite look from the Evian Championship: Nelly Korda
If there's anyone in golf who can pull off an argile polo, it's Korda. This was our favorite look from the Evian Championship for a variety of reasons: We love the unique pattern on this J.Lindeberg shirt, the matching skirt is a beautiful muted blue shade, and Nelly's Oakley sunglasses expertly tie in the colors in her outfit. Plus, the magenta tones in the outfit also match the Evian's signature colors. What we're trying to say is, it just works.
A mysteriously sunny week at St. Andrews for the 150th Open meant the top players in the world had the opportunity to show off their best light-layering looks. From knit hoodies to tight joggers, the Old Course saw some outfits that pushed the limits of traditional golf attire. Justin Thomas' all-black ensemble, which featured a pair of particularly streamlined Greyson joggers, received mixed reactions on social media. And Phil Mickelson shockingly arrived at the historic venue in a black T-shirt. Si Woo Kim's opening round outfit, on the other hand, turned heads in a bold way. The South Korean wore a knit sweater with large blue, white, and gray letters printed all over it, opting to make a statement with his layering piece. Similarly, the eventual Champion Golfer of the Year, Cam Smith, wore an anorak-style jacket—one that took inspiration from the type of windbreaker that Australian rugby teams often travel in. In addition to layering pieces, players showed off their commemorative St. Andrews and Open Championship gear: Max Homa wore a shirt with a "150th" print, while Nike golfers wore shoes inspired by the Old Course.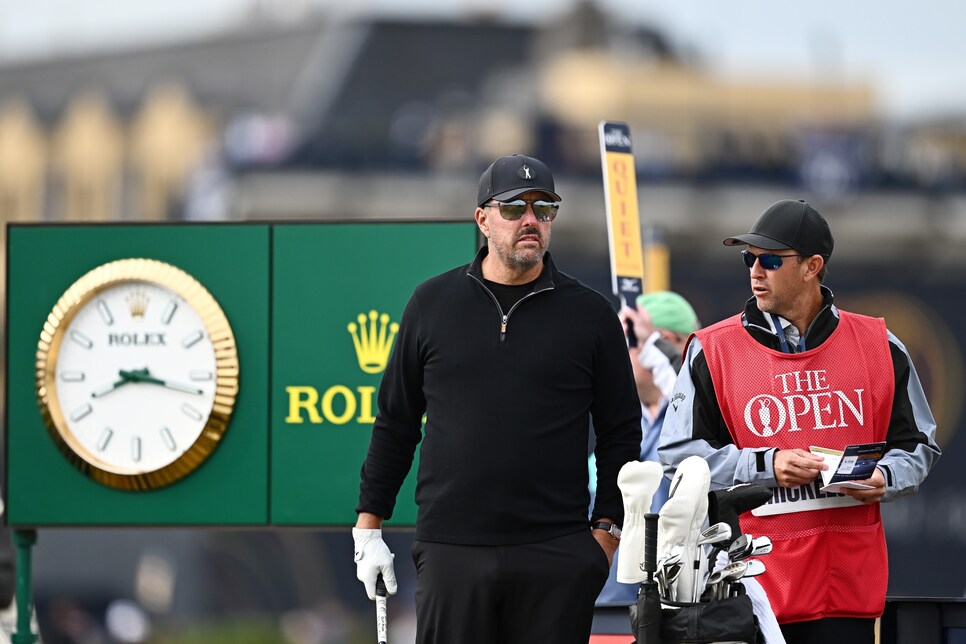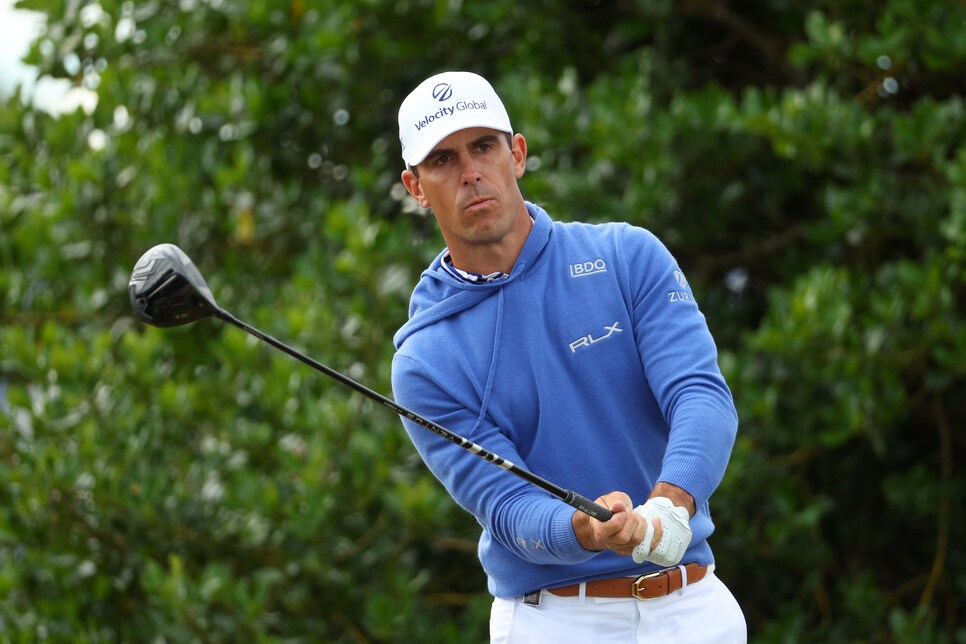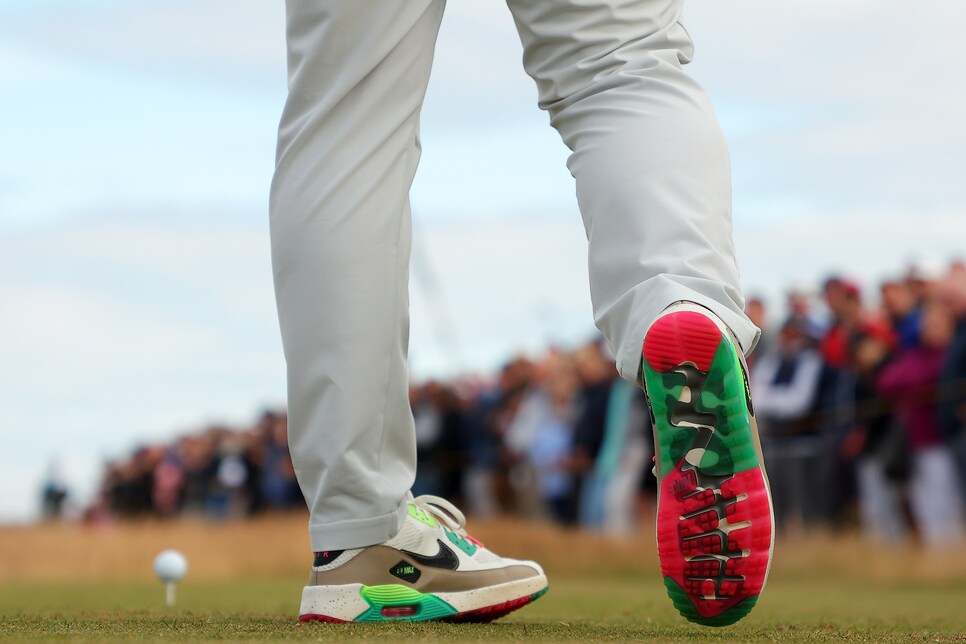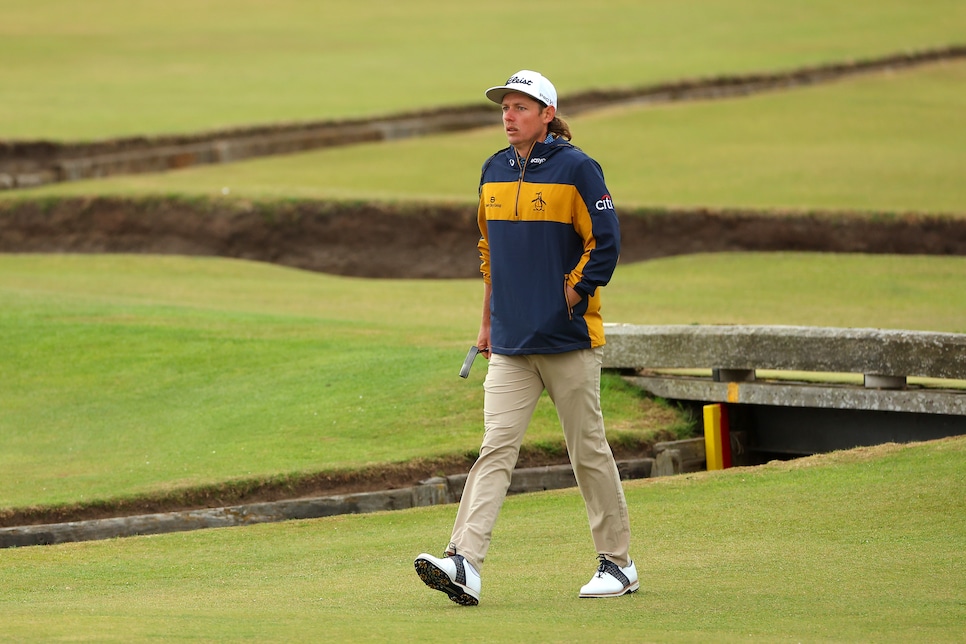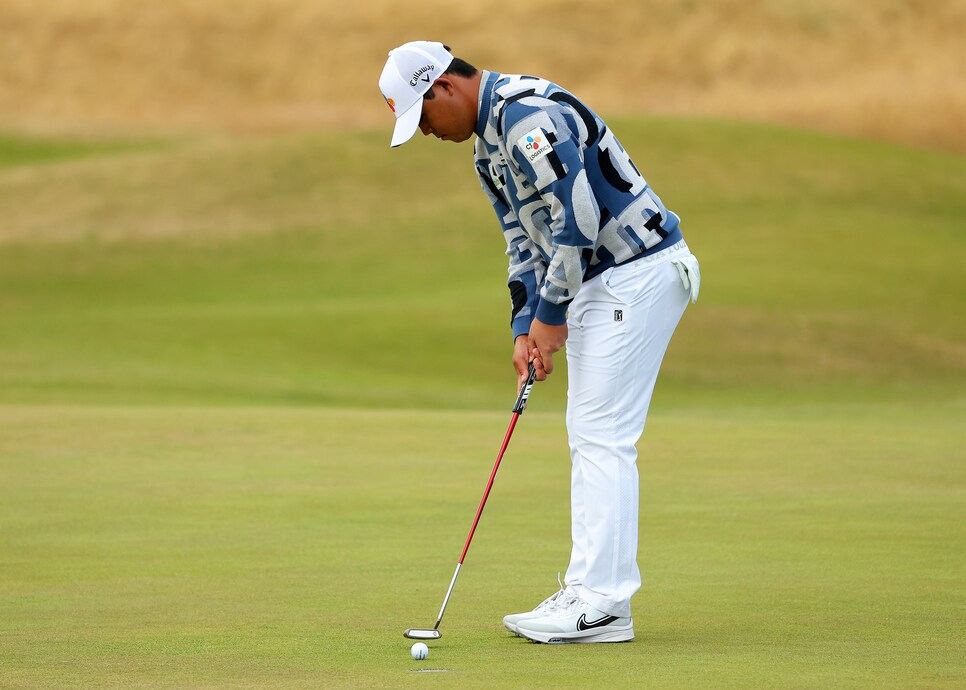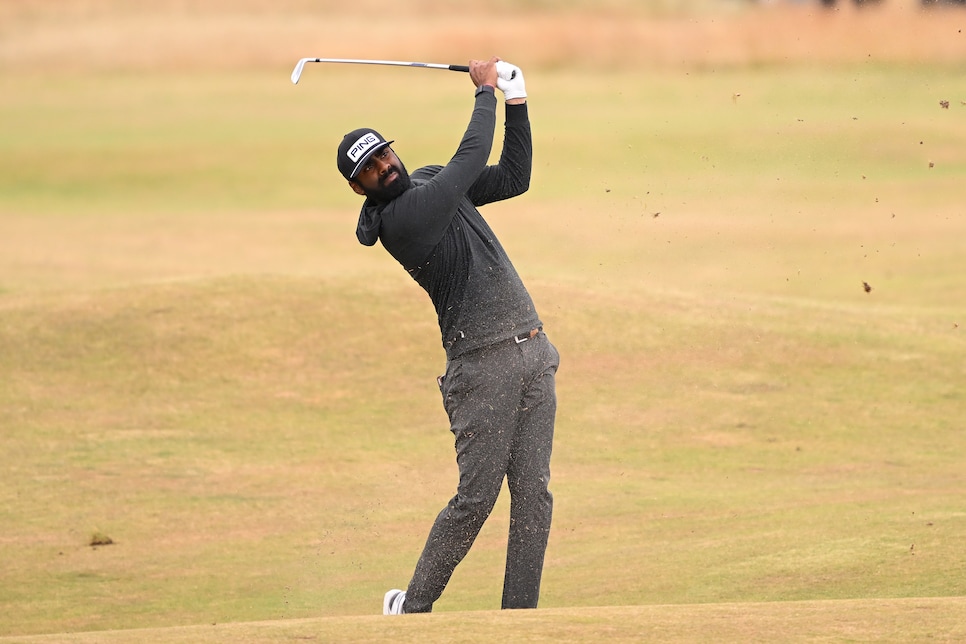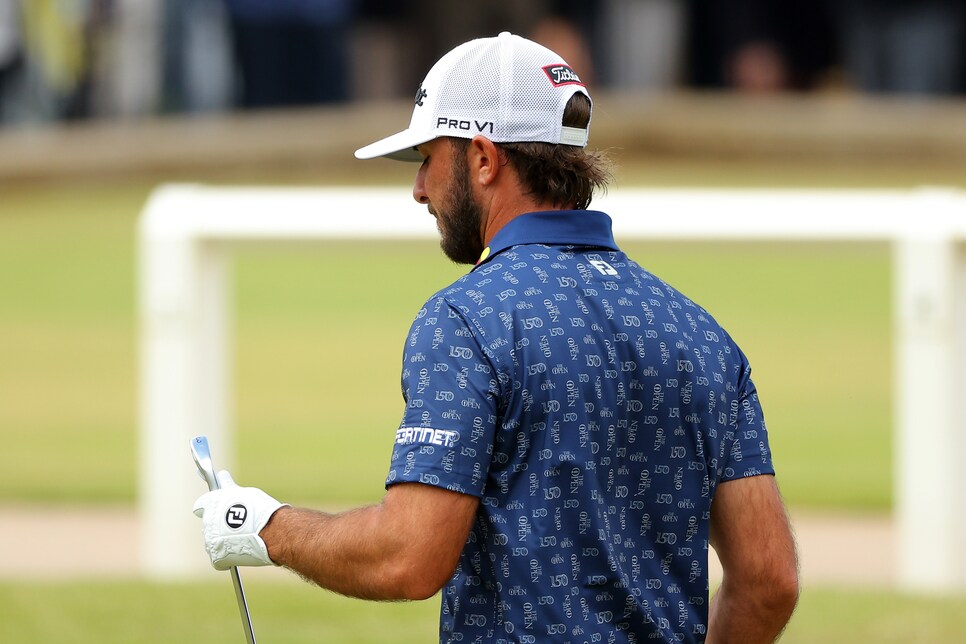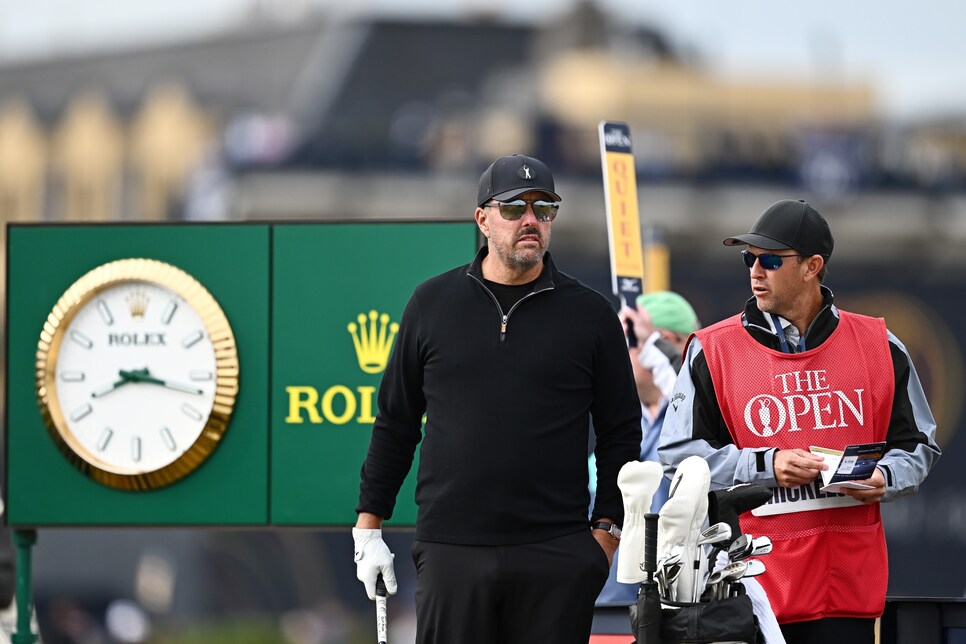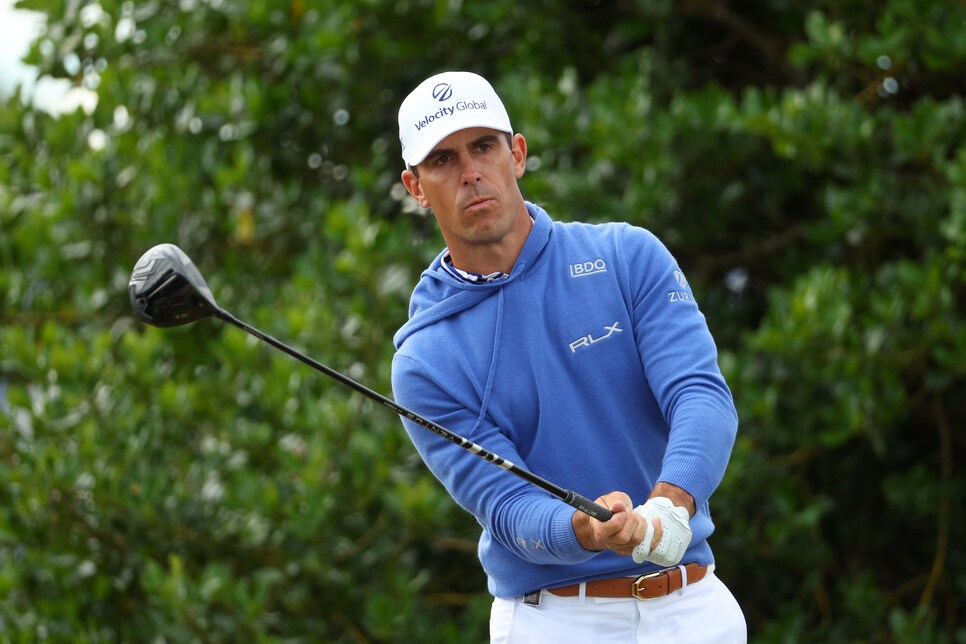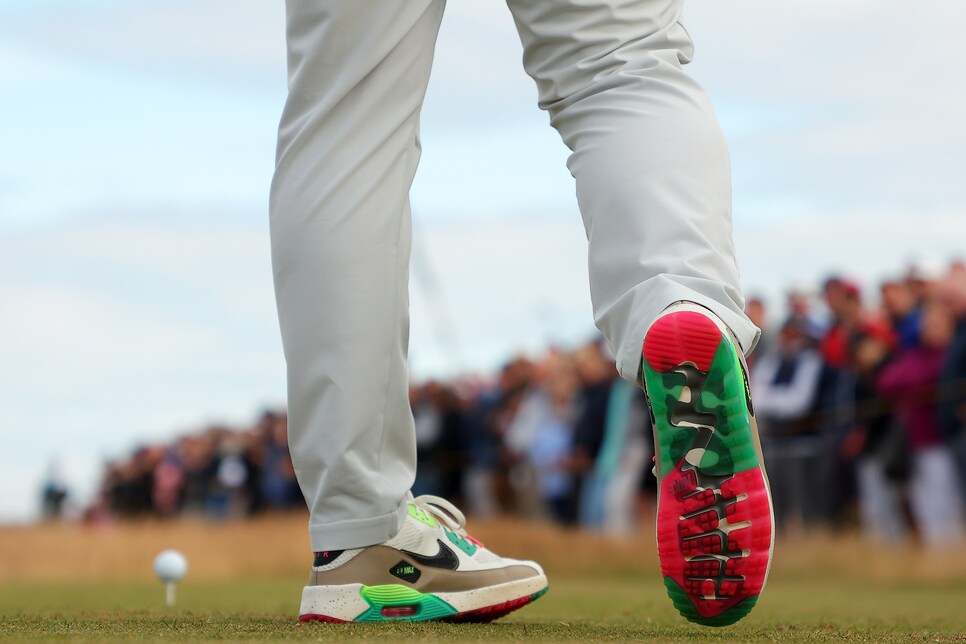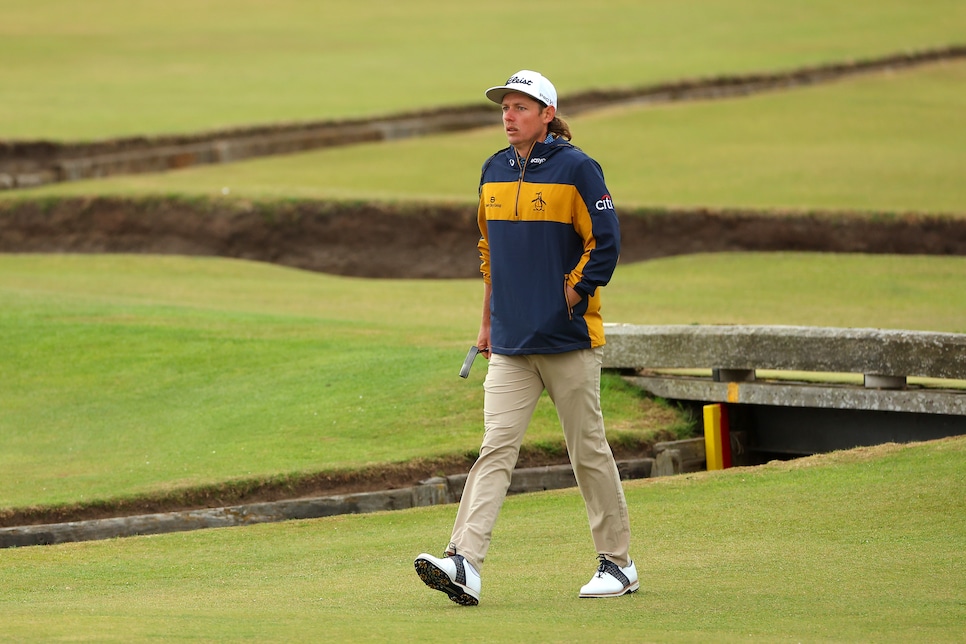 Our favorite look from the The Open: Rory McIlroy
McIlroy's heartbreaking Open finish was one the golf world will never forget—and they might not forget what he was wearing while he did it either. The Irishman got social media buzzing when he stepped out in this yellow and tan ensemble that matched St. Andrews' links golf setting almost too well. McIlroy blended in seamlessly with the burnt fairways and wispy tall grass, but his Nike golf shoes added a touch of modernity to the look.
Staying in Scotland for the final major of the season, the best female golfers in the world showed us how you can look good even in less than ideal conditions. Gusty winds and light showers early in the week at Muirfield meant that players had to use light layering and accessories to stay prepared. Nelly Korda opted for a crisp white vest, while her sister Jessica Korda stayed warm under her Titleist neck gaiter—which she had to borrow when he own luggage went missing.
A common theme among the players on cooler days was statement pants. Louise Duncan's pink pants, Celine Boutier's red pair, and Gaby Lopez's checkered trousers stood out as pieces that could make a bundled outfit pop. Sweaters were also a common theme: Hinako Shibuno, nicknamed "Smiling Cinderella," wore trendy oversized crewnecks all week long, and we loved every single one of them.
Top looks from the AIG Women's Open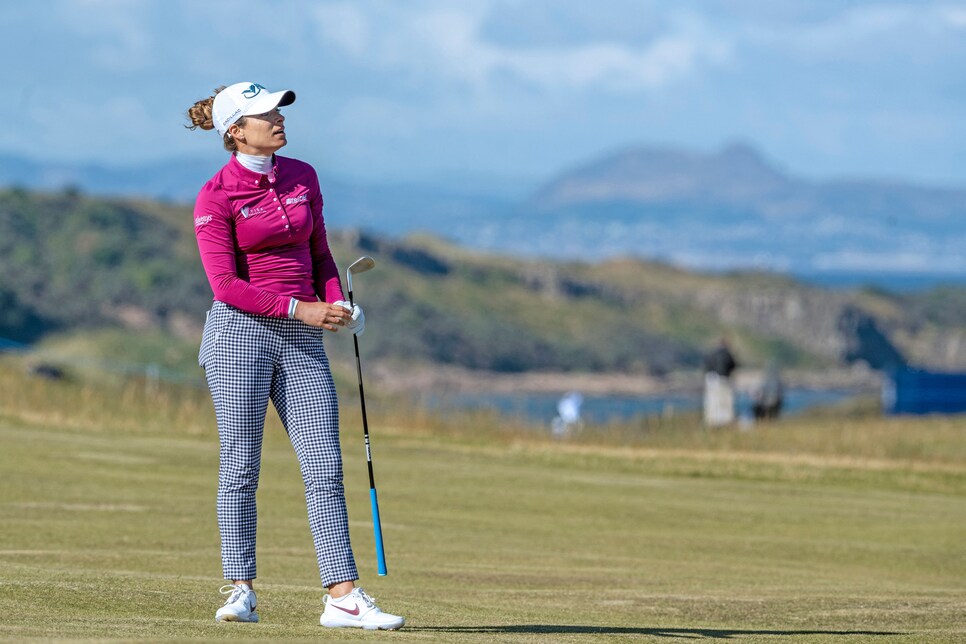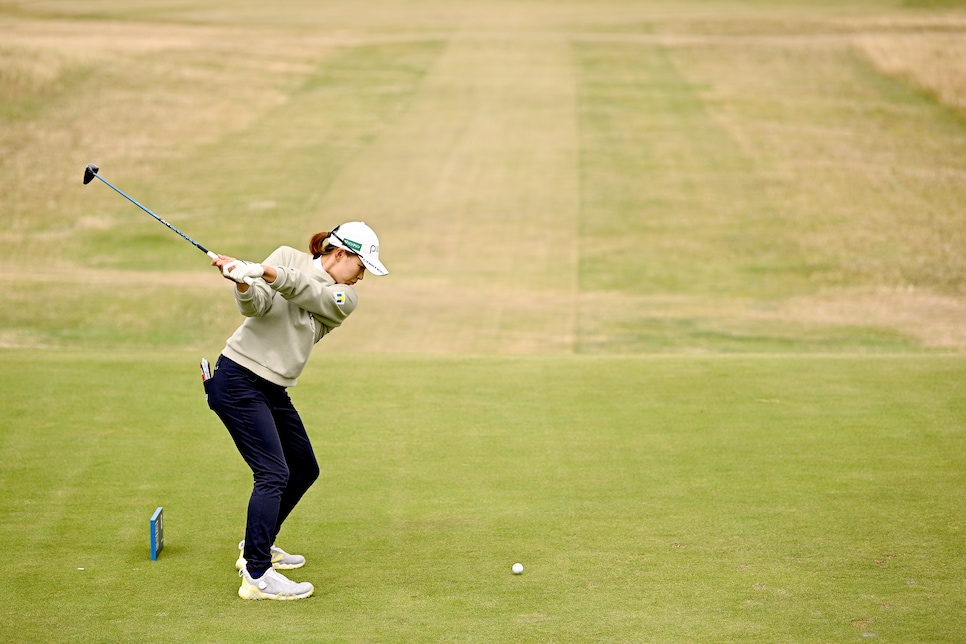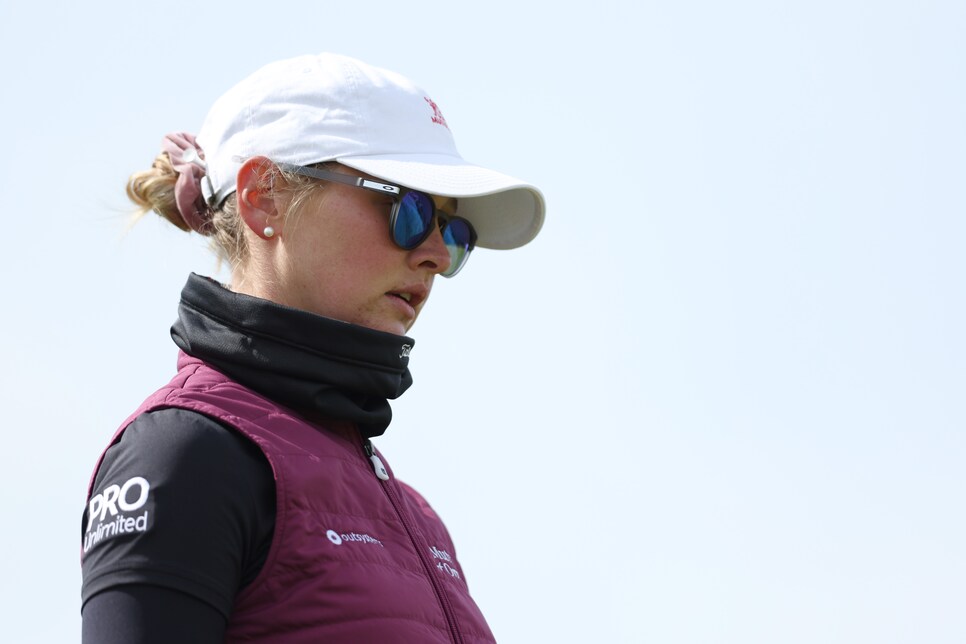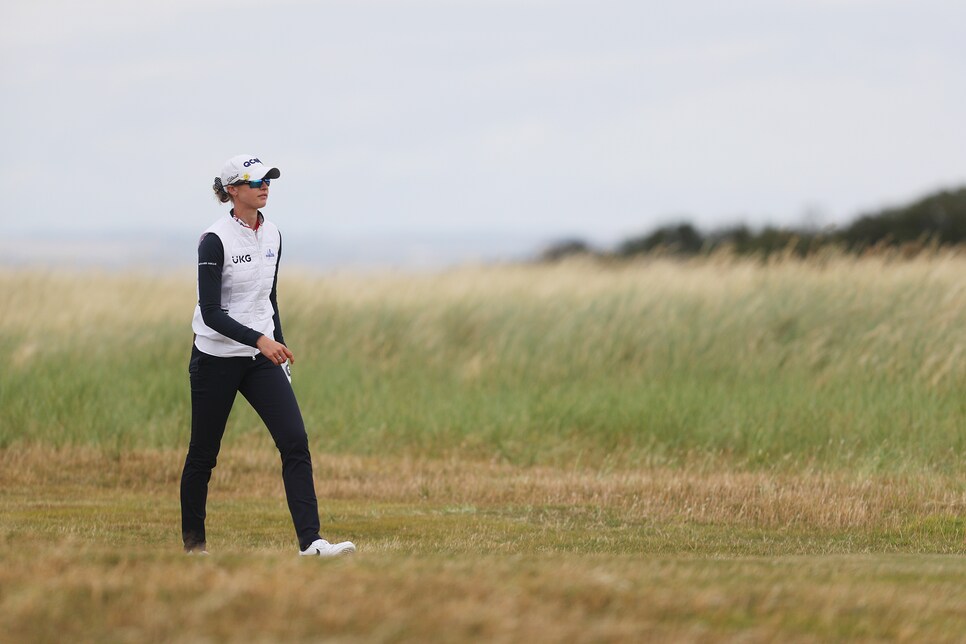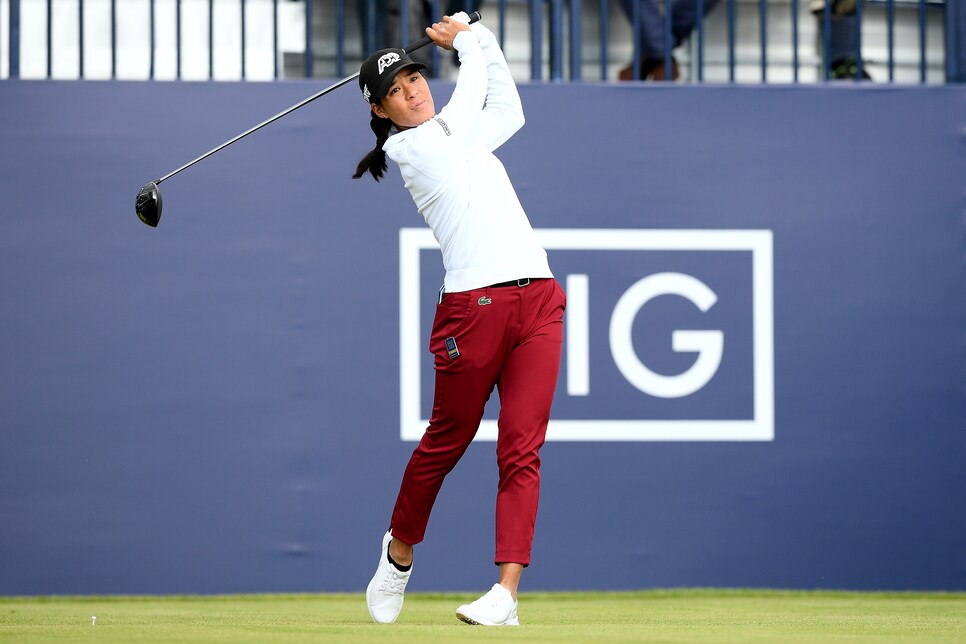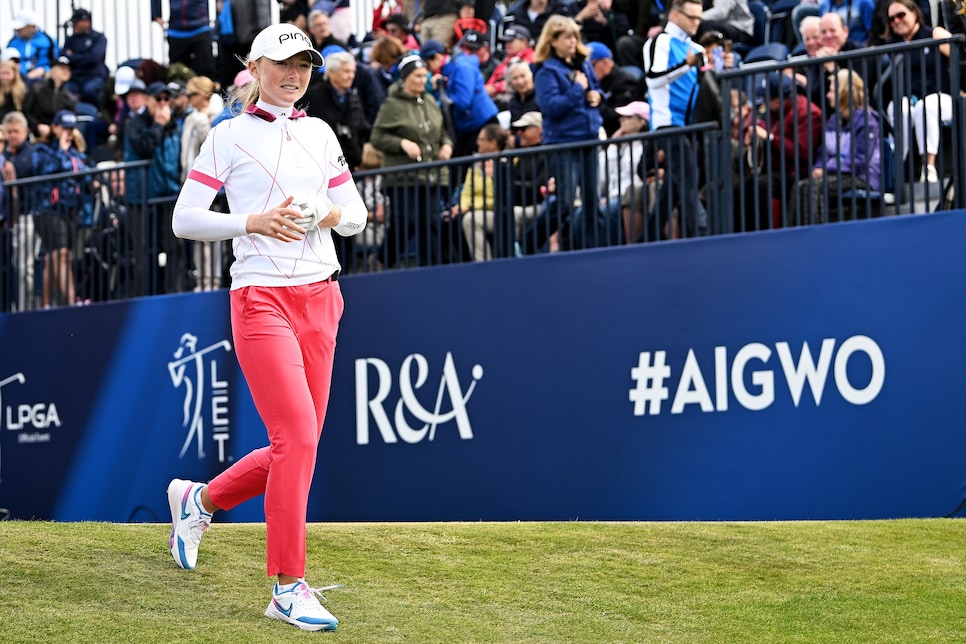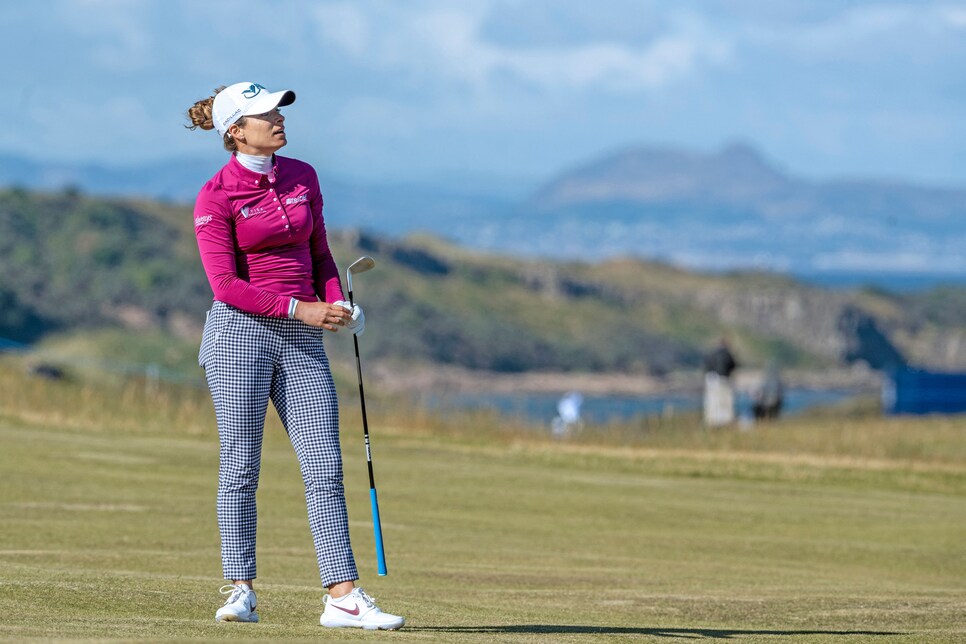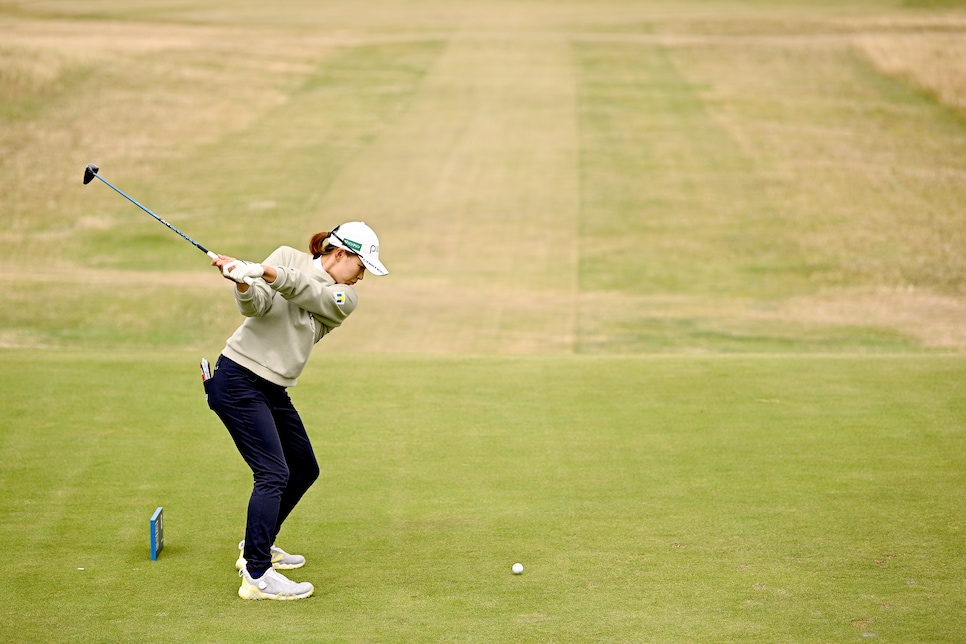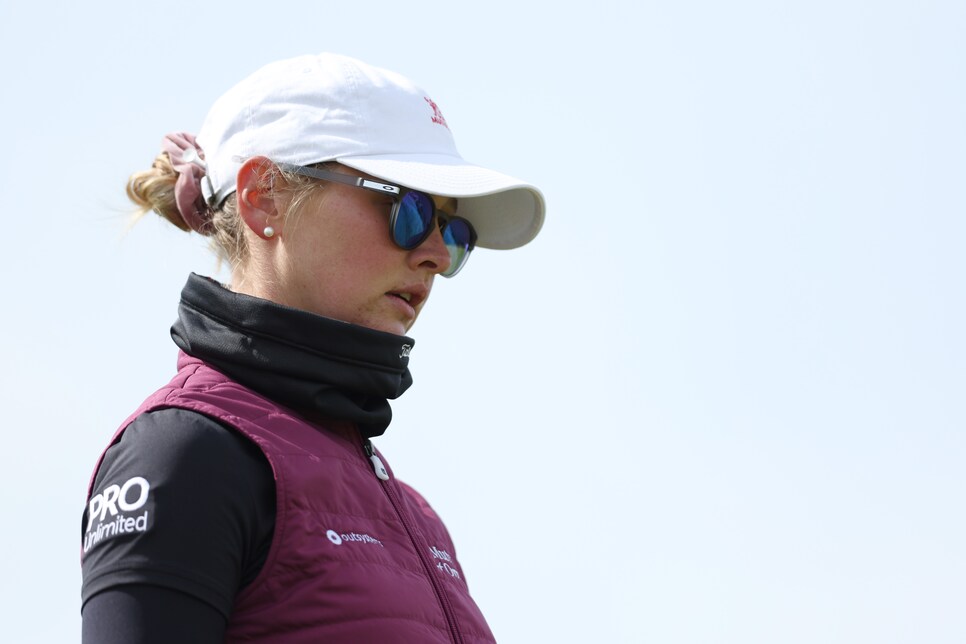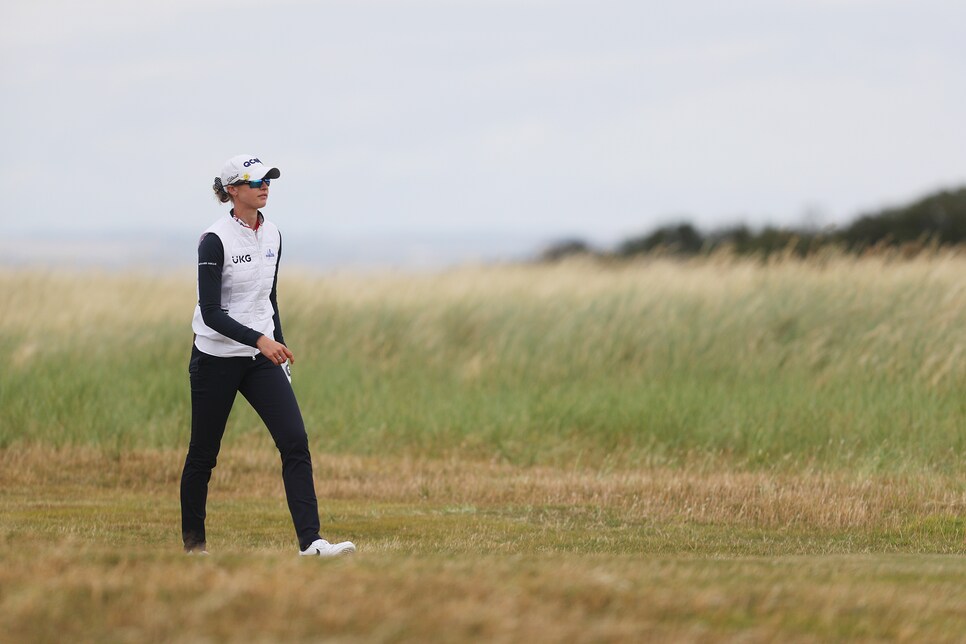 Our favorite look from the AIG Women's Open: Nasa Hataoka
Hataoka did not hold back for her AIG Women's Open third round outfit. Her Admiral Golf Beatles pullover is nothing less than iconic. According to the brand's Instagram, the same sweaters will be available to shop in mid-August. Pairing this graphic top with a pair of patterned pants was definitely a bold choice, but we think the Japanese star made it work. Although Hataoka's pants and sweater aren't available online at the moment, you can shop the shoes and hat she wore at the links below.
Hot Topics
Coach Outlet Sale, 80s fashion trends are back, 90s fashion hip-hop style
Source link