Students at Durango High School, left to right: Kiya Hofman (17), Diana Koshevoy (17), Maggie Williams (17), Ava Orndorff (17), and Ariana Rohlf (16) model their fashion designs Wednesday at school. (Jerry McBride/Durango Herald)
Jerry McBride
Showcase students' designs
Fire, wind, earth, and air. This is not just a list of elements, it's this year's theme for Durango High School's Fashion Show. The annual fashion show at Durango High School was cancelled last year due to COVID-19, as with many other events. It's back, and we're told that it will be even better than before.
The show will feature the designs of approximately 50 students in DHS's fashion class, as well as those from DHS Fashion Club members who also produced the show.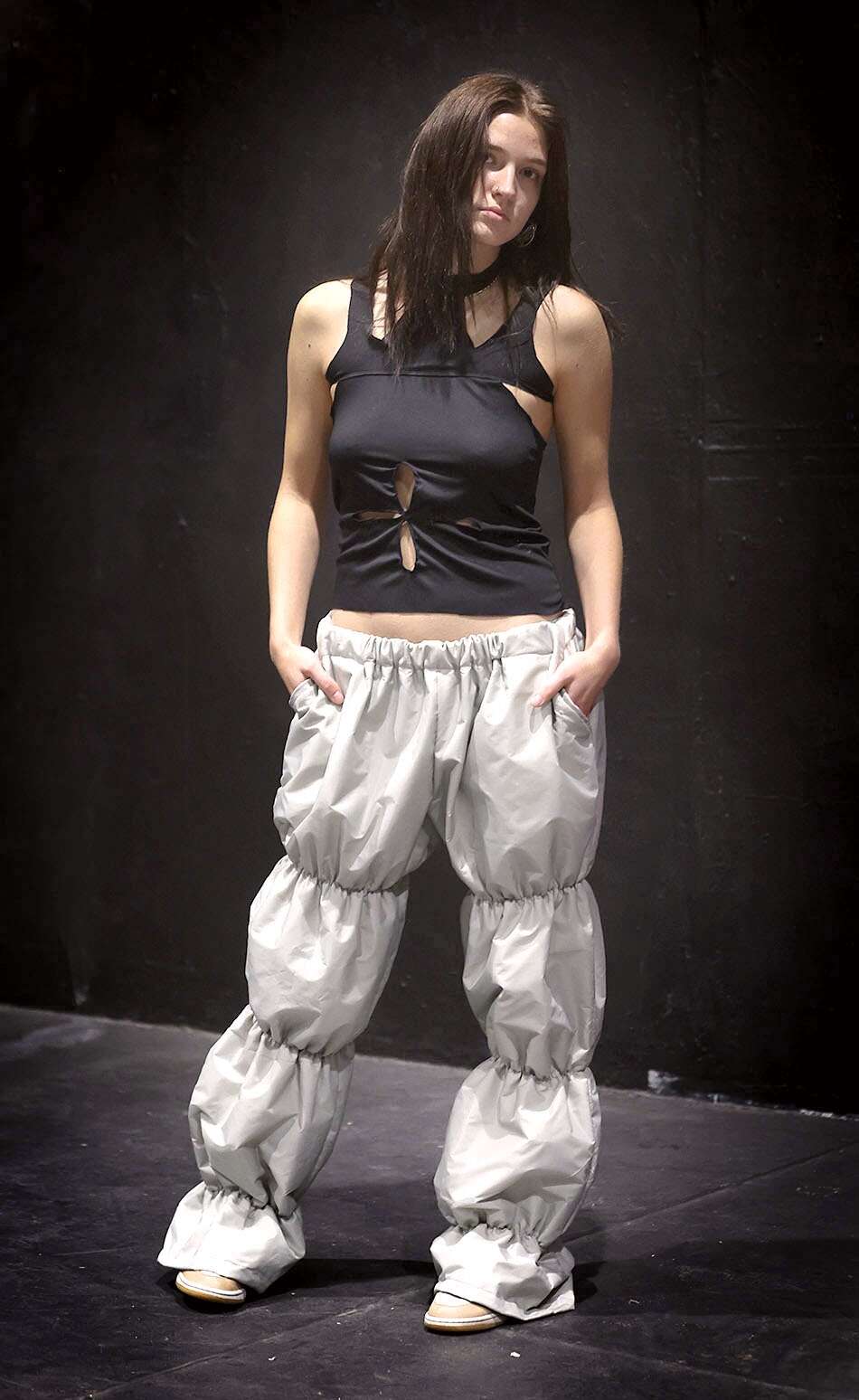 Diana Koshevoy, a Durango High School senior, models one her fashion designs on Wednesday. (Jerry McBride/Durango Herald)
Jerry McBride
Kendra Bonnell, fashion teacher and club adviser, has been busy getting her classes ready for the show next week and said that every student is involved in making the show happen and ensuring its success – not just by making clothing for the show but also by organizing the production and designing the stage.
"The end of the year fashion show is an opportunity for students to showcase their fashion collection and demonstrate their skill set,"She spoke.
WHAT: Durango High School Fashion Show.
WHEN: Thursday, May 19, 2006, 6 p.m.
WHERE:Outside, in the DHS courtyard.
TICKETS: $5 per person. All proceeds go back into fashion program to be used to purchase equipment, supplies, fabric.
Bonnell has been the fashion instructor since 2019, and this will be her second show.
The students have been creating and designing their own collections since the beginning of the schoolyear. They'll use live models and a fashion show runway to display their work next Thursday night. Some students will be wearing their designs while others will recruit friends.
Maggie Williams, a Durango High School senior, shows some her fashion designs on Wednesday at school. (Jerry McBride/Durango Herald)
Jerry McBride
Maggie Williams, Fashion Club member, is thrilled to see the show finally coming together.
"One of my projects took so long and I worked on it during Thanksgiving and Christmas break. I just took my designs everywhere I went and worked on them constantly,"She spoke. "I've put in a lot of hours working on my clothes."
It is not easy to create a unique collection of clothes items. But the fashion students have done a great job.
"Making the clothing look professional is very difficult, and I think after you've done a few clothing pieces it starts to pull itself together, but making it all look neat is definitely the hardest part,"Senior Diana Koshevoy, a Fashion Club member, said this.
The show will be the first opportunity for students to showcase their clothes to an audience and other students in the classes.
"I'm excited to see my designs on my models with the full hair and full makeup and accessories because I haven't seen them on anyone yet. I'm also excited to see other people's collections and what they've been working on because I've seen snippets of what they are working on in class but I haven't seen full outfits,"Williams said.
Williams will show seven pieces at the fashion show, drawing inspiration from vintage fashion looks.
"I went on Pinterest and I found the old money fashion styles, but it became more of a classic modern old money and then the sort of the Gilded glamour from the MET Gala,"She spoke. "One of my looks is inspired by that. So it's kind of a mix of everything and also what I could find pattern wise."
Fashion is something Koshevoy hopes to pursue when she graduates this fall.
"I'm taking a gap year, hopefully trying to find an internship in the fashion world for about a year. But after that I want to study fashion design in the U.K.,"She spoke.
The Fashion Club at DHS evolved over the years to help students learn skills and give them experience that will allow them to pursue a career as a fashion designer.
"I am always impressed at how hard students work and persevere through sewing challenges to create something they are proud of," Bonnell said.
Abby Bowman works as an intern at The Durango Herald. She attends Durango High School.
Ava Orndorff (17), a Durango High School student, with some of her fashion designs Wednesday at the school. (Jerry McBride/Durango Herald)
Jerry McBride
Kiya Hofman (17), a Durango High School student, with some of her fashion designs Wednesday at the school. (Jerry McBride/Durango Herald)
Jerry McBride
Ariana Rohlf, Durango High School student, shows some of her fashion designs at the school on Wednesday. (Jerry McBride/Durango Herald)
Jerry McBride
Diana Koshevoy, a Durango High School senior, poses with some of the fashion designs she created on Wednesday at school. (Jerry McBride/Durango Herald)
Jerry McBride
Ava Orndorff (17), a Durango High School student, models one of her fashion designs Wednesday at the school. (Jerry McBride/Durango Herald)
Jerry McBride
Ariana Rohlfs, a Durango High School senior, models one her fashion designs on Wednesday. (Jerry McBride/Durango Herald)
Jerry McBride
Maggie Williams, a Durango High School senior, models one her fashion designs on Wednesday. (Jerry McBride/Durango Herald)
Jerry McBride
Kiya Hofman (17) from Durango High School models one of her fashion designs Wednesday at the school. (Jerry McBride/Durango Herald)
Jerry McBride