The Most Fashionable 1950s Styles That Influence How We Dress Today
The 1950s fashion will forever be a fantastic source of stylistic inspiration for designers and fashionistas alike.
39" Slick wool wrap coat with exaggerated collar and tie belt

Adjustable button closure
Body welt pockets
Fully lined with logo lining
special size type: standard
weave type: Woven
Keep you deliciously warm in the icy days of winter, in great style!

Full Length Mink Fur Coat with Shawl Collar & Bracelet Cuffs (Demi Buff, XS)
Fully lined with silk/polyester blend lining
Hook & eye snap front closures
Made in Greece
The 50s fashion decade blended timeless elegance with those times' current trends into what we call the zeitgeist of the retro fashion movement nowadays.
In this article, I've gathered all the 1950s fashion influences you need to make a sartorial shift and tap into the romantic hourglass shapes and postwar silhouettes.
Fashion in the 1950s was no longer about the utilitarian silhouettes and sorrowful 40s. Instead, it was all about hyperfeminine looks by new-tothe-scene designers.
The same 1950s clothing designers – Christian Dior, Pierre Balmain, Cristóbal Balenciaga, and Hubert de Givenchy – turn their businesses into the world's most luxurious fashion brands.
This article is for everyone who wants to learn how to dress in 50s style in a modern manner or want to update your retro wardrobe.
It's time to dive into the most casual of topics 50s fashion looksFor women and men, and the best 50s fashion trends.
---
1
/10
The 50s 'New Look'Dresses
In the 1950s Christian Dior made waves with his first-ever couture collection, the "New Look."
The French couturier created a new way to express radical femininity with sloping shoulders and a raised bustline.
Although Dior faced backlash from feminists over the introduction of the hourglass figure to their collection, the dress revolutionized 50s fashion by blurring lines between eveningwear and daywear.
Women immediately adopted Dior's iconic style, and many popular clothing brands of the 50s started making their adaptations of the "New Look."
Sported by the times' movie stars and celebrities, Dior's 1950s silhouette became a look that influenced fashion and pop culture up to modern days.
To create a 1950s style, like Christian Dior's muses, opt for pencil dresses in solid colors, monochromatic or floral bustier dresses with sweetheart necklines, or a full midi skirt.
Corset detail jacket dresses are another great way of incorporating 1950s fashion elements into your modern-day look.
---
2
/10
50s Skirt Suits
Figure-flattering full-length A-line skirts and gloved pencil skirts were the fashion trends of the 1950s. These skirts were often paired with tailored, crisp, and styled matching peplum jackets.
Many 1950s fashion photos show working women wearing skirt suits with tucked in blouses and Percher caps in bold colors.
Many 1950s clothing brands recreated this iconic silhouette from haute couture designers like Chanel, Balenciaga and Givenchy.
A blazer with a corsetry or girdle is the fastest way to achieve a 1950s style look.
To complete the hourglass silhouette, add a tight-fitted preppy skirt to create a cinched waist.
---
3
/10
1950s Pedal Pushers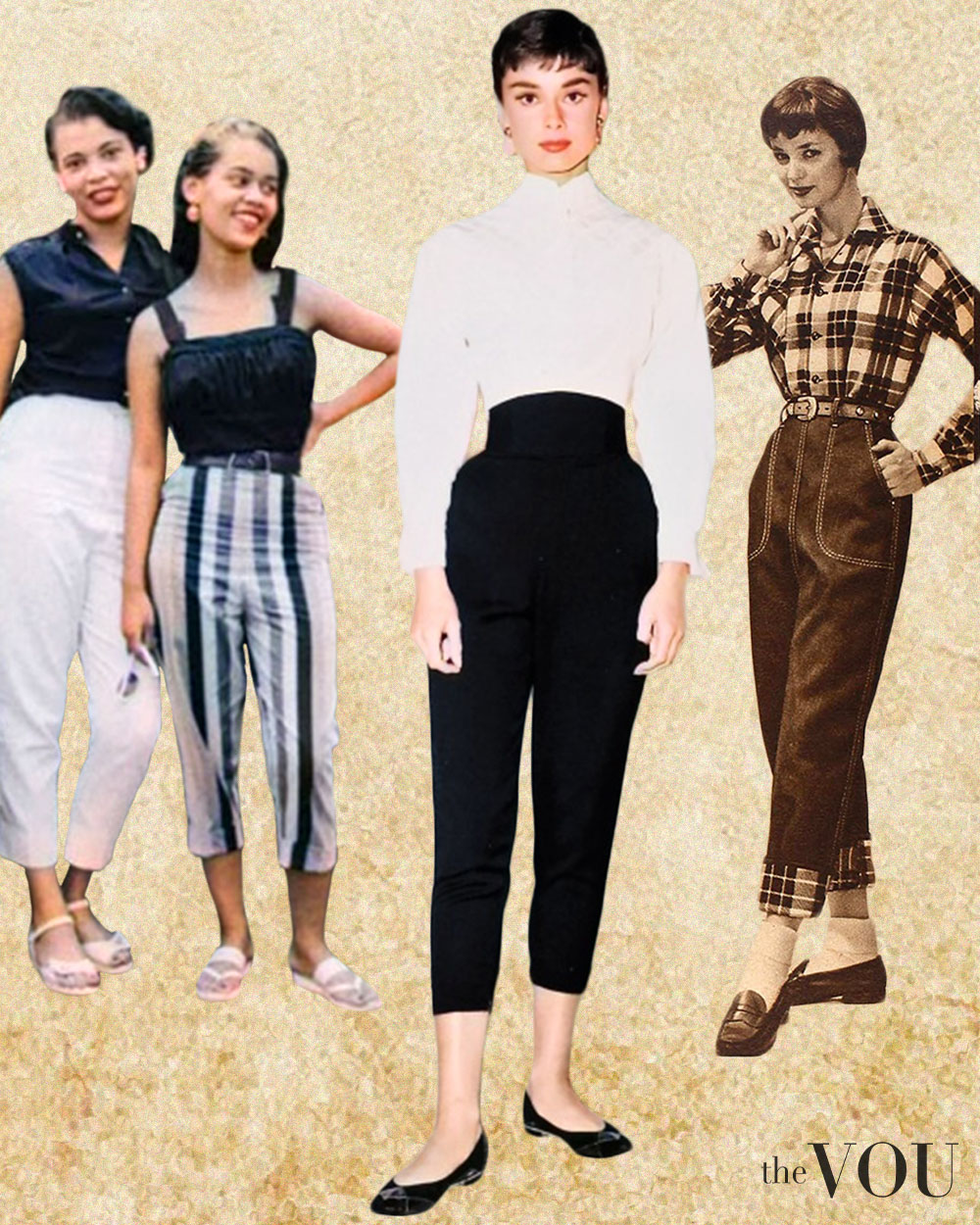 As some of the most comfortable and functional fashion garments of the 50s fashion days, ready-to-wear women's trousers became wardrobe staples.
Originally, pedal pushers were worn only by cyclists. They had calf-length, narrow trousers that met the sartorial requirements of teenagers and active women.
Audrey Hepburn is a great example of the 50s style pedal pushers, often seen wearing them in monochromatic colours and tucked into blouses.
Flats and saddle shoes were great matches for pedal pushers and helped this smart casual 1950s women's fashion look become very popular.
---
4
/10
The Beatnik Straps
As the number of people interested in novels, poetry, music, and artwork continued to rise, a new culture started to form, the 'Beatnik' culture.
Beatnik was a media stereotype that was popular in the 1950s, 1950s and 1960s. It referred to the underground and anticonformist youth who gathered in New York.
The Beatnik ideology sparked a new fashion movement that, contrary to Dior's famous "New Look,"Beatniks wore streamlined silhouettes in dark colors.
The style featured berets and straight-leg cigarette trousers made from synthetic materials, black turtleneck sweaters and striped shirts.
This simplistic casual and rebellious 1950s women's fashion aesthetic made numerous comebacks, with current-day Maisons like Fendi and Dior still showcasing 50s styles with roll-neck shirts, wide-leg trousers, and black jackets.
---
5
/10
50s Pinup Girls
Paying homage to feminine sex appeal, 50s Pinup girls' fashion draws inspiration from Hollywood stars.
Chilliwack Down Bomber Coat in black with stretch rib waistband and cuff, exterior pockets, adjustable tunnel hood

Shell: 50% polyester, 50% cotton
Two-way zipper closure
Heavyweight


Marilyn Monroe, Natalie Wood, Elizabeth Taylor and Natalie Wood were all 1950s celebrities that brought the pinup look to the streets.
This 1950s aesthetic blended Burlesque, Rockabilly, and Old Hollywood Glamour – nowadays, the modern interpretation of this classic fashion look relies on the same principles.
Start with fit and flare dresses or poodles for a base.
Mix with low scoop necklines, bustier tops, hot pants, sweetheart neckline bikinis, and dress-like skirted swimsuits that took over 50s fashion women's looks.
Another must-have accessory relevant to the 50s fashion – for pin-up girls' style – is the classic stilettos shoe.
The 50s saw the introduction of stilettos that had 4-inch heels. Pinup girls were the ones who first wore them with swing dresses.
---
6
/10
50s Pencil Skirts
Grace Kelly's iconic lime pencil skirt in 'Rear Window'This is representative of the many styles that dominated fashion in the 50s.
Christian Dior's H-line collection featured straight lines emphasizing the waist to upgrade to the basic pencil skirt silhouette.
Pencil skirts were often paired with tucked-in sleeveless tops, but we've also seen multiple variations of pencil skirt looks with sweaters and chiffon or silk neck scarves.
You can wear the retro pencil skirt in many different ways to create a 1950s-style outfit.
Mix and match mid-shin-length skirts with colorful, cinching belts with fitted turtlenecks.
Equally, you can wear three quarter-length cropped sleeves jackets in bolder color or casual jackets featuring detachable collars.
---
7
/10
50s Large Brimmed Hats
Many of the most well-known clothing brands of 1950s created unique versions of the large-brimmed cap, often embellished with beads, feathers, or ribbons.
These glamorous toppers have become a staple of eveningwear.
Inspired by 1950s film stars, women's fashion followed the same casual styles, but instead of wool, these large brimmed hats were made out of straw with border prints.
---
8
/10
50s Rockabilly Fashion
Rockabilly was one of the most prominent 1950s fashion trends.
Rockabilly, a form of rock and rolling music that originated in the South of the United States, was a fashion style.
With great rock n' roll and "hillbilly"The 50s rockabilly style was immortalized by the performances of singles by Johnny Cash, Elvis Presley, and Buddy Holly.
A pencil skirt with high waisted and a button-up is a great choice for 50s rockabilly style. Add a dark lipstick and dark eyeshadow to complete the look.
For a 1950s style rockabilly look, a pair of tight cigarette trousers with a chest pocket and tucked in t-shirt is another option.
---
9
/10
50s Greaser Style
The casual styles of 1950s women's fashion took many forms, but the rockabilly and pin-up influencers were the most evident throughout the decade.
The male-dominated Greaser Subculture was inspired by James Dean and Marlon Bando. "the right attitude."
The Greaser style was an amalgamation of the two above trends, with a bit of motorcycle-riding flavor. The goal was to recreate the movie star look.
The perfect 50s fashion style is the GreasersGirls: Grab denim, or even a motorcycle jacket, and match it to a pair of dark-washed, distressed denim.
In true Greaser fashion, roll your leg up to the ankle.
A chiffon scarf and casual shoes can be added to make the look more continental.
Another popular look from the 1950s is tight, cropped pants and pedal pushers paired with fitted teshirts almost like a uniform.
---
10
/10
The Poodle Skirt
The 1950s fashion-for women trend of the Poodle skirt was a popular one. It was influenced by fashion models from magazines and TV shows.
The trend was first seen in teens wearing felt skirts with an appliqued pink poodle on silver leashes.
These cute day dresses and skirts were worn by young women in many different ways. They were paired with simple blouses, knit tops and sweaters as well as chiffon and silk scarves.
This look was so popular, the poodle skirt was named the "first teenage fashion trend"Dance-loving youth communities
Although embroidered styles are rare nowadays, fashion aficionados who love 1950s fashion have the option to customize plain felt circles skirts with embroidery available on Amazon.
---
Conclusion
The 1950s fashion decade could be summarized in Marilyn Monroe's "silly little dress"Audrey Hepburn's curve-enhancing waist belt or subway moment
Rightfully named the "Golden Age of Haute Couture,"The fifties decade saw the birth of fashion's most iconic designers and their modern Maisons.
Even now, in 2022, these high-end fashion houses and designer brands continue to draw inspiration from the casual 1950s women's fashion styles to create sumptuous lines.
With the natural waist and hourglass figure at the center of the 50s fashion sphere, the 50s were a decade of cinched-in waists, slim and mini skirts, rounded shoulders, and exaggerated hips still visible in Coco Chanel's exclusive creations.
Weekly Newsletter
Keep up-to-date with the latest trends in fashion, beauty, style and style
Now it's your turn…
Which of these 50s fashion styles do YOU like the most?
Which 1950s fashion trends do you think we've missed and should include in our next article update?
We value your feedback and will use it to improve, update, and learn from them.
Hot Topics
Coach Outlet Sale, 80s fashion trends are back, 90s fashion hip-hop style
Source link